Schoolboy Writes The Sweetest Letter To Comfort Teacher Who Lost Her Dog
"Callum had asked for paper in class on Monday, and wrote her the note without her realizing."
Mrs. Dunne is a primary school teacher, instructing a class of mostly 8- and 9-year-olds in Glasgow, Scotland. Recently, however, it was actually one of her young students who taught the greatest lesson of all — on what it means to be kind.
Lucie Dunne
When they weren't studying the basics of reading, writing and mathematics, Mrs. Dunne's students enjoyed frequent discussions on a less scholarly subject — her family's dog, Charlie. Though none of the kids ever met the 18-month-old golden retriever, they all adored him just the same.
"My mum was so excited by Charlie and loved telling everyone about him and showing them photos, including her class!" Lucie Dunne, the teacher's daughter, told The Dodo. "The kids often drew pictures of the dog for her and asked about him."
Sadly, though, the Dunne family was hit with some heartbreaking news.
Lucie Dunne
Despite Charlie's young age, he was found to have a malignant growth on his chest. His family sought out help immediately, but nothing could be done to save him: "Before we knew it he was in intensive care with cancer and a massive tumor pressing into his heart. By the end he was oxygen-dependent and we had to let him go," Lucie said.
Charlie's family was devastated. The following Monday, Mrs. Dunne knew she wouldn't be her normal self in front of her class, so she decided then to let them know her dog had passed away. They, too, were saddened, of course — but one little boy, named Callum, found a way to help his teacher heal.
"Callum had asked for paper in class on Monday, and wrote her the note without her realizing," Lucie said.
This is what Callum wrote:
Lucie Dunne
Lucie Dunne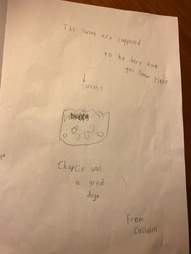 Lucie Dunne
The boy's sweet note, describing Charlie with adjectives corresponding to the letters of his name, then concludes: "But most of all, know your dog was special. And your dog is in a better place, and is looking over you."
Mrs. Dunne was so touched by Callum's letter, she took it home to show her family. It brought them comfort, too.
"It's left us with a wonderful and very happy memory during such a sad time. It makes me so happy to know her kids loved Charlie even though they hadn't met him," Lucie said.
Lucie Dunne
Losing a pet is never easy, but the pain that comes from saying goodbye can never outweigh the pleasure of having been their friend. And in the end, it's comforting to know that Mrs. Dunne's students have been instilled with that truth — reflecting it back to her when she needed it most.