Cat-Loving Guy Goes All Out For His Graduation Photos
"My cat is overly attached."
Nothing is better than sharing our milestones with a best friend or loved one. Having someone in our corner can make an important day even more special.
So when Parker, a student at the University of Waterloo, in Ontario, was told that he could bring along a buddy for his official college graduation portrait, he knew exactly what to do.
He'd bring his cat, Zeus.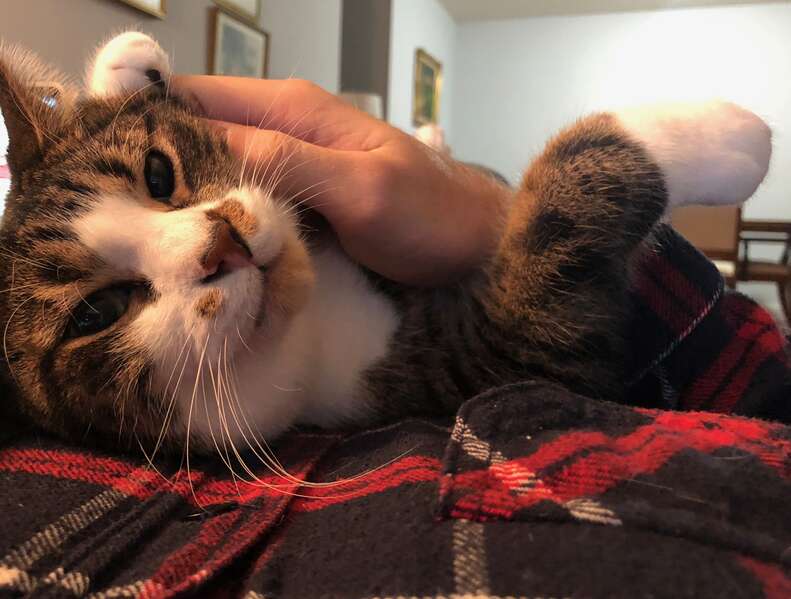 "[My] connection to the cat is one of a kind," Parker told The Dodo. "Zeus is the most chill and tolerant extroverted cat I've ever met. He really likes company and loves being held."
Parker and his wife adopted Zeus and another rescue kitty named Zulu four years ago. "We knew that Zeus was the right one because he cuddled right into us," Parker said. "When he was put down, he just wanted more affection."
Zeus, a fluffy tabby, has been by Parker's side through all the late-night study sessions and early morning rushes to class. Wherever Parker goes, Zeus follows. So it seemed only natural that Zeus should get to take part in his graduation in some small way.
"I chose to include him in the photos once I learned I could bring 'friends to join in the fun for personal/fun photos,'" Parker said. "I emailed the photographer a day or two beforehand and got the all clear to do so!"
However, bringing along his buddy added some complications to the endeavor. "On the day of the photo shoot I had a midterm right before, and once that was complete I rushed home to grab Zeus," Parker said. "I was exhausted — shows in the eyes — but it was worth it."
Zeus was particularly pleased with being the center of attention. "He was well-behaved during the session, and explored around while I was getting the other photos done," Parker added.
Parker's unusual choice of companion did raise a few eyebrows — including those of the photographer: "He laughed," Parker said. "[I] also got an awkward look from a previous professor."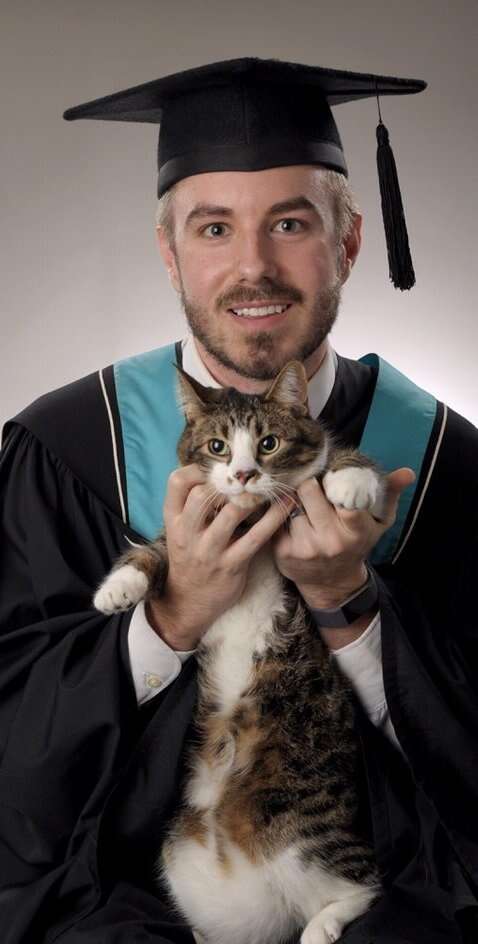 But the real reactions began when Parker posted the photos to Reddit. Most commenters were eager to compare him to Canadian-American movie star Ryan Reynolds and take jabs at his startled expression.
"Your eyes look like you're screaming internally," Reddit user extraspecialvegan wrote. "Is your cat holding you hostage and forcing you to pose for adorable photos?"
Other commenters wondered if Zeus was OK with being held so closely. Parker assured everyone that the cat had absolutely no issues with personal space.
"My cat is overly attached," Parker wrote.