Dog Who Is Terrified Of Being In The Shelter Is Desperate To Find A Home
"Once she gets to know you, she likes to walk right next to you and rub on your legs to stay close."
Roseanne was found wandering the streets of Las Vegas all alone, and was taken in by The Animal Foundation. The shelter staff have no idea where Roseanne came from or what her first three years were like, but she is incredibly nervous around people and is scared of almost everything, so they can only assume the worst. Roseanne has been with the shelter since April, and the hectic environment only seems to stress her out more and more every day, so the staff is desperate to find her a home as soon as possible.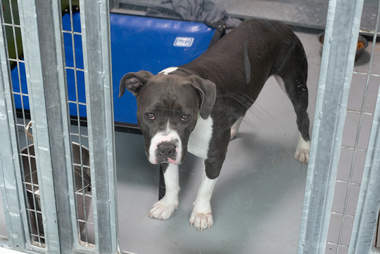 The Animal Foundation
Roseanne is incredibly scared of loud noises, sudden movements and lots of new faces, all of which happen on a regular basis at a shelter. At her core, she is an incredibly sweet dog who desperately wants to love and trust people, but her intense fear makes that very difficult, and also makes it hard for prospective families to see all the potential she has to be an incredible dog.
"She is not doing well in the kennel environment," Kelly Leahy, communications manager at The Animal Foundation, told The Dodo. "She is currently showing signs of stress and anxiety. When she is out on walks, she does better, but her kennel presentation is not the best."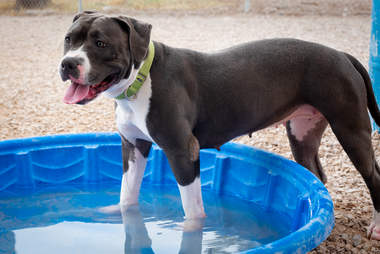 The Animal Foundation
When Roseanne gets to spend time outside, running around and going for walks, she seems to relax a bit, and for a little while isn't as scared. As soon as she's back in her kennel, though, her anxiety is high again. While it definitely takes Roseanne a while to warm up to new people, once she's used to you and trusts you, she wants nothing more than to be by your side at all times.
"Once she gets to know you, she likes to walk right next to you and rub on your legs to stay close," Leahy said.
The Animal Foundation
… and you can see in Roseanne's eyes what a timid, sweet dog she is, and how much she just needs someone to take a leap of faith with her.
Roseanne definitely has a lot of potential to grow into a sweet, playful dog and overcome her fears, but she can't do that in an environment that stresses her out so much. She needs to find the right home for her as soon as possible, and the shelter is pleading with potential families to take a chance on this sweet dog who is just looking for a family to love her.
The Animal Foundation
Roseanne would do best in a quieter home with no children and no other dogs, unless the other dogs are very calm and the family is willing to work with Roseanne. She needs a stress-free environment, at least in the beginning, and then her family can slowly help her build up her confidence with things like louder noises and new places. Roseanne is an excellent student and definitely wants to learn — she just needs a patient, loving family to help her on that journey.