Puppy Who Was Shot In The Face Refused To Give Up On Life
He's so forgiving and happy — and looking for a place to call home <span class="emoji-outer emoji-sizer"><span class="emoji-inner" style="background: url(chrome-extension://immhpnclomdloikkpcefncmfgjbkojmh/emoji-data/sheet_apple_32.png);background-position:99.94124559341951% 26.02820211515864%;background-size:5418.75% 5418.75%" data-codepoints="2764-fe0f"></span></span>
The puppy had been shot in the face. Not just once, but hundreds of times.
In October, a concerned citizen contacted Animals Lebanon, and begged the rescue team to come help the puppy, who'd been wandering the streets in the coastal city of Batroun.
"He was shot with a pellet gun, leaving hundreds of pellets in his skull," Maggie Shaarawi, vice president of Animals Lebanon, told The Dodo. "He had a completely open muzzle and one damaged eye."
While no one knew who'd shot the dog, rescuers could see that the puppy, now named Fluke, had been shot at close range. They also thought that the puppy had been shot about a week ago — the wound didn't look fresh, and infection had already set in. Besides his terrible facial injury, Fluke was skinny and malnourished.
Tina Lawandos, a university student and Animals Lebanon volunteer, hurried Fluke to the vet — but she didn't get good news.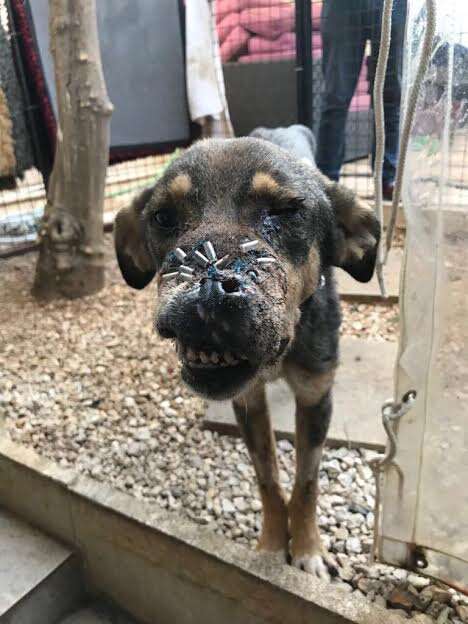 The first vet thought the puppy was too injured to survive and recommended euthanasia. When a second vet examined Fluke, he suggested the same thing. But a third vet gave a different reply — he said that Fluke might have a chance.
"He said, 'Let's do the surgery and make sure he is pain-free with good medications,'" Shaarawi said. "The vet performed a very sophisticated surgery, which took five hours and cost us a fortune."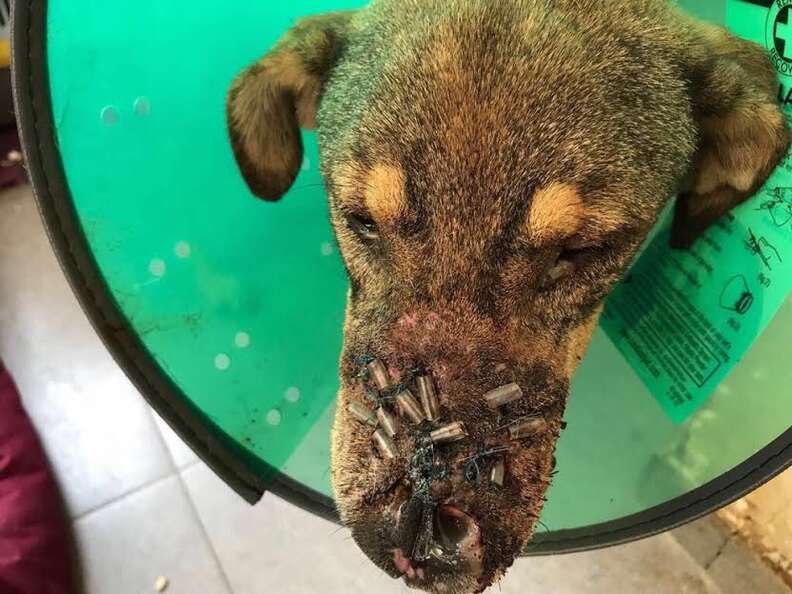 Fluke pulled through the surgery, although he had to stay at the vet clinic for a while to recover. To help his injuries heal, the vet team inserted a feeding tube so he didn't have to move his mouth to eat.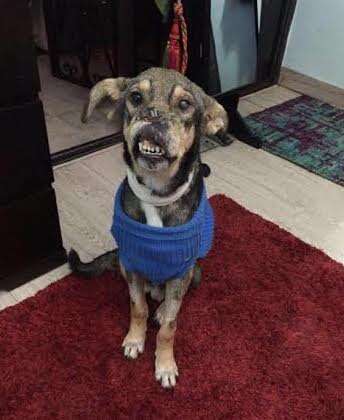 A week later, Fluke was well enough to go into foster care. "He started to feel better about three weeks after surgery," Shaarawi said. "He started gaining weight and showing a more natural behavior and interacting with the other dogs at the foster home."
As time went on, Fluke got better and better. His face wound healed up nicely, although he's missing most of his nose and can't contain his sneezes. But Fluke's spirits remained high.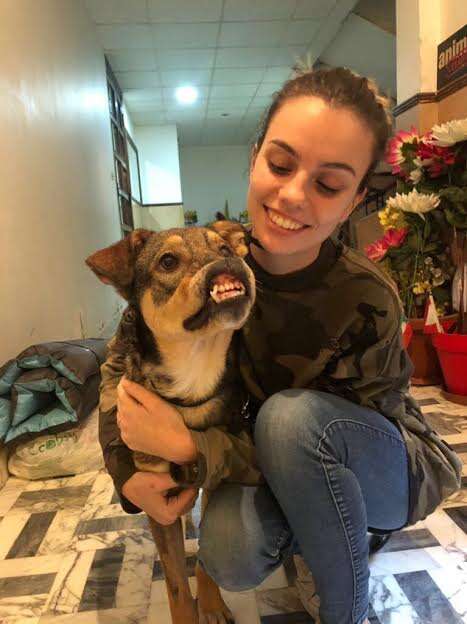 "He is extremely friendly," Shaarawi said. "As soon as someone comes near him, he puts his head on your lap and seeks attention. Sometimes he uses his paw [to get attention] and other times he simply decide to sit on you."
Besides his obvious love for people, Fluke really likes grass. "We have never seen a dog who loves grass so much," Shaarawi said. "He just loves nature. He could play with the tennis ball for hours."
Fluke is now up for adoption. The team at Animals Lebanon would love to find him a good home in Lebanon, but they're open to letting him get adopted by someone in the U.S. "Preferably in Boston or Chicago or Michigan," Shaarawi said. "We have a registered charity in those states to help us ensure that the adoption is good, and to help with a Plan B in case the adoption doesn't work out."
The main requirement is that he's adopted by someone who will keep an eye on his old injuries to make sure he doesn't get another infection, Shaarawi explained.
Whoever does adopt Fluke will have the pleasure of spending each day with a joyful, friendly dog who exudes love.
"He is forgiving and super happy, and we are all amazed with his physical and mental recovery," Shaarawi said. "Despite the cruelty he endured from mankind, Fluke never showed aggression, and he always greets people with a wagging tail. He is always always happy to meet any new people."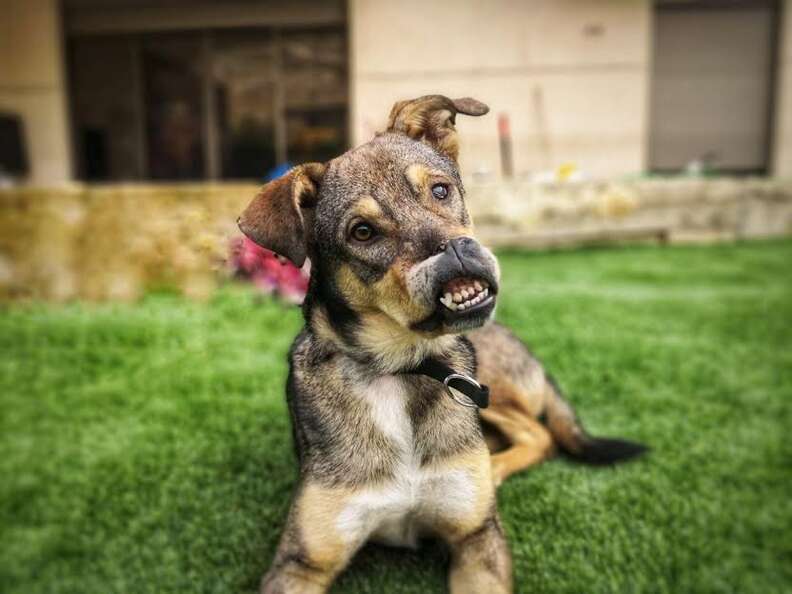 "He now has a permanent smile due to injury, but we do believe that he is a happy dog," she added. "His eyes say it all."