Pit Bull Found As Stray Is Changing Everyone's Mind About His Breed
He has 14 brothers and sisters now and is proving that pitties are great family dogs 🐶❤️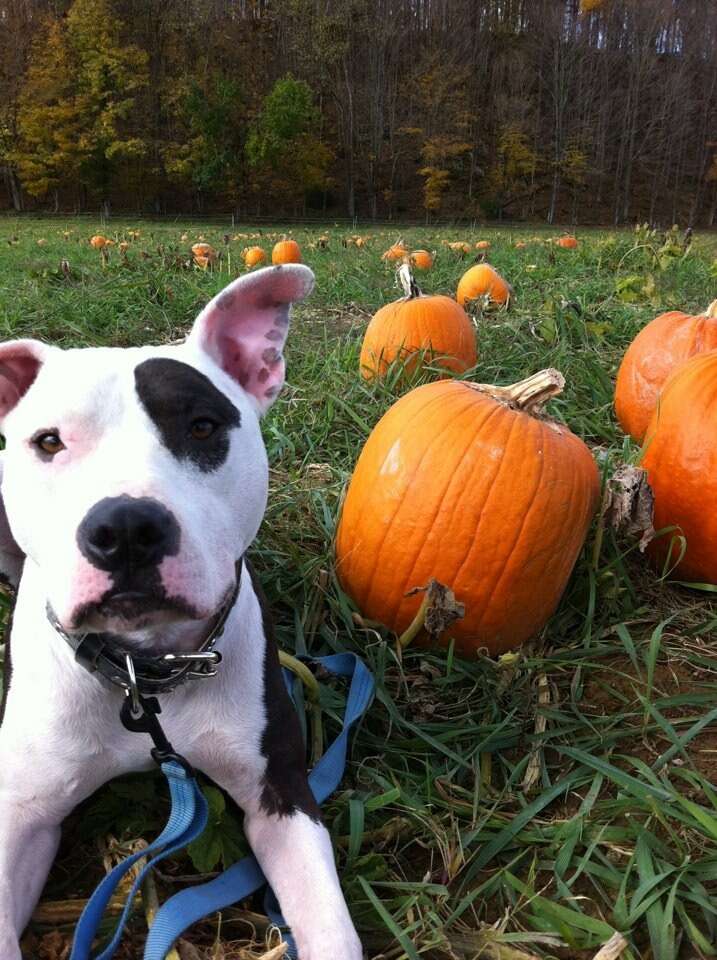 When Santiago, a 7-year-old pit bull, was picked up as a stray in Poughkeepsie, New York, in June 2011, little was known about what kind of life he had lived.
However, his gorgeous markings and sweet personality won over everyone, from the officer who found him (and after whom he was named), to the staffers at Animal Farm Foundation (AFF) — an organization dedicated to the equal treatment of pit bulls and training them as assistance, police and detection dogs — who took him in.
Now, he is winning the hearts of casting directors and becoming a Hollywood star.
Erich Steffensen and his wife Kara decided to foster Santiago when he came into AFF's training program. "I wanted him as soon as I saw him," Erich Steffensen, who began as a volunteer but is now the special programs manager at AFF, told The Dodo. "There was just something about him."
Kara Steffensen took a little longer to convince, but not much. "We decided to adopt him the day we brought him home," she said.
Santiago joined the Steffensens' existing pack of 11 dogs in upstate New York and immediately fit right in. They have since adopted three more dogs, bringing them to a whopping total of 15. Several of their dogs enjoy participating in frisbee competitions, and a few more have been featured in advertisements thanks to Kara Steffensen's job as an animal talent agent.
"He has a unique look and he's pretty chill and mellow, which makes him great for doing ads," Kara Steffensen said. "And he likes to work for treats." In addition to the basics, Santiago, nicknamed Santi, knows lots of tricks like, "Give me a smooch" to kiss and "high five."
Santiago's first commercial ad was in 2012 for Lands' End, a company that frequently uses "family-friendly" breeds of dogs, according to Kara Steffensen. Emotions were running high as she described what a fulfilling moment it was for Lands' End to choose a pit bull type to represent a "family dog."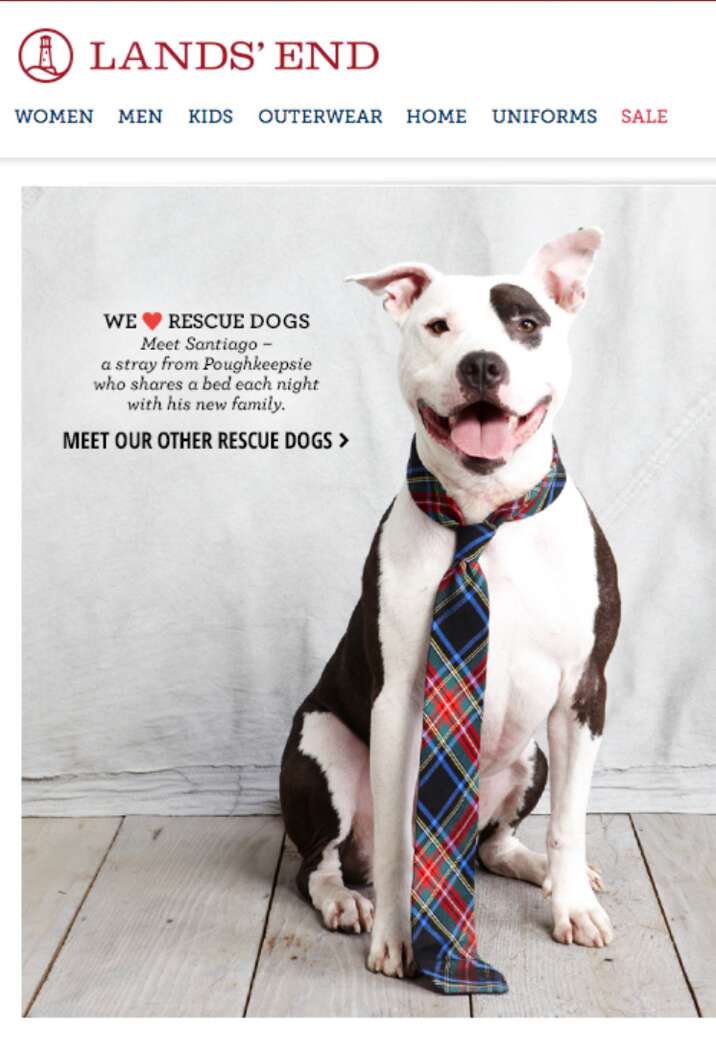 Since then, Santiago has been featured in countless ad campaigns for companies like Cadillac, AOL and Free People. He has starred in Frontline's web series "As The Dog Barks," as well as a public service announcement with actor and pit bull owner Jon Bernthal — and has even filmed an upcoming music video.
His new PSA with Animal Farm Foundation, titled "#ItsBull," inspires people to focus less on breeds and more on dogs as individuals — something the Steffensens also feel strongly about.
Kara Steffensen is particularly proud of Santiago's recent spread in Vogue Magazine, along with his rescue brother, The Amazing Mr. Gumball.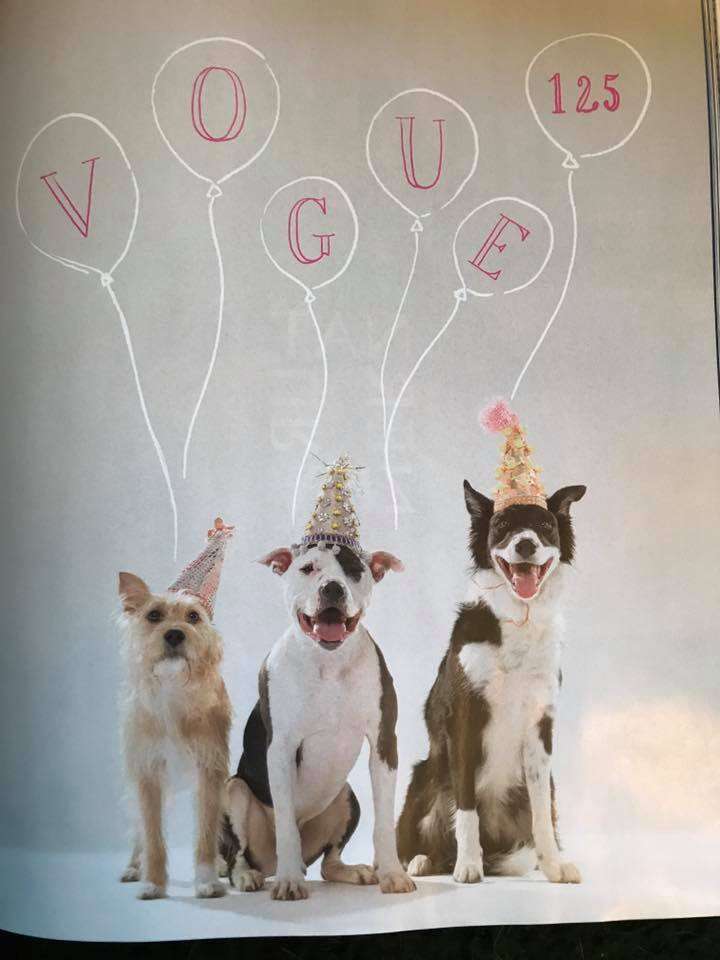 Santiago recently made the leap to the big screen with perhaps his largest credit to date in the independent film "The Wilde Wedding." He joined a cast of well-known stars such as Glenn Close, Patrick Stewart (who fostered a pit bull earlier this year and fell in love), John Malkovich, Minnie Driver and Peter Facinelli — who played his owner. Santiago is frequently seen riding around in the sidecar of his fictitious owner's motorcycle.
Santiago made many friends on set, including producer Andrew Karsch. "He was cooking burgers on the grill and he would cook Santiago his own burgers," Kara Steffensen said. "He's really the perfect dog — he gets along with everyone."
There was also a running joke on the set of the independent film that Santiago was the highest-paid actor, due to the fact that most of the human actors were working on royalties and Santi had a daily stipend.
Of course, it isn't all work and no play for this handsome guy. When Santiago isn't busy on set, he loves to go swimming in the giant "dogs only" pool the Steffensens have built in their backyard.
He also loves playing frisbee …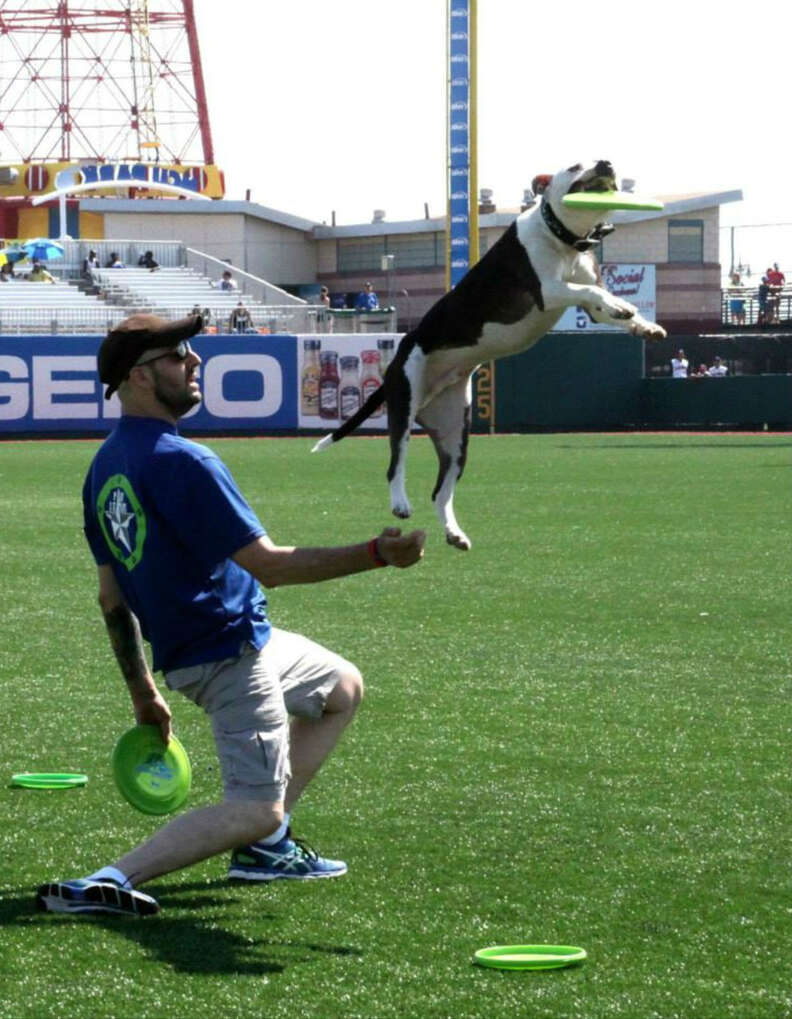 Cuddling with his brothers and sisters (he loves being at the bottom of the pile) …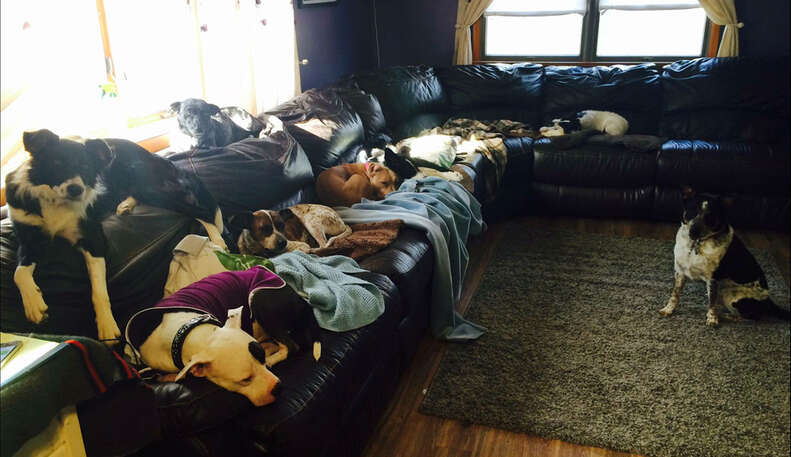 And little dogs and puppies …
Santiago especially loves crowds and getting pet. "He loves getting attention," Erich Steffensen said. It's a good thing Santi has so many adoring fans, like the ones he met recently at his very own red carpet premiere of "The Wilde Wedding" in New York City.
"He just has a different attitude than most dogs," Erich Steffensen said.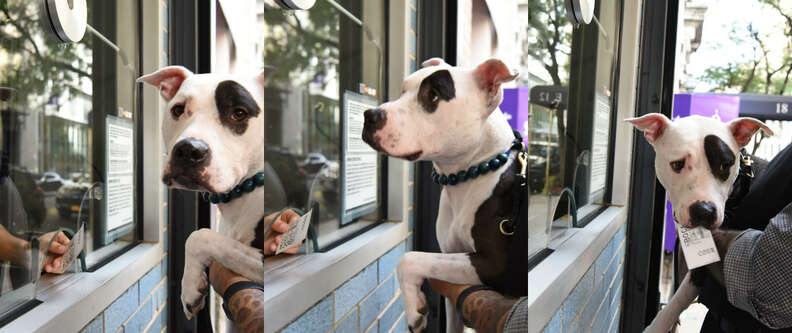 And Santiago isn't letting his rising stardom go to his head. "He doesn't care at all," Kara Steffensen said.