Newborn Rescue Kittens Get The Most Adorable Photo Shoot
They're each looking for the perfect forever family ❤
A few weeks ago, Brandy Suppi started noticing a stray tabby cat appearing in the woods near her home in McAlester, Oklahoma. As an animal lover, she knew she had to help the homeless cat.
Suppi began leaving out food in hopes of earning the cat's trust, and before long, she did.
It was then that Suppi discovered the stray cat was not alone.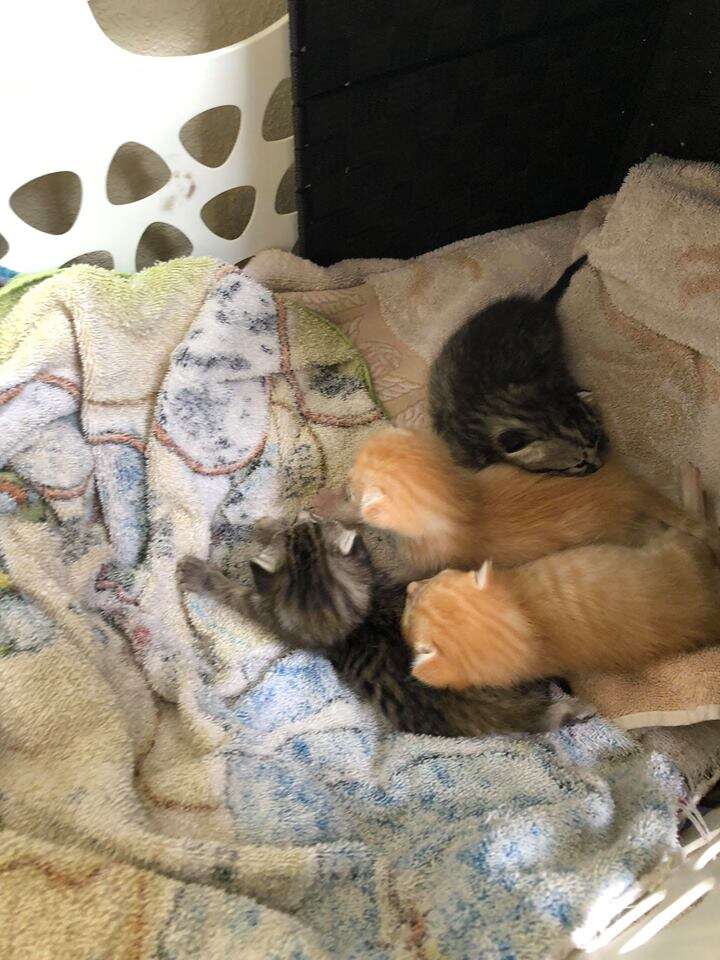 "Two days after I started feeding her, she brought me her kittens and wrapped them in a blanket on the porch," Suppi told The Dodo. "I think Mama knew we would help her."
The stray cat and her four kittens were now safe and fed — but their rescuer wanted to do more.
Suppi took the kitties to get a checkup at the vet and learned that they're all healthy. Unfortunately, since she and her family are already the proud owners of four rescue dogs, Suppi decided to try to find the cats forever homes elsewhere — and that meant getting creative.
Suppi got in touch with her friend Heather Scott, whose work with LaMon Photography often features animals.
"She sent me a picture of these kittens that the mama cat brought to her porch," Scott told The Dodo. "I immediately said we need a newborn shoot!"
How'd it turn out?
Adorable.
Scott is no stranger to taking photos with newborns — but that's nothing compared to this.
"I've never done four babies at once," she said. "You've heard the term 'herding cats,' right?"
Still, the resulting pics couldn't have been more charmingly sweet.
All of the tiny kittens got their own portraits, looking perfectly cuddly.
"I had to just keep everything quiet and calm — Brandy was a huge help — and you have to be patient," Scott said. "The mom enjoyed a break, I think. She knew and trusted Brandy so I guess she trusted me, too."
The kittens' mother was never far during the photo shoot, which Scott did her best to wrap up quickly.
In the end, Mom even joined for few photos herself.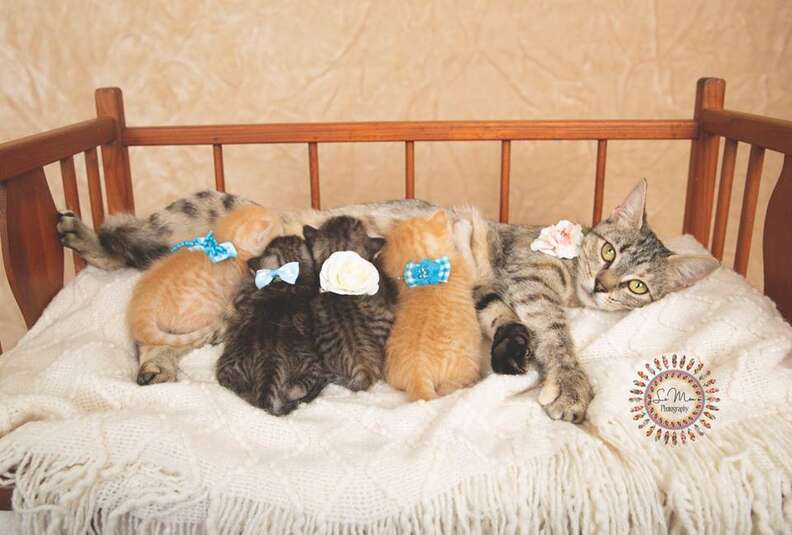 The shoot, of course, wasn't merely an exercise in cuteness.
"We are advertising to give these little ones the absolute best chance possible at a beautiful, loving future," Scott said.
"Cute pictures definitely can't hurt, and they have made so many people smile," Suppi added.
So far, Suppi has been able to line up a home for one of the kittens, but hopes that potential adopters will step in to offer forever homes to the rest.
"If we can't find the mom a home, I will go ahead and keep her," Suppi said. "She is a very good mom and she's so very sweet."
In the meantime, Suppi's family is making sure they're all getting plenty of love.
Folks interested in opening their hearts to one or more of these precious kittens, or their mother, can contact Suppi via her Facebook page.
"My requirement is a loving home," she said. "And that the adopter prepay for shots and spay or neuter at the vet of their choice."
Thinking about adopting? Then meet Dodo Adoptbot, an interactive guide for new pet parents. Get
started on Facebook Messenger
or text HOME to 38349.