Stray Kitten Walks Up To Puppy To Ask Him For Help
"This kitty was so cute and brave, and so obviously craving company" ❤️️
When Delfina Plaja got a dog named Taco for her birthday last year, she had no idea that the gift would change her family's life.
"Being the loving, affectionate, bossy, 'horrifically' energetic goof that he is, he brought laughter back into our home," Plaja told The Dodo. "Those first few months we could barely function we were so tired, but we [my husband and I] hadn't had so much fun together in a really long time."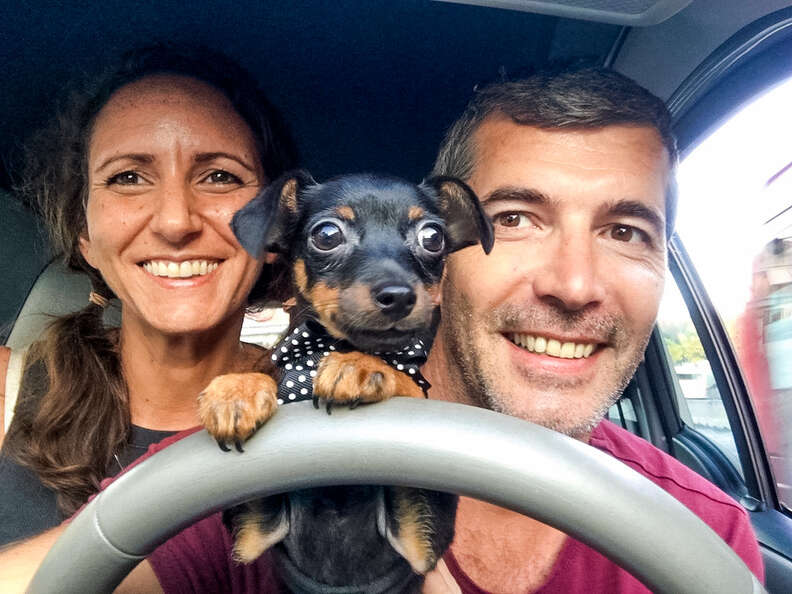 Taco was having trouble with potty training. So to help him learn to go to the bathroom outside, Plaja moved her office into the alleyway of their building. On the second day of working in the alley, a tiny kitten peeked out from under a parked car, fascinated by the pup.
"It turned out he had been living all alone in an open garage with a kindly neighbor feeding him," Plaja said. "Clearly, he had been feeling lonely because he was the one who approached Taco, curious and wanting to cuddle and play."
Taco and the kitten began to bond, while Plaja attempted to earn the stray cat's trust with treats. Her tactics worked and within the week, the kitten was regularly climbing into her lap and purring.

"This kitty was so cute and brave, and so obviously craving company," Plaja said. "He had found us, after all, and I was sure there had to be a reason for it. Turned out, the universe was telling us something, showing us the way."
Whenever Taco went on his walks, the kitten was always there, ready to greet him.
"[He] was waiting for us in front of our building every time we went out," Plaja said. "Taco would often whine asking to go out and play with his friend. It became harder and harder to drag him away to do his business or get him back home."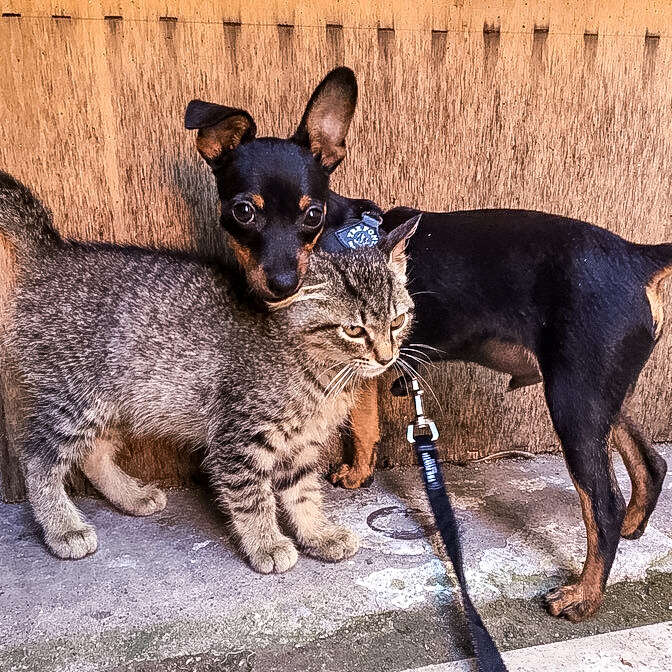 Plaja resisted bringing the kitten inside until a days-long rainstorm made up her mind. "Looking down from our kitchen window, I saw this tiny ball of soaked fur just sitting underneath a car in our alley, watching the door to our building," Plaja said. "My heart broke."

Plaja ran downstairs and grabbed the kitten. Once inside the apartment, the kitten was frightened but quickly relaxed as soon as he saw his friend.
"He started purring and didn't stop for 48 hours straight," Plaja said. "He purred while he explored, slept, ate, played … the first time they drank together from a bowl that night, I think I actually cried, they were so adorable."

Plaja and her husband realized they couldn't break the two apart. So they officially adopted the kitten, naming him Tequila.
Now the two animals are growing up as brothers, noted Plaja, cuddling, playing, fighting and making up. They have even inspired Plaja to raise funds to help more animals, and one day, open an animal rescue.

But until that dream becomes a reality, she couldn't be happier to see her little family grow. "We all complement each other perfectly," Plaja said. "The four of us make an odd, very goofy and disorganized, permanently late but very happy pack."