Homeless Dog Surprises Rescuer With Puppies — And One Of Them Is Green
"An early St. Patrick's Day gift!"
When a beautiful German shepherd was found wandering around lost and hungry in Georgia, it was crucial that she find a safe place to shelter soon.
Not only was life on the streets tough — Reba was expecting. She was mere days away from giving birth to a litter of puppies.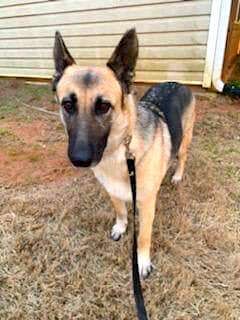 Luckily, Heidi's Legacy Dog Rescue, based in Valrico, Florida, found Reba just in time and transferred her to a loving foster home in Clearwater.
"She was picked up running as a stray in Georgia," Kristy Anderson, a foster with Heidi's Legacy, told The Dodo. "This was around the same time we took in some shepherds from the large breeder bust there so she could have been an escapee. We aren't certain."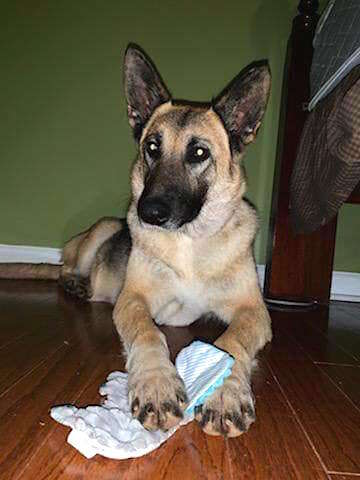 Anderson, who decided to foster Reba, knew that she wouldn't know just how many dogs would be in her house in a few days' time.
"She was very pregnant," Anderson told The Dodo. "I got her only two days before she gave birth."
When Reba went into labor, six healthy and beautiful puppies were born — but one of them looked a little different from the rest.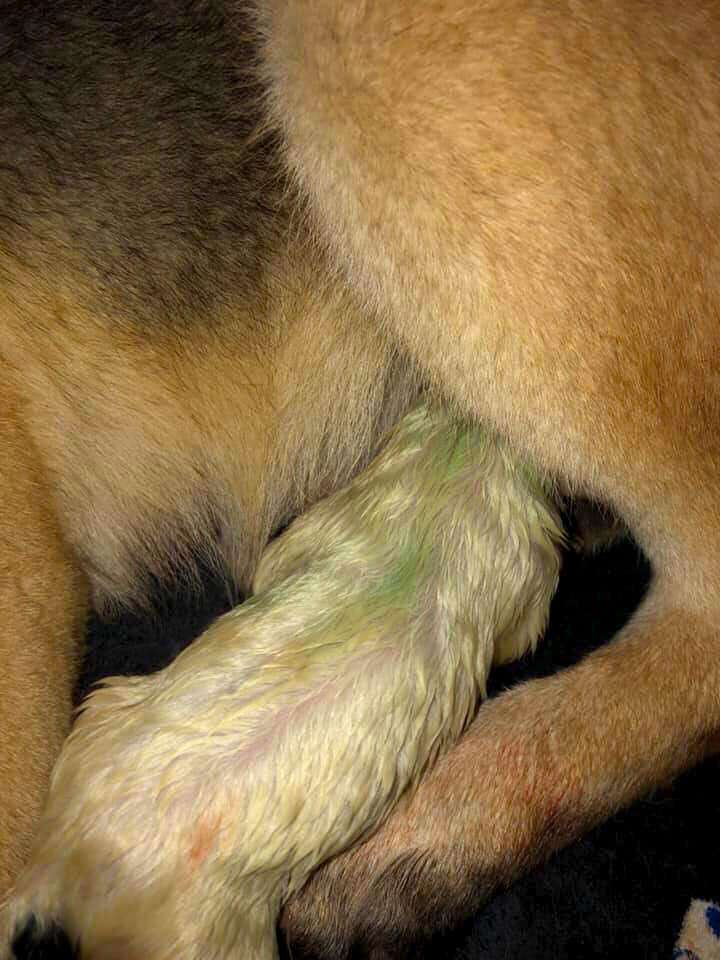 A very rare puppy with green fur snuggled up beside the others at Reba's belly to nurse.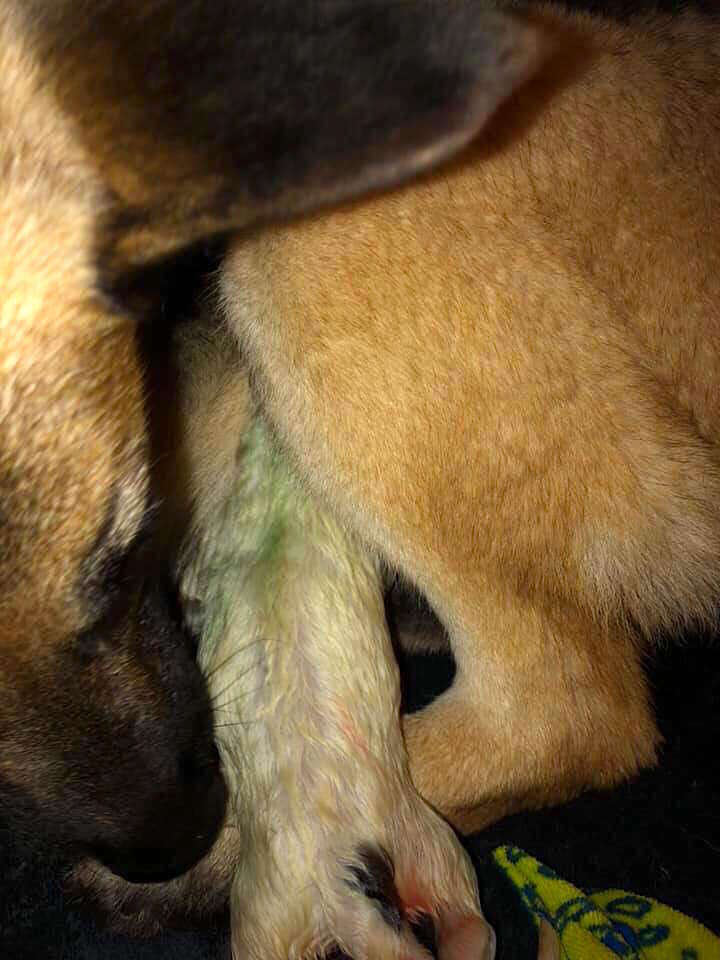 "We named her Clover as we thought it suited her," Anderson said.
While the green puppy phenomenon is quite unusual, it's not unheard of. The greenish hue is believed to be caused by green bile mixing with the amniotic fluid in the mother dog's womb.
Anderson took the green puppy as a sign of good luck and "an early St. Patrick's Day gift!" according to local news.
But nothing gold can stay — nor can anything green. Clover's special color faded after just five days.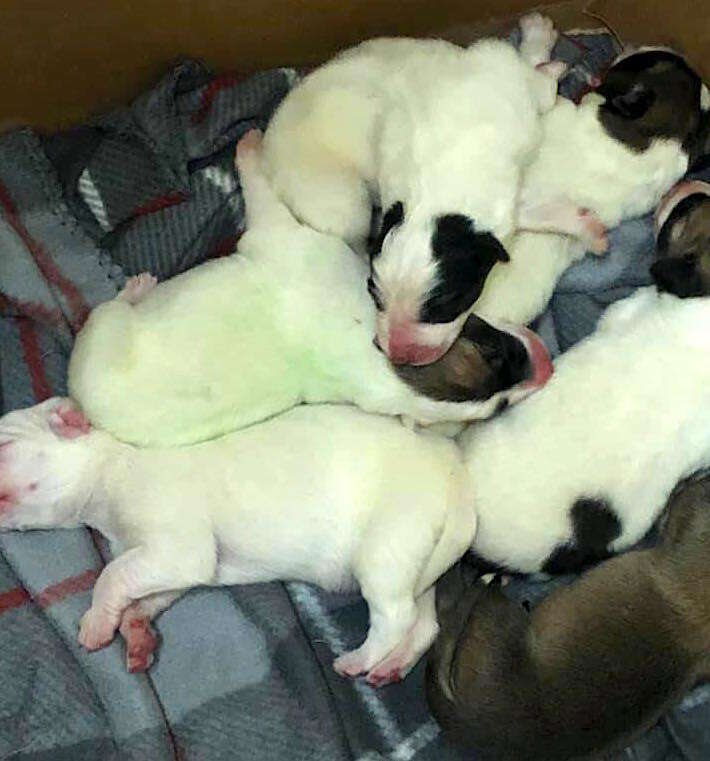 Now Clover looks much more like her siblings, and they are all doing incredibly well. The puppies just turned 2 weeks old this week. And Reba is embracing motherhood like a champ.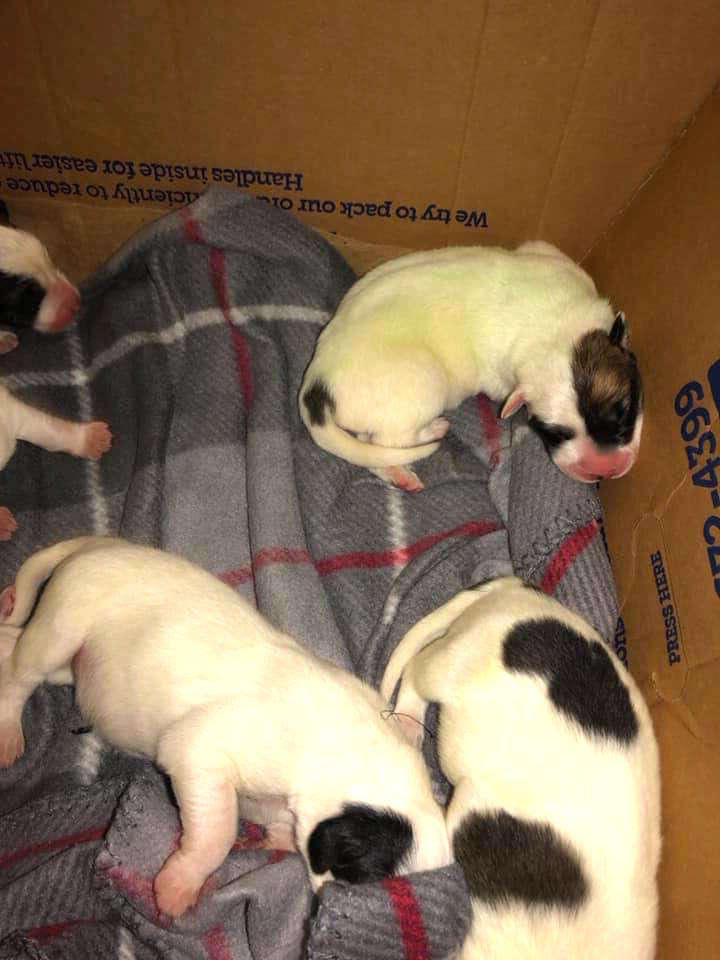 Soon, Heidi's Legacy will be accepting adoption applications for Reba and her puppies.
Green puppies may be extraordinary, but for homeless dogs, having a loving forever home is the most extraordinary thing of all.