Dogs Rescued By Same Firemen Are Reunited For Photo Shoot
"They were a bonded pair, just like two peas in a pod. They kept on licking each other's faces and made sure to stay close together."
When a young pit bull mix named Petey wandered into a firehouse in Compton, California, in June 2015, he was dirty, hungry and dehydrated. In spite of his desperation for nourishment, the firemen could tell right away that Petey was a sweet, loving boy and were immediately inspired to help him.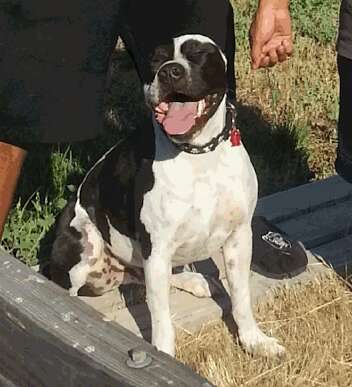 The firemen contacted Chews Life Dog Rescue and Petey was fostered by one of the firehouse paramedics while the rescue searched for a forever home.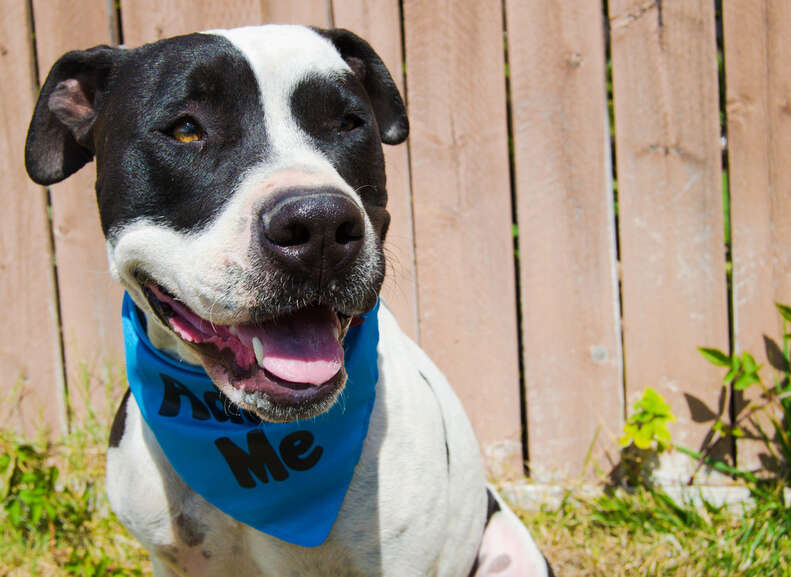 It just so happened that barely a year later, another dog was found by the same firemen who helped Petey. They saw Lucy, a scared and malnourished 1-year-old yellow Labrador mix, wandering a busy intersection of Compton, where they feared she would be hit by a car. The firemen picked her up, put her in the firetruck and drove back to the station, where they called Chews Life again.
The same paramedic who was fostering Petey took Lucy home with him and the two quickly became the best of friends. "They were a bonded pair, just like two peas in a pod," Brittany Williams, a Chews Life volunteer, told The Dodo. "They kept on licking each other's faces and made sure to stay close together."
Sadly, the paramedic could not keep Petey and Lucy forever, and they went to separate foster homes in May 2017.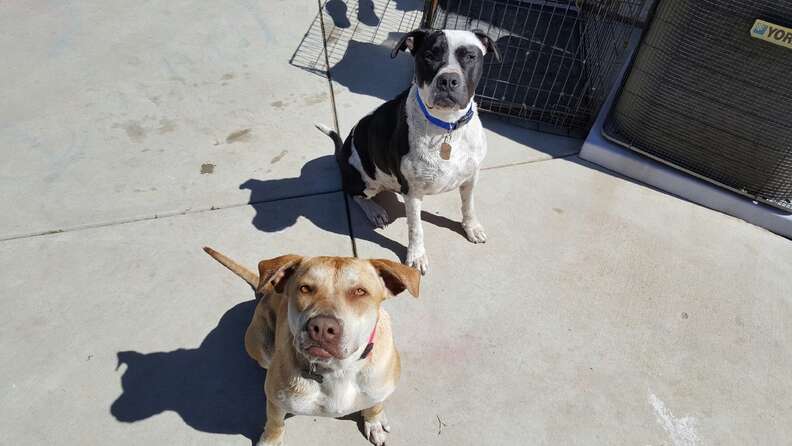 After Lucy found her new foster home, Williams stepped up to foster Petey. "At first, Petey came off as distant and quiet when he came to live with us," Williams said. "He was uninterested in the things most dogs were wild about (i.e., toys, food), but in no time his personality started to shine through and it was obvious he thrived with human companionship."
As Williams and Petey bonded, she learned more about his charming personality and how much he loved people. "Petey is the sweetest 70-pound gentleman you'll ever meet in Southern California," Williams said. "He loves human attention and always comes up to us wanting to be pet. He adores cuddling and napping on the nearest lap."
Though he had to part ways with his BFF Lucy, he soon made friends with Williams' dog Foxy ...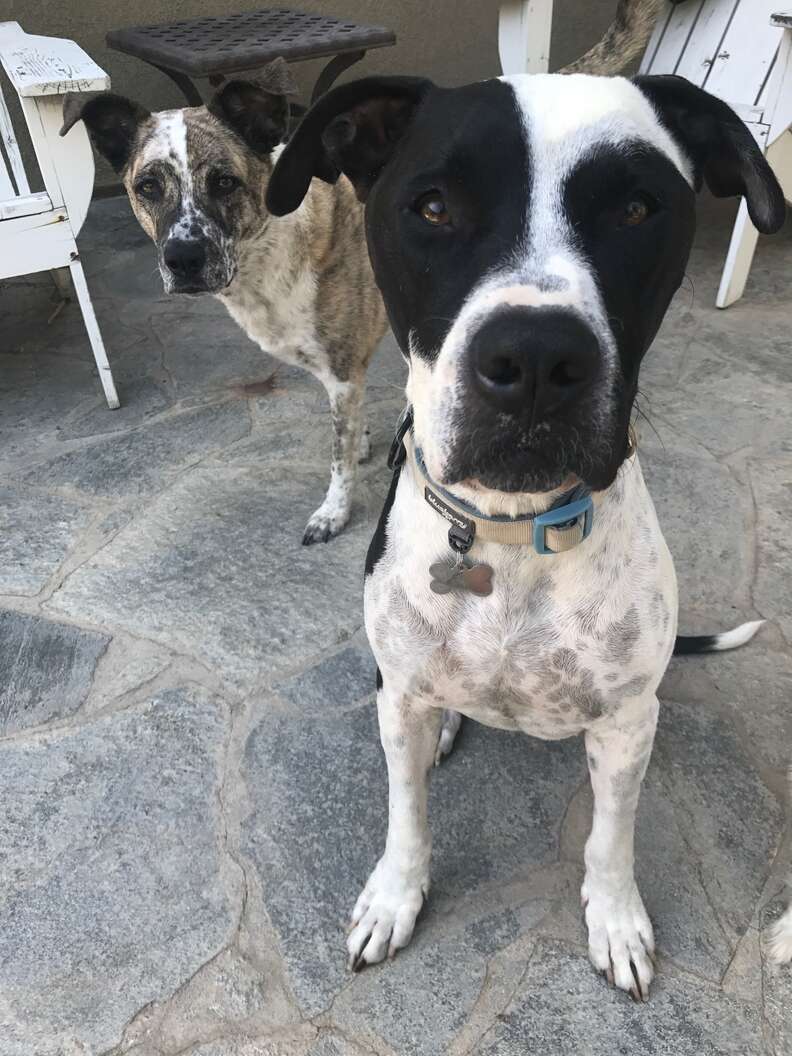 ... and Williams' aunt's dogs, Mint the chocolate Labrador and Sugar the feisty Chihuahua-Pomeranian mix.
When he's not busy cuddling and making friends, Petey also loves walks, tug-of-war and tagging along for car rides ...
... and he really loves food. "Wherever there is food, Petey will follow!" Williams said. "He loves peanut butter, carrots and even dried seaweed."
"My family is head over heels in love with him," Williams said.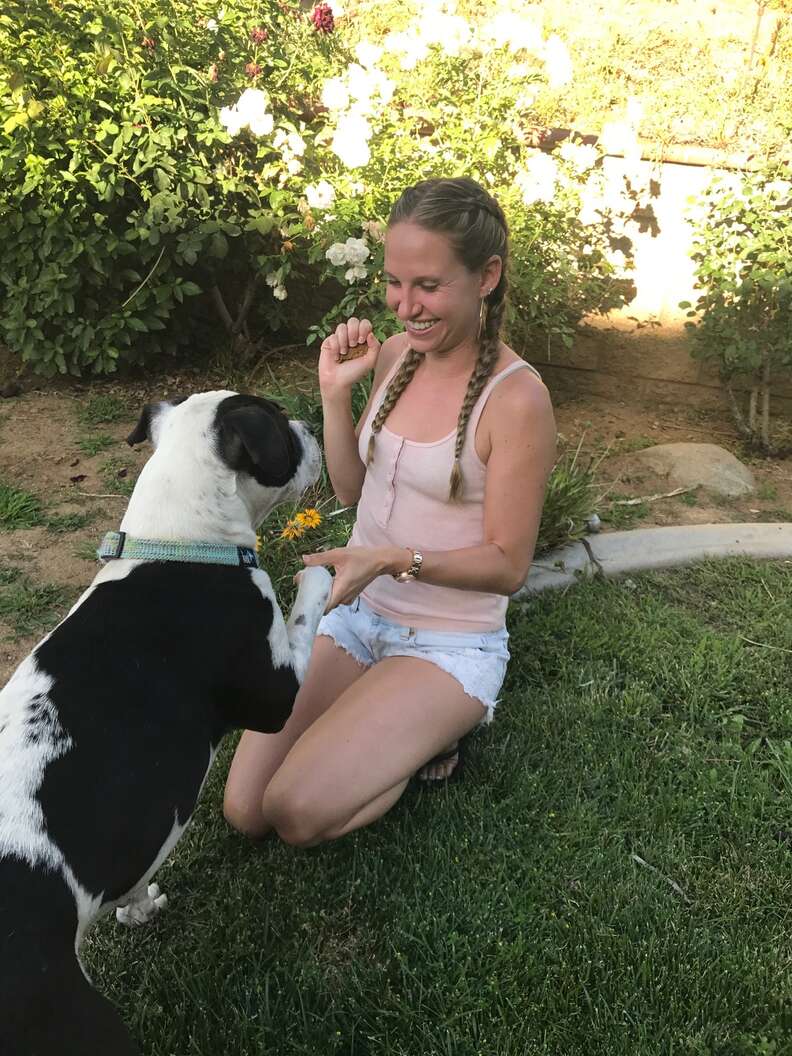 Though he settled into his new foster home nicely, Petey got some unfortunate news a few months ago. After a veterinarian examined some growths that had appeared, the 2-year-old pup was diagnosed with malignant skin cancer. He has had four surgeries to remove the masses so far.
"This is an issue that will remain with him always, so he will stay at his current foster home and we will continue taking care of all his needs," Kat Aharonian, event and foster coordinator for Chews Life, told The Dodo. "He's doing good; however, this will continue where growths pop up and we have to remove them ASAP."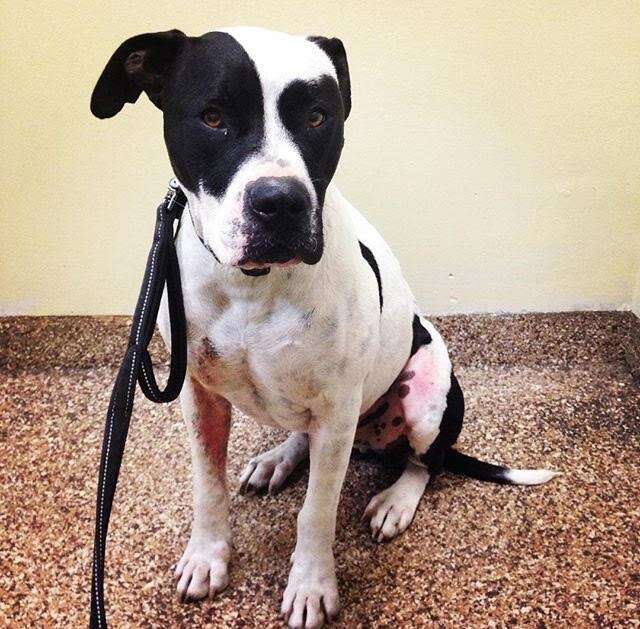 Williams was more than happy to take on the task as Petey's forever foster. "I'm going to be Petey's foster mama indefinitely," she said. "I will always be sure to keep his belly full, his bed warm and give him all the love and attention I have to offer."
Of course, part of taking care of Petey means regular checkups with the vet, administering medication and special tasks such as putting fish oil in his food and rubbing coconut oil on his dry skin. It also means limiting the amount of time he spends in the sun.
"For any dog lover coping with any type of diagnosis, it's a huge issue to take on," Williams said. "It is really difficult watching him go through surgery after surgery and to think he has gotten better when a new lump appears. It is never fun bringing Petey to the vet, but he deserves a million gold stars for being a trooper."
Recently, Petey got to take a break from vet visits to have some fun in a photo shoot with adoptable pups from Chews Life.
Though frolicking in the sun and seeing some of his old human pals was probably a treat, the real highlight of the day was when Petey reunited with Lucy. They even got to do a reunion photo shoot together.
"Petey and Lucy definitely recognized each other at the photo shoot," Williams said. "They came up to one another with happy, wagging tails and sniffed. It was such a heartwarming reunion."
In fact, Lucy's presence may have even helped soothe an overwhelmed Petey at the busy shoot. "I think Petey was a little anxious and stressed, so he had to be separated from the rest of the group a little earlier," Santho Goonewardene, Lucy's foster mom at the time, told The Dodo. "However, Lucy was the only dog he did not get snappy with there so I know he remembered her and I'm sure was happy to see her."
Lucy got some good news of her own after the photo shoot — she found a forever home and a new friend. "I've had her a month, but she's already loyal and determined to please," Arthur Four, Lucy's new owner, told The Dodo. "Lucy's personality is sweet and quiet, and she's willing to hang out with anyone. She's the best. She loves my other dog, who is a 9-pound Chihuahua, and they are super sweet together."