Dog Who Saw The Saddest Thing Hid In The Bushes Until Help Came
He was so scared when people found him, but now his rescuers have turned him into the happiest dog.
The dog did what he could to survive — he scurried beneath some bushes, hiding himself amongst the leaves. Then he dug a shallow hole in the mulch and lay down. He stayed there for hours.
The dog had gotten spooked when a group of men working for the Municipality of Ghobeiry in Lebanon came to the neighborhood where the dog, now named Survivor, and his pack lived on the streets. The men had brought food laced with poison, and they started giving it to Survivor's family members. As soon as the dogs ate the poison, they started to die.
Survivor hiding beneath some bushes in Ghobeiry, Lebanon

| Animals Lebanon
An onlooker filmed the poisoning event, which took place last December, and the footage made its way to Animals Lebanon, a local animal welfare organization.
"The video is quite graphic," Maggie Shaarawi, vice president of Animals Lebanon, told The Dodo. "It shows men dressed in municipality uniforms putting food mixed with poison for friendly dogs who come with wagging tails to eat. Shortly after, the dogs are shivering on the ground."
The site where the mass poisoning event took place in Ghobeiry, Lebanon

| Animals Lebanon
"The most heartbreaking scene is when one of the dogs approaches the men, almost asking for mercy for his friends who are dying," Shaarawi added. "The man didn't stop there or feel any mercy toward that friendly dog — instead he put food on the end of the stick mixed with poison and shoved it in his mouth."
This all happened a few months after Lebanon's current president, Michel Aoun, passed a new animal welfare law that banned the torture and abuse of animals. Since the poisoning happened after the law was put in place, animal welfare advocates were furious.
Even the Lebanese president himself spoke out about the incident — he posted a photo of himself with his dog on Facebook, along with a statement condemning the way the workers had dealt with the stray dogs.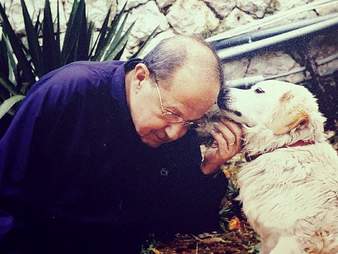 The photo President Michel Aoun posted of himself and his dog after the poisoning event in December

| Facebook/General Michel Aoun
But one dog survived the poisoning — the one who hid in the bushes.
When Shaarawi received a photo of the lone dog, she immediately sent a volunteer out to get him. But rescuing the dog wasn't easy — he was terrified of people.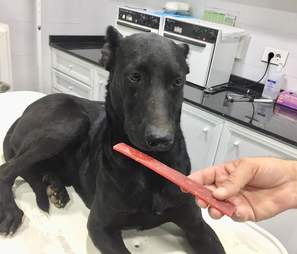 Survivor at the vet after being rescued — someone in the past had cropped his ears

| Animals Lebanon
"He was very scared, and he had his tail between his legs," Shaarawi said. "He kept running away. But Kamal, one of our volunteers on the ground, is known for his persistence. He kept following him until finally he was cornered."
Once Kamal had captured the dog, he took him to a local vet clinic for a checkup. Survivor turned out to be in good health, despite having lived on the streets. Yet he couldn't get over his fear of people.
Shaarawi sitting in the kennel with Survivor, trying to get him to trust her

| Animals Lebanon
"He was very fearful, and he would shake any time someone came near him," Shaarawi said. "We took him to our care, and every day we tried to gain his trust."
Shaarawi and the other volunteers visited Survivor at the Animals Lebanon rescue center as often as they could — and Survivor slowly blossomed into a confident, happy dog.
Shaarawi hugging Survivor

| Animals Lebanon
"He is an adorable dog — smart and gentle," Shaarawi said. "He is toilet trained, rarely barks and all he wants is human company."
"Every time I go to see him, he is almost dancing from happiness," Shaarawi added. "His whole body is shaking right and left."
Animals Lebanon
This Friday, Survivor starts a new chapter in his life — he's flying to the U.S., where he'll be taken care of by Sweet Paws Rescue, a rescue group based in Boston, until he finds a forever family.
"He will be an adorable family dog," Shaarawi said. "He is very good with puppies, children, people and he's very smart. I wish I could keep him, but my time is given to the rescue [work], and he deserves a nice family."
Safa Hojeij, one of the cofounders of Animals Lebanon, spending time with Survivor

| Animals Lebanon
If you're interested in adopting Survivor, get in touch with
Sweet Paws Rescue
. You can also help rescue more dogs like Survivor by making a donation to
Animals Lebanon
.