Stray Dog Who Lived At Garbage Dump Begged People To Rescue Him
"This dog wanted out so badly. You could see it in his eyes."
Every time the visitors parked their cars at a garbage dump in Corum, Turkey, a dog named Hercules raced over to meet them.
"He was very good about recognizing the cars of the people who would come to feed," Amanda Cunefare, a volunteer for Rescuers Without Borders (RWB), an organization that rescues dogs in Turkey, told The Dodo. "He'd jump up on the windows of the car, and he clung to every person. He was a people dog."
But Hercules wasn't the only dog at the landfill. More than 800 other strays lived there too — and life for all of them was incredibly difficult.
"It is cold, there is no clean water and food is scarce," Cunefare said. "You have to fight with 800 dogs for resources, and bury yourself in piles of garbage to stay warm. It's a horrible, horrible place to have to survive for years."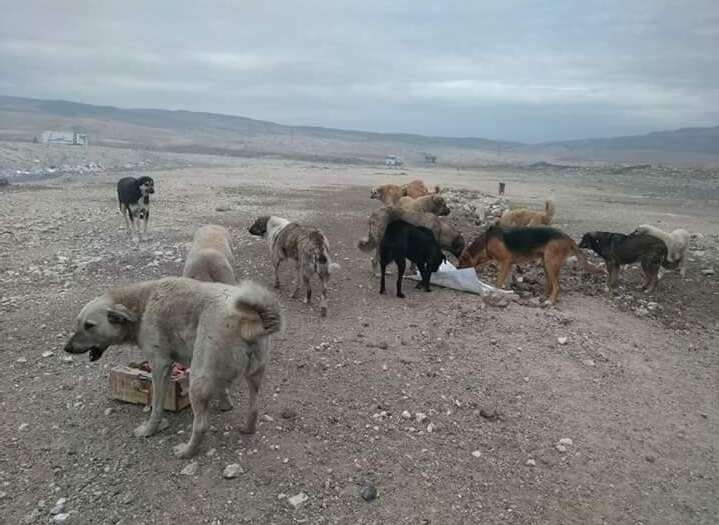 About four years ago, a 23-year-old Turkish woman named Gocke Erdogan started feeding the landfill dogs, getting them vet care and rehoming as many as she could. And last year, volunteers from RWB, which is based in the U.S., joined forces with Erdogan. So far, the team has managed to pull 47 of the dogs from the dump, and rehome most of them in the U.S. They also help Erdogan continue to feed and give vet care to the dogs at this landfill, as well as dogs living in remote villages across Turkey.
But sadly, the RWB team can't rescue and rehome every single dog — they just don't have the resources. So they prioritize helping puppies and senior dogs, who have a particularly hard time surviving at the landfill, especially in the chill of winter.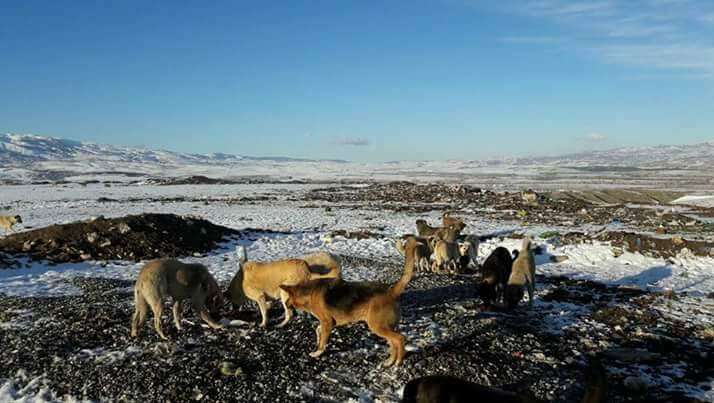 Since Hercules was neither a puppy nor a senior, and seemed pretty healthy, he wasn't immediately selected for adoption. But volunteers still made sure he got food, water and vet care until they could rescue and rehome him.
But Hercules was determined to get out. Every time rescuers stopped by, he would run to their cars and look inside, and eagerly accompany them on their rounds.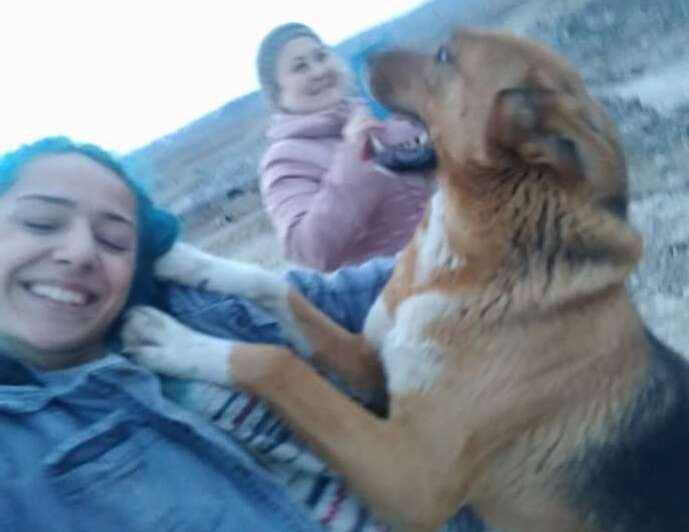 "This dog wanted out so badly," Cunefare said. "You could see it in his eyes."
Even though Cunefare herself had never been to the Turkish dump, rescuers knew she'd be the perfect person to take Hercules. She volunteers with RWB from her home in Troy Grove, Illinois, and had already adopted Dudas, a 10-year-old female who'd been living at the dump for at least five years.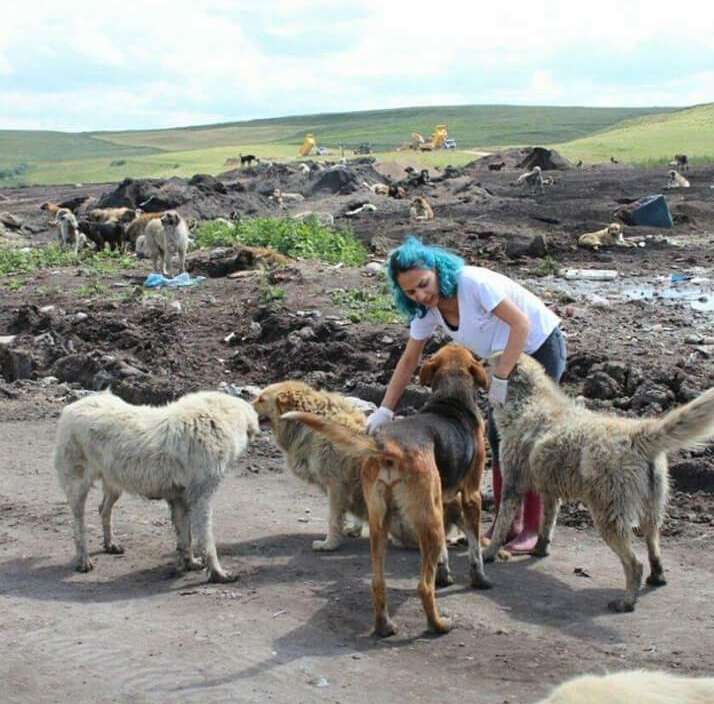 "She's an old lady," Cunefare said. "She's 143 pounds, and she's a big old mama. I wanted to adopt an older one because I'd felt like she'd fought so hard to survive."
Shortly after adopting Dudas, Cunefare also took in King Artur, a crippled dog who had been having a hard time competing with the others at the landfill. Then Cunefare got a phone call about Hercules.
"Gocke had contacted my friend," Cunefare said. "She'd said that she was afraid to ask me, but she wanted to know if she could send me Hercules, because since Dudas had left, he was not doing very well."
As it turned out, Hercules and Dudas had been best friends at the landfill. They'd spent all of their time together, and Dudas had looked after Hercules in a motherly way.
"My heart broke," Cunefare said. "I said, 'That's horrible. If I'd have known that, they both could have come.' I can only imagine how awful it was [for him] to watch her leave. So I said, 'Absolutely send him over.'"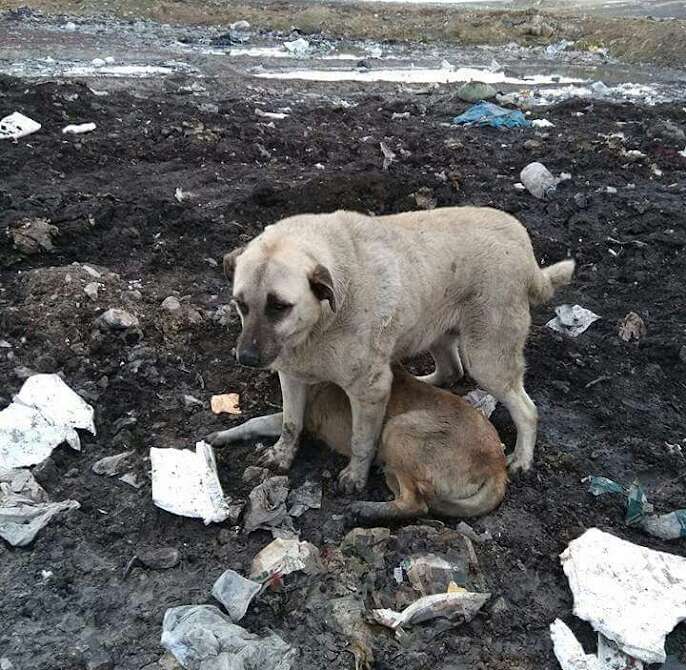 In May, Hercules was transported to the U.S., and came to live with Cunefare on her 2-acre property. The reunion between Hercules and Dudas was magical. "They immediately recognized each other," Cunefare said. "They ran around and they played."
Hercules and Dudas have been inseparable ever since, just like they were at the landfill.
Since Hercules' arrival, Cunefare's family has grown, and she now has six dogs from the Turkish landfill — Sky, Millie, Aussie Canga, King Artur and, of course, Hercules and Dudas.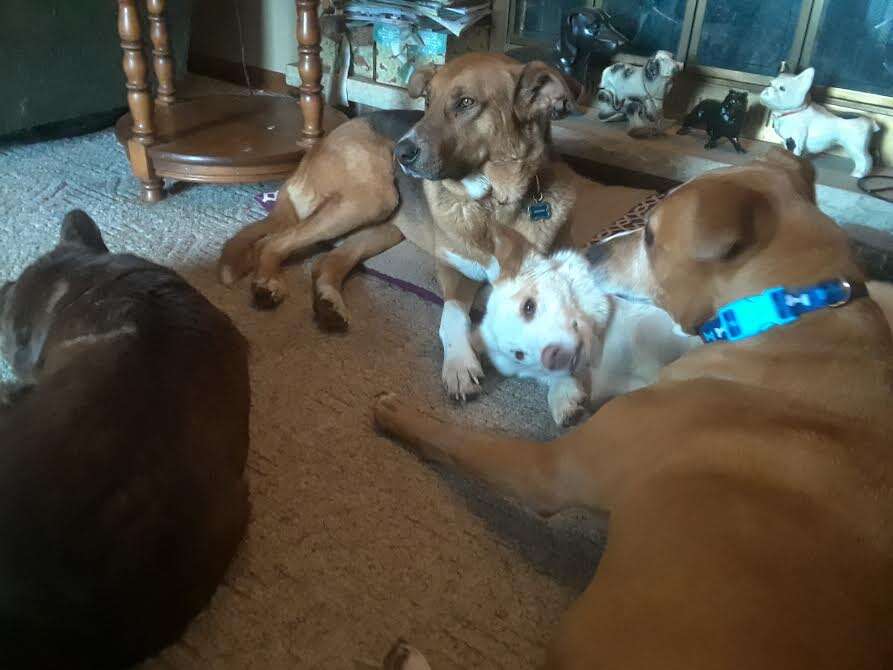 "I've been doing this [rescuing dogs] for 13 years, and the Turkey dogs are resilient," Cunefare said. "They're housebroken, and they're more well-behaved than my three dogs from the States."
Cunefare has a hard time deciding who is happier — herself or the dogs she's taken in.
"They're just so grateful," Cunefare said "They're like, 'Oh my God. There's a bed and a blanket. I don't have to sleep outside. Holy crap, you're feeding me breakfast everyday. This is amazing.' I have yet to meet one that isn't grateful for everything that I've given them."