Couple Sees Dog Being Hit By A Car — And Decides To Adopt Him
"I chased him for blocks, through parking lots and back streets."
After Ryan Hunter and his fiancé Lisa lost their dog Travis in September, they decided they wanted to take some time before adopting another pet — until a dog who needed them more than anything came into their lives in the most unexpected way.
The couple was pulling into a parking lot in Los Angeles one morning when they saw a stray dog round a corner and head straight into oncoming traffic. Hunter immediately tried to help him, but there were just too many cars, and the dog was hit by a van on his right side.
Still desperate to help, Hunter started to run over to the injured dog, later named Forrest, but the poor pup was terrified and began to run away as soon as he saw Hunter coming.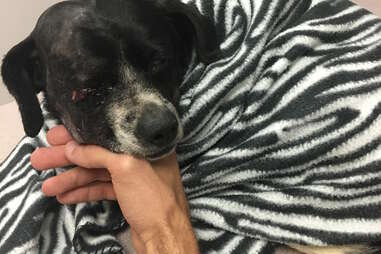 "I chased him for blocks, through parking lots and back streets, and I eventually lost him," Hunter told The Dodo. "I went back to find Lisa and saw her flagging me down from about half a mile down a road that led to the entrance of the 5 freeway. I sprinted to her and she told me she saw him near the entrance to the 5. I finally found him sitting beside a tree about a block away."
Hunter could see that Forrest was terribly injured, and knew he needed to get him to a vet as soon as possible. Still terrified, Forrest tried to bite Hunter as soon as he got close, and so Hunter sat next to Forrest for a while, slowly inching closer and starting to pet him, until finally the little dog seemed to trust him. He then took off his shirt, wrapped Forrest up in it, and rushed him off to get the help he so desperately needed.
Forrest sustained some significant injuries from being hit by the van, including a severe eye injury and lots of cuts and bruises. He was already in bad shape to begin with, very dirty and covered in fleas, and the couple assumed that Forrest had been living on the streets for quite some time.

"Upon initial assessment from the vet, we were told he had massive brain swelling," Hunter said. "His heart rate dropped below 20, where the norm is around 120 for a dog his size. His eye was not salvageable, so it was snipped off and they planned on surgically sewing his lid once he was stable. While he was staying strong and fighting through, he was at high risk for hemorrhaging and we were told there was a chance he wouldn't make it through the night."
The hospital manager informed the couple that a local shelter would be coming for Forrest later in the day, and would assess whether or not he was adoptable. They asked what he thought would happen to Forrest — and he said usually, with dogs who were so significantly injured, they were put down before really being given a chance to recover.
After hearing Forrest's impending fate, and despite not having the funds to care for him, the couple immediately knew what they had to do.
"We made the decision right there to adopt him," Hunter said. "Lisa and I lost our beagle in September last year, and he was blind, deaf and diabetic. We're very accustomed to dealing with dogs with special needs, so we felt like this was fate."
The couple knew that life with Forrest would be an uphill battle, but they decided they were more than willing to fight alongside him.
Forrest went home with his new parents, and is slowly learning to trust them. He's still terrified of everything around him, but he seems to sense that for now at least, he's safe in his new home. He gets a little braver every day, and as his injuries continue to heal, his parents are excited to get to know his personality even more.
"So far, we've learned he's extremely affectionate, loving, and just very sweet in general," Hunter said. "Every vet tech at the hospital seemed to have fallen in love with him. He's still a little frightened and startled by his surroundings, but he trusts Lisa and I, which we're thankful for."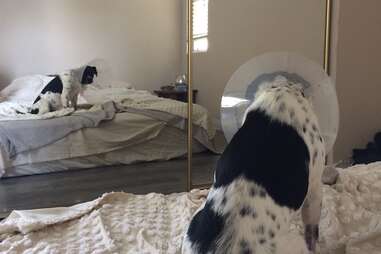 Forrest still has a lot of medical issues to take care of, and his parents are doing everything they can to make sure he's healthy and taken care of. Hunter is a member of a band called Envy On The Coast, and the band has decided to raffle off something special in order to help raise money for Forrest. It was a big decision to take on a dog like Forrest, with all the care and attention he's going to need, but so far, every little moment with him has made that decision so, so worth it.
"Every day has been a small victory," Hunter said. "Yesterday we got a tail wag when we approached. Recently I laid down in the grass after setting him down a few feet away from me to pee and he made his way over to me and laid down with his body pressed up against me. That was a really beautiful sign that he's comfortable here at the house and knows we're going to take good care of him."