Stray Dog Won't Stop Chasing Bus Until Driver Adopts Her
He saw how determined she was ❤️️
When Jaypee Barcelinia got on a bus in Quezon City, Philippines, he didn't expect to share his seat with a furry commuter. But after witnessing the lengths that the stray dog would go for a chance to board, he was happy to make room for the animal.
"The stray dog was sitting in a public road, then when our jeepney [a form of local public transportation] passed by, she suddenly chased the jeepney and she wanted to take a ride," Barcelinia told The Dodo.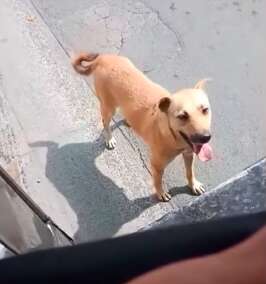 The dog tried six times to leap on to the jeepney, according to Barcelinia, but each time she was unsuccessful. Whenever the bus slowed, the dog would place her front paws on the back step, falling off as soon as the bus pulled away.
The driver was reluctant to let the dog board — worried that the stray pup might act out and bite a passenger.
"At first, the jeepney driver was afraid to get the dog because here in the Philippines it is unusual to see a dog chasing a jeep," Barcelinia said.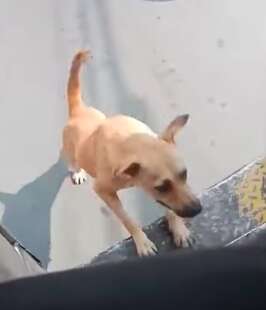 No matter how tired the dog became, she seemed intent on catching up to the vehicle. Eventually, the driver's heart softened and he finally brought the bus to a complete stop. But this time, the panting dog didn't try to put her paws on the back step.
Instead, she waited, as if to ask permission to hop on.
Eventually, the tired dog finally got what she wanted — a well-deserved rest in the shade of the covered vehicle. "She entered the jeepney then took a nap inside," Barcelinia said.
And that's not all ...
''Even after the journey finished the dog didn't want to leave," Barcelinia told Newsflare. "The driver is now keeping her and taking care of her.''