Cat Wanders Into Third-Grade Class — And Decides He's Never Leaving
No one knows where he came from, but he changed everything for the students ❤️
No one knows exactly where this lovable orange cat named Tombi came from — but there is no doubt at all that he found the place where he belongs.
One day, in 2018, Tombi appeared on the grounds of a public elementary school in the city of Izmir, Turkey. Unlike most stray cats, who can be quite skittish, Tombi was friendly and outgoing — walking up to kids outside seeking attention and pets.
But Tombi didn't stop there.
After a couple of weeks of hanging out exclusively in the school's garden, Tombi apparently decided to try his paws at a formal education. For a street-smart cat, the third grade seemed like a good place to start.
"He came into our classroom," teacher Özlem Pınar Ivaşcu told The Dodo. "The children liked him very much."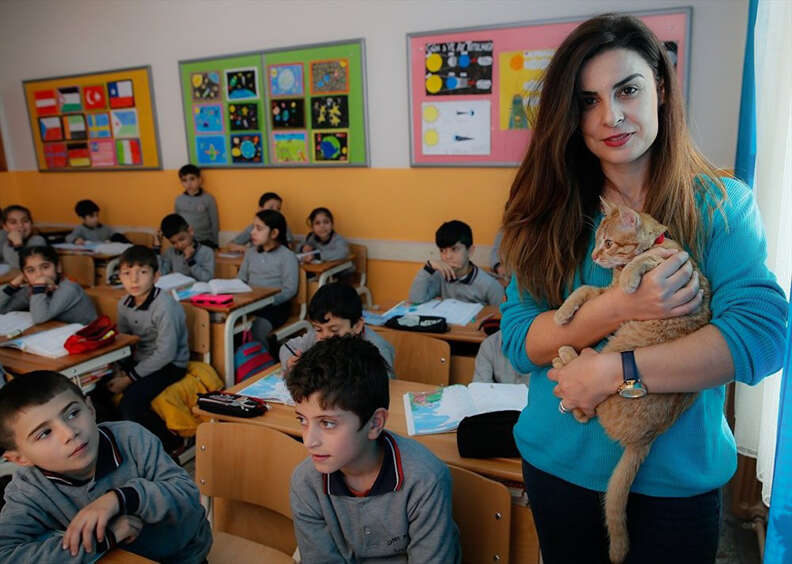 And just like that, Tombi became part of Mrs. Ivaşcu's class.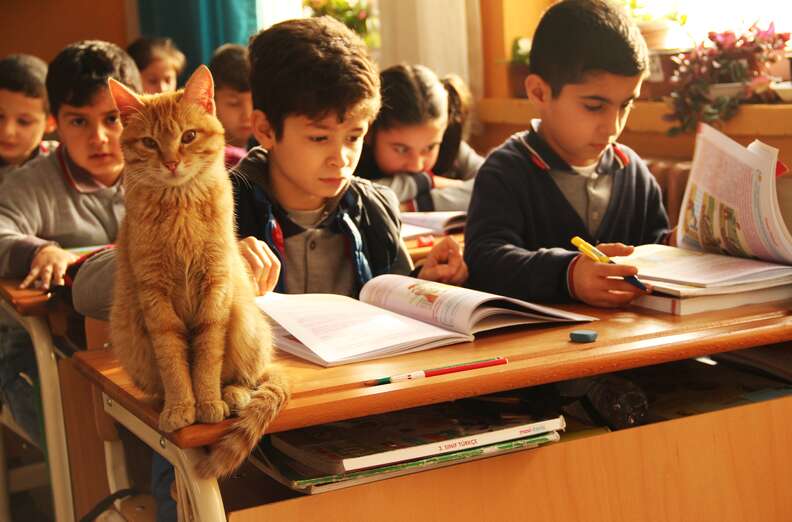 Having a cat prowling around the classroom might seem like it would be wholly a distraction for young students, potentially hindering their learning — but Ivaşcu found that Tombi was having the opposite effect.
Seeing the cat's playful curiosity had caused her kids to become more excited to be in class.
Ivaşcu's students used to run and horse around in the classroom between lessons. But with a cat around to engage them, they became better able to stay focused. Even the morning bell had a more pleasant ring to it — all thanks to Tombi.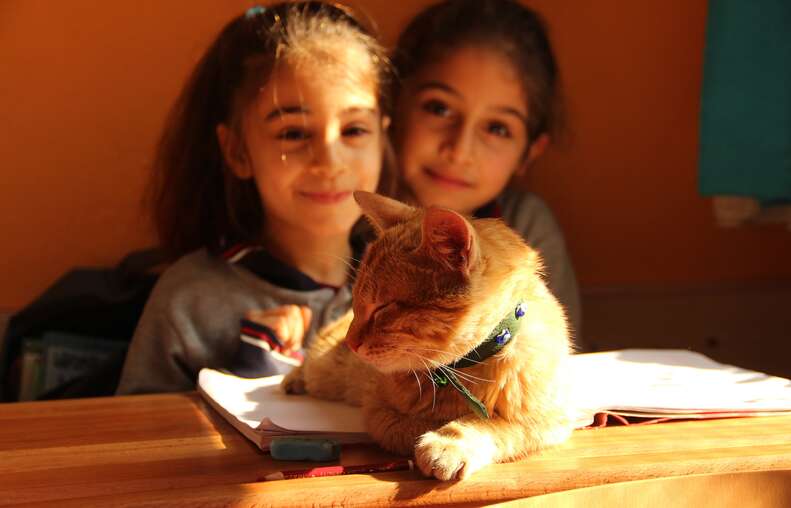 "The children come on time to school, and they are taking care of Tombi," Ivaşcu said. "This is good for them."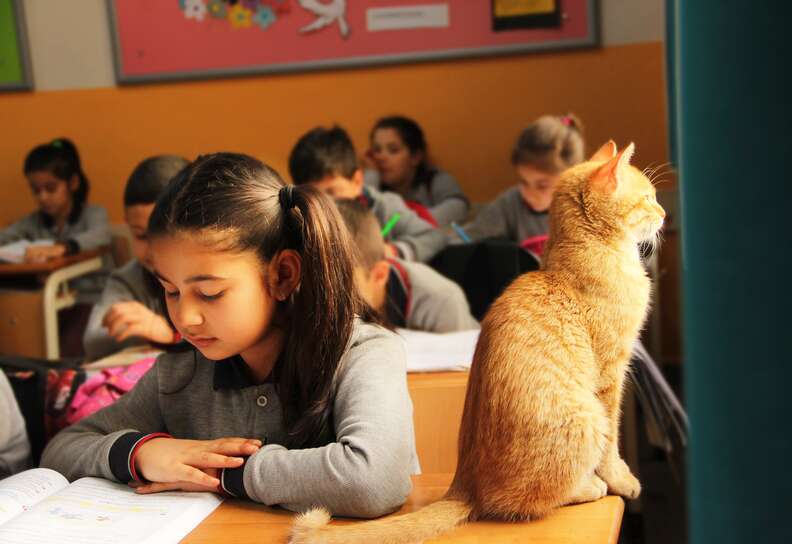 It was also good for Tombi.
Not only did the cat have a safe place to sleep and spend his days, with bowls full of food and water to call his own, he had dozens of new friends looking out for his best interests. Ivaşcu took Tombi to the vet to make sure he's healthy and gotten him vaccinated.
Things in Ivaşcu's class had never been better — but then a problem threatened to bring it to an end.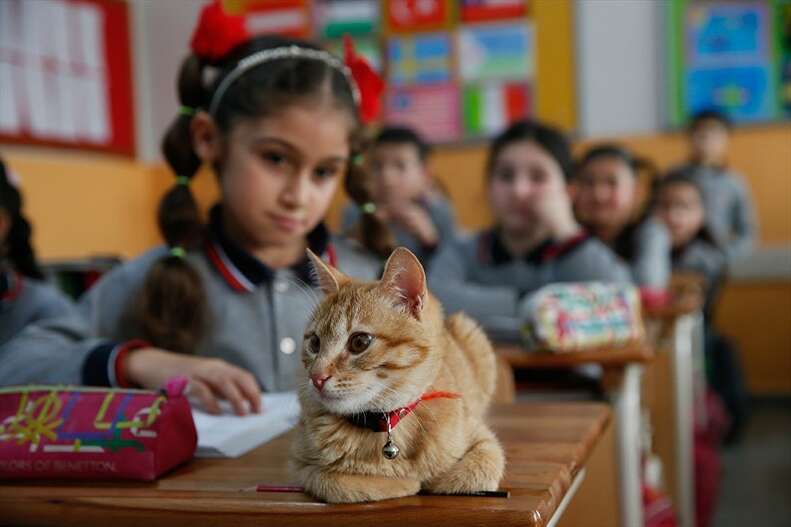 After learning that a stray cat had free run of the class, one student's parents lodged a complaint with school officials, saying that it could pose a health risk. Administrators then told İvaşcu that that Tombi had to go.
The class was devastated — and the cat was too.
"We found a home for Tombi and he stayed three days there, but he was not happy. He stopped eating," İvaşcu said. "So I took him in at my house, but also here he was not very happy."
Tombi's friends at the school even wrote letters to try and cheer him up.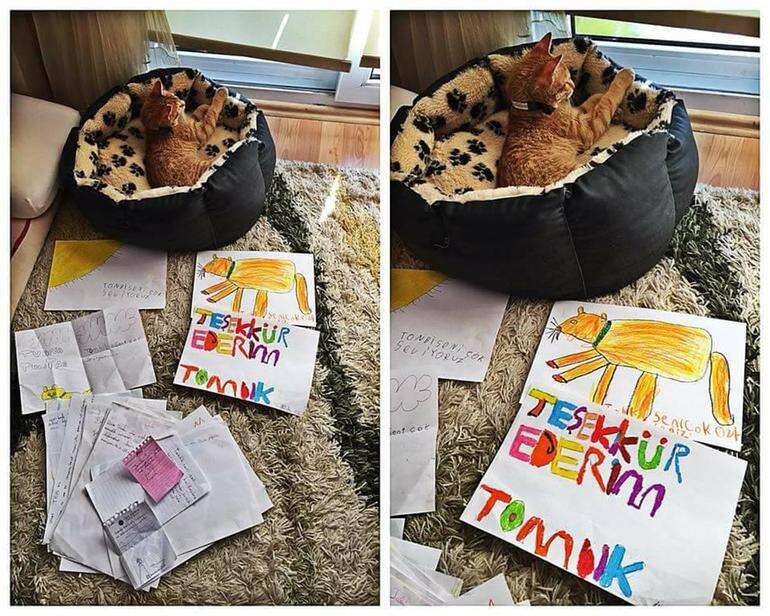 Seeing that the cat wasn't getting better, İvaşcu decided to write about his sad situation on social media. From there, word about Tombi spread like wildfire.
"The story got a lot of attention and support on all TV news," İvaşcu said. "I had a lot of support from many people, including from my manager and the director of education in İzmir."
Even the parent who complained had a change of heart. She wanted the cat back in class, too.
And sure enough, school officials gave the OK for Tombi to return.
"The children were very happy to have Tombi back," İvaşcu said. "And he is happy again to be with the kids."
Tombi meant the world to the 33 students in İvaşcu's third grade class that year — but he went on to reach more than them alone.
That year, inspired by the cat's positive influence on her group of little learners, İvaşcu wrote and published a book about Tombi.
Years have passed since Tombi first strutted into İvaşcu's classroom — but his story hardly ended there.
Since then, İvaşcu has reportedly moved abroad, bidding farewell to the school and her former students, though she didn't leave it all behind her. Joining her on that journey was the storybook cat, Tombi, eager to write their next chapter of life.
These Modern Cat Trees Are All Top-Rated
We may earn a commission if you purchase from our links.