Stray Cat Asks To Be Let Inside So She Can Have Her Babies
"It was clear she just knew exactly what to do."
When a stray cat named Salami realized it was time to have her babies, she went to the one place where she knew she'd be safe.
Salami started coming around Ida Floreak's house in the early fall of last year after spotting Floreak's cat hanging out on the backyard stoop.
"She came by and she really liked him," Floreak, a painter who lives in New Orleans, told The Dodo. "They'd sniff around each other and she was more interested in him than he was in her. It was definitely clear that she was here to see him — which was sweet."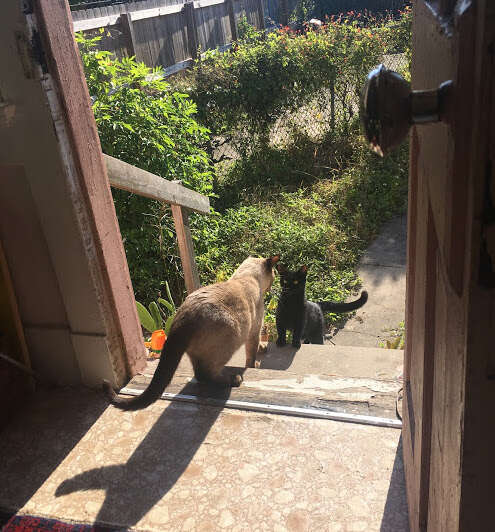 Floreak started leaving food out for Salami, and before long, the small black cat showed up at her house every morning, meowing at the door. Though Salami was eager for the free meal, she was skittish around Floreak.
Then, the little black cat started to get a bit of a belly. "My goal was to be able to take her in to be fixed and vaccinated," Floreak said. "But before she was comfortable enough for that, she was visibly pregnant."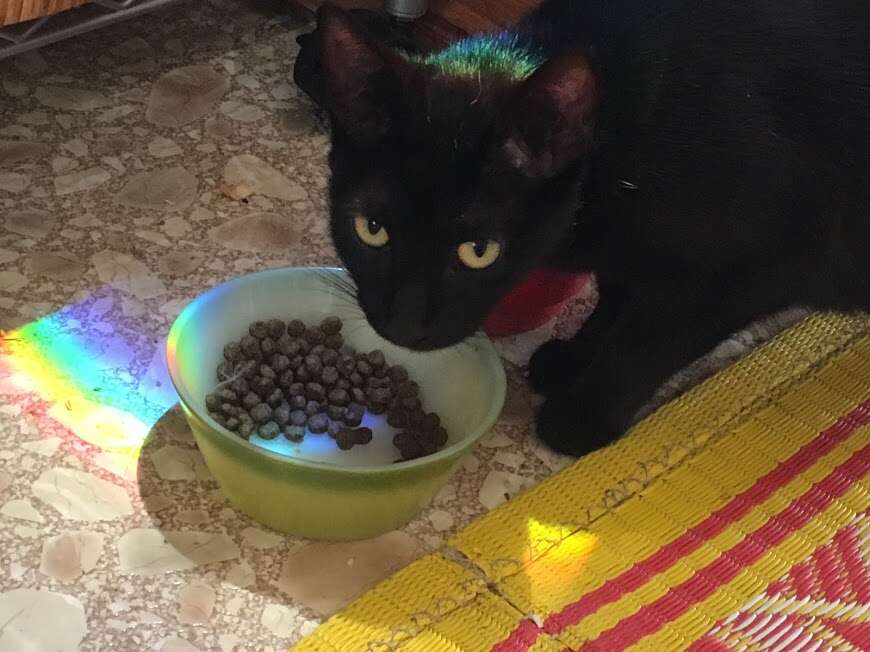 During Salami's pregnancy, she started to spend more time around Floreak, allowing herself to be pet and brushed. Then, one morning in early April, Salami showed up earlier than usual.
"She came by at 5 and was squeaking very insistently in a way that seemed out of character," Floreak said. "So I let her in and she started to have her babies around 8 or 9 in the morning."
"I was surprised because I kind of figured when she had them I wouldn't see her for a couple of weeks," she added.
Floreak had just enough time to put out blankets and make her bedroom quiet when Salami suddenly gave birth to two kittens. Salami seemed content, and Floreak assumed that she had finished delivering her babies.
Later that night, Floreak was on a Zoom call with friends when Salami produced two more tiny kittens. "I was super nervous never having seen or done anything like this before," Floreak said. "But to watch her, it was clear she just knew exactly what to do. It was a really intense experience."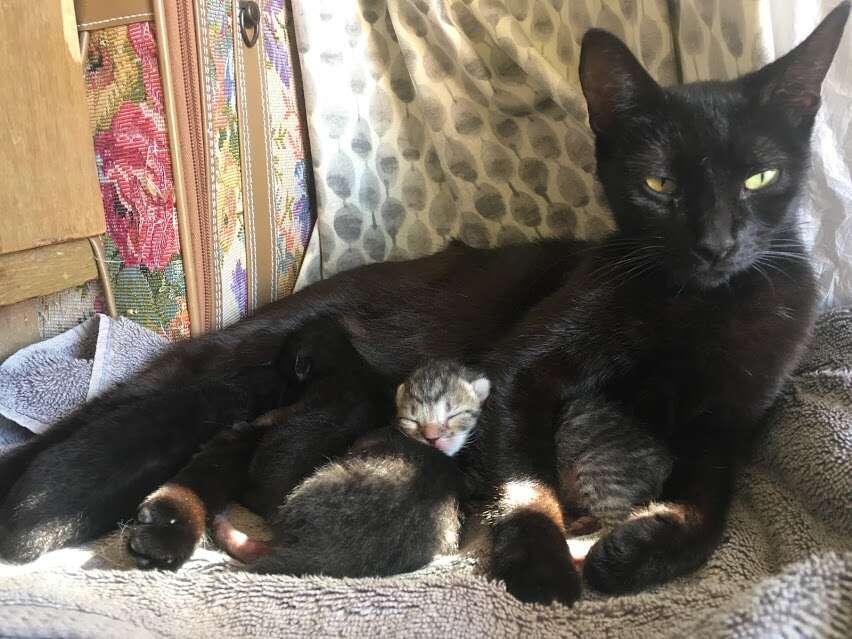 With New Orleans under quarantine, Salami and her kittens received Floreak's undivided attention for two months — and the little family is thriving.
"She's an amazing mom," Floreak said. "She's super attentive and sweet."
Floreak has found forever homes for all four kittens, but Salami is staying with her. After everything they've been through together, there was no other choice.
Floreak's other cat seems to have gotten used to the new normal — though he can't wait for the kittens to go to their new homes. "He kind of misses having the run of the house, and isn't really used to the kittens," Floreak said. "But he and Salami are still getting on."