Owner Brings In 'Spent' Mother Dog To Be Put Down — But Vet Refuses
"Giving these dogs the best life really is the best revenge."
When Dawn Karam, president of Adopt A Boxer Rescue, first saw Tracy just a few days before Christmas, she didn't think the dog would survive.
Skinny, sick and extremely weak, Tracy just barely clung to life — and whenever she tried to walk, she nearly fell over.
A few days before, the 4-year-old boxer had been brought into a Pennsylvania vet by the owner of an Amish puppy mill because she wasn't getting pregnant anymore.
"He asked the vet if they could fix her up enough to be bred again, and if they couldn't, the only thing he'd pay for was to have her euthanized," Karam told The Dodo. "Greed is an awful thing and this is all it was."
Tracy was in no clear state to have puppies, and the vet knew she needed medical help immediately — so he called Adopt A Boxer, which offered to cover any costs right away.
The vet began treating her for pancreatitis, but after two days, she showed no signs of improvement. She was brought to an emergency vet clinic, where more tests were done, but the cause of her sickness still remained a mystery.
"Her chance of living seemed very grim," Karam said. "She wouldn't eat, and all of her symptoms seemed to point to some type of neurological ailment, like a brain tumor, but the tests found nothing. The day before Christmas Eve, we knew we had to bring her to the only other people who could give her more help."
Volunteers hopped in the car and brought Tracy to Ryan Veterinary Hospital at the University of Pennsylvania. After a few more tests, the vets concluded Tracy was only suffering from one thing: starvation.
"Every bit of her imbalance, every bit of her condition was because she was locked in a cage on that mill and deprived of the simplest thing that any pet needs," Karam said. "She was only 37 pounds — a female boxer is supposed to be at least 20 pounds more than that."
Vets gave Tracy a feeding tube for two days until she transitioned to eating small, frequent meals throughout the day on her own. After four days in their care, she had improved enough to move to an experienced foster home that frequently works with Adopt A Boxer.
"She's been with her foster, Rachael Hubbard, for only a week now but it is like night and day," Karam said. "She is comfortable, eating well and has already gained back 10 pounds."
At her new foster home, Tracy is getting plenty of time to relax with four new boxer friends, including Angus, another foster. Although experiencing a house for the first time was scary, Tracy has found comfort in her foster siblings and is getting more confident each day.
"The only socialization she got was when the owners would go into her cage to take the puppies out to take photos of them for their sales posts," Karam said. "Mill dogs live for other dogs because that's all they know — so she's definitely learning how to be a dog through watching what the others do and how they react to things. If they're OK, then she's OK too."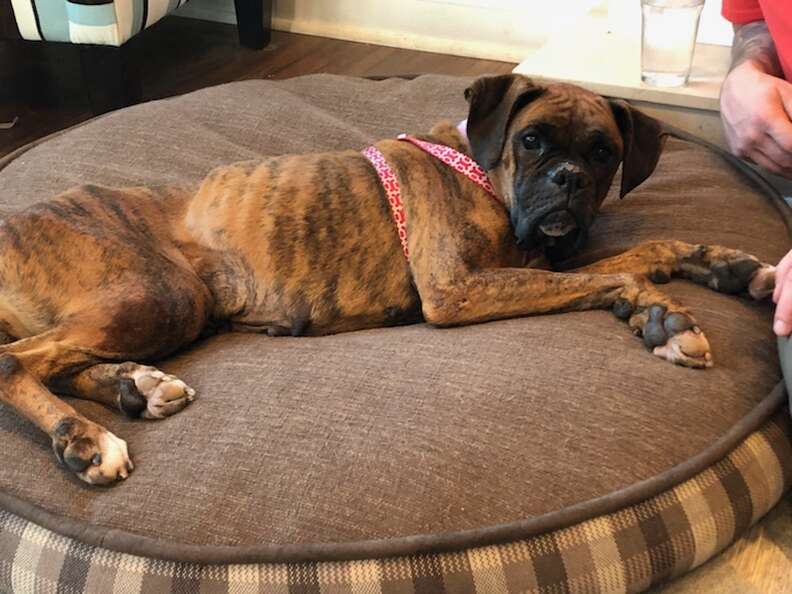 The Humane Society of the United States (HSUS) estimates that 10,000 puppy mills currently operate in the U.S., forcing over 167,000 mother dogs to spend their lives giving birth so that their puppies can be sold. An estimated 2 million of these puppies are sold through pet shops and other retailers each year.
Like the mill where Tracy lived, most puppy mills in America are licensed by the USDA, which enforces only the minimum animal care regulations required under the Animal Welfare Act. These regulations cover only the most basic survival standards like food, water and shelter — which allow licensed puppy dealers to keep hundreds of dogs in cages for the duration of their lives with little to no exercise or human attention.
While these standards are in place, some mills continue to fall under the radar, resulting in extremely sick, even starving dogs like Tracy.
"Most mill moms and mill dads will not make it out alive," Karam added. "Although she was in extremely poor shape by the time she got help, she's one of the lucky ones."
Tracy continues to gain strength and confidence, and she'll soon be on her way to her forever home. And now that her situation has been reported, the Pennsylvania SPCA has opened an active investigation into the mill that she came from.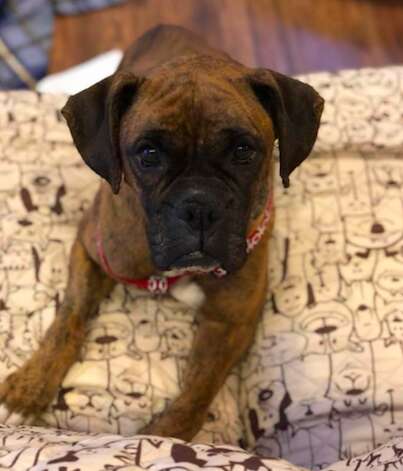 "If people didn't buy puppies from pet stores or online, there would be no demand and there would be no mill dads or mill moms like Tracy," Karam added. "The millers continue to do this because they can — but we can stop this. In the meantime, giving these dogs the best life really is the best revenge."