This Dog Is About To Spend His Second Christmas In A Shelter
"We've got seven days before Christmas, so I'm really hoping that someone will come forward and they'll be the perfect match for him."
Four hundred and one days. That's how long a 3-year-old dog named Bentley has lived inside a shelter run by the RSPCA in Aylesbury, England.
"He was rescued by inspectors just before Christmas last year, and he was found living in really, really appalling conditions," Amy Ockelford, senior press officer for the RSPCA, told The Dodo. "So he was rescued and taken into our care and given lots of TLC. And now he's been in our care for 401 days, bless him."
Bentley inside of his kennel at the shelter

| RSPCA
On average, it takes about 36 days to rehome dogs or cats who come into the shelter, Ockelford explained, so Bentley's situation is a bit unusual. One possible reason for Bentley's difficulties may be his former lack of social skills.
"He struggled when he first came in because he found it difficult being around other dogs, and was quite frightened of new situations," Ockelford said. "He'd obviously been shut away on his own and hadn't been walked properly or socialized properly."
RSPCA
Another reason may have to do with Bentley's breed. He's a Staffordshire terrier — a type of dog that has the unfortunate reputation of being "dangerous."
"We do struggle to rehome Staffordshire terriers sometimes," Ockelford said. "It's a real shame because they're such wonderful dogs and they can make such brilliant pets — they're brilliant with people and brilliant with children. I think they have an unfair reputation."
Since Bentley arrived at the shelter, staff members have been working hard to socialize him. He's made great progress, according to Ockelford, but he'll need an owner who's able and willing to continue his training.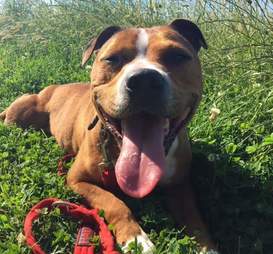 RSPCA
"Our staff had to spend quite a bit of time building up his confidence and getting him used to other animals, and getting him used to new situations," Ockelford said. "So whoever his new owners are will have to carry on with that kind of work, and realize that they have to take their time and have patience with him."
"In about 400 days, he's got a lot more confident around people," Ockelford added. "He absolutely loves people. The staff at the center say that he's the king of cuddles. He loves affection and he's very, very sweet."
But to everyone's surprise, Bentley's sweet nature hasn't helped him find the family he deserves.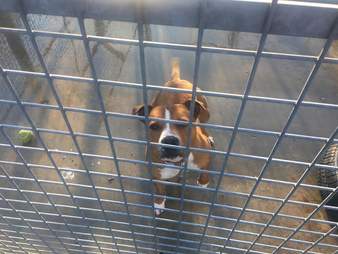 RSPCA
"He's had a few people show a little bit of interest in him, but no one's ever gotten to the point of adopting him," Ockelford said. "He's just been waiting patiently, staring out of his kennel longingly at everyone who walks by."
Since Bentley has stayed at the shelter for so long, Ockelford and the other staff members have grown really fond of him — and everyone at the RSPCA would be thrilled to see Bentley in a home for Christmas.
RSPCA
"He just deserves it, and he'll come out of his shell so much when he's in a new home," Ockelford said. "We've got seven days before Christmas, so I'm really hoping that someone will come forward and they'll be the perfect match for him. Then he'll be able to spend Christmas lying underneath a Christmas tree, getting lots of treats. I think that would be the perfect ending."
Since Bentley is living at a shelter in Aylesbury, England, it makes the most sense for him to be adopted by a family living in England or Wales. If you think you have the perfect home for Bentley, and you'd like him home by Christmas,
contact the RSPCA
.
Looking for another pet? Then meet Dodo Adoptbot, an interactive guide for new pet parents. Get started on
Facebook Messenger
or text HOME to 38349.