Sweet Three-Legged Squirrel Visits Her Favorite Person Every Day
She even brings her kids along sometimes 💗
Each morning, Crystal Hurta is on a strict time schedule.
As a counselor at a junior high school in Texas, she always tries to be early so she can get right to work helping students when they come in for the day. But there's also a part of her morning routine that involves someone a bit more furry: the local squirrels.
"My office window points out to this huge tree and we have a ton of squirrels," Hurta said. "Several years ago I saw them all out there and noticed that one squirrel in particular was missing a front paw. I wanted to make sure she was getting enough to eat, so I started throwing a little bit of corn out there every day."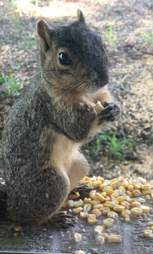 Stubby the squirrel eating corn at the window

| Crystal Hurta
The tripod squirrel, whom Hurta lovingly named Stubby, was more than happy to take the free snack — and eventually, all of her friends learned that Hurta's window was the best place to hang out.
Morning after morning for the past three years now, Hurta brings dried corn or a corncob to give the squirrels as their daily treat, and then they go about their business climbing their trees and foraging for nuts and other food while she works.
Crystal Hurta
The squirrels love their morning snack so much that if Hurta is running late one day, they'll sit and wait outside the window for her to come in. The squirrels have become so special to Hurta that even when she has off work for a few weeks during the summer, she returns every other day to make sure they're not going without.
Hurta with one of the schoolyard squirrels

| Crystal Hurta
"They'll literally start tapping the window as if to say, 'Hey you're late,'" Hurta said. "If I happen to not be in the office one day, my partner will tell me the next day, 'Your squirrels have been looking for you!"
While Hurta cares about all the schoolyard squirrels, Stubby holds a special place in her heart. Last fall, Stubby had three babies, and Hurta has watched them grow up ever since.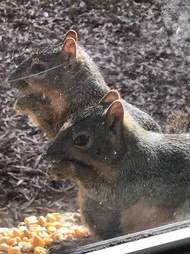 Two of Stubby's babies eating at Hurta's window

| Crystal Hurta
"I'd see her run around with them and hold them," Hurta said. "It was the coolest thing. And now she brings them to my window, too."
Although Stubby may be missing a paw, there's no doubt that she's the top squirrel in the group, Hurta said — which makes for some hilarious turf wars over the snacks sometimes.
Crystal Hurta
"We laugh so hard at her, because if someone else gets near the corn she's eating, she'll run them off," Hurta said. "You don't see a squirrel missing a paw very often, let alone one with such a funny personality. She has no idea that she's any different from the others."