Man Finds Hungry Squirrel Trapped In Very Awkward Position
"He would've died a miserable death on a very hot day if I hadn't noticed him."
Leaving an Ontario, Canada, convenience store, John Taylor was about to get into his car when a small moving figure on the far side of the parking lot luckily caught his attention.
A black squirrel had gotten stuck in the top opening of a plastic cup — and his small body was soaking wet as he struggled to escape.
"When he saw me, he panicked and started trying to squeeze all the way into the cup," Taylor wrote on Facebook. "This poor little guy was stuck and exhausted."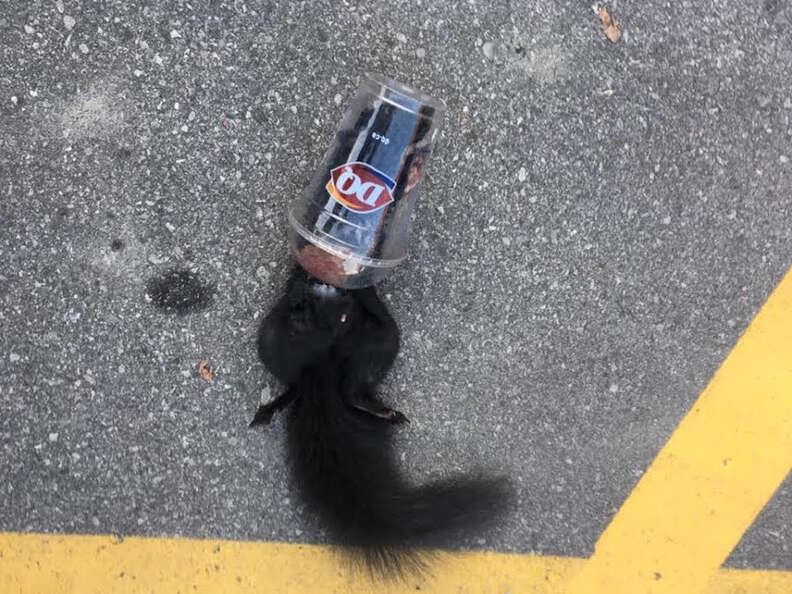 Jumping into action, Taylor picked up the cup and brought it over to a grassy area to help the squirrel dislodge himself from inside.
"I was more worried about getting him out without him hurting himself so I snapped the photo, tossed the phone on the seat of my truck and helped him get free," Taylor told The Dodo. "It never occurred to me that such a thing could happen with that style of cup, so I figured it would make people aware."
While this close call ended safely for the squirrel, Taylor warned others about the dangers that garbage can pose for small animals — even if it's disposed of properly in a trash can.
"If you're going to litter or even toss cups like this in a garbage that animals have access to, pop the lid off first," Taylor wrote on Facebook. "[He] would've died a miserable death on a very hot day if I hadn't noticed him."
Unfortunately stories like this are far from uncommon — wild animals can often get caught in or ingest garbage when foraging for food, and the Humane Society of the United States warns that most animals who get caught in litter have a slim chance of fully recovering from their injuries.
While most discarded trash is hauled to landfills, a significant amount ends up into the path or natural habitats of animals. To find out how you can make your trash safer for animals,
check out this guide
.