People Are Having A Hard Time Finding The Cat On This Bed
"It is just a spot he likes to sit."
At first glance, this might seem like a normal pile of plush toys, but one of them is not like the others. An animal is hiding in plain sight — or, rather, resting in his cozy spot.
Marc Carney recently snapped a photo of his daughter's impressive toy collection stashed on top of her bunk bed and accidentally captured his cat Obi snoozing in the center. He posted the picture on Reddit, leaving users scratching their heads in search of the stealthy feline.
Carney, however, doesn't want to give Obi too much credit for being sneaky: "We don't think Obi is hiding per se," Carney told The Dodo. "When we spot him, we get no reaction, so it's not a game, either. It is just a spot he likes to sit."

So why does Obi choose such a crowded place to rest? Obi's family has an ongoing game of hide-and-seek that they play with the cat's favorite toy. And what better place to hide a plush hedgehog than where it will be perfectly camouflaged?
"He has taken a liking to a small hedgehog plushie that he will dig through the pile for and carry around the house," Carney said. "We pick it up about once a week and bury it somewhere in the pile only to find it somewhere else in the house within a day or two."

Of course, when Obi goes searching for his toy, he ends up being camouflaged, too.
Still can't find Obi?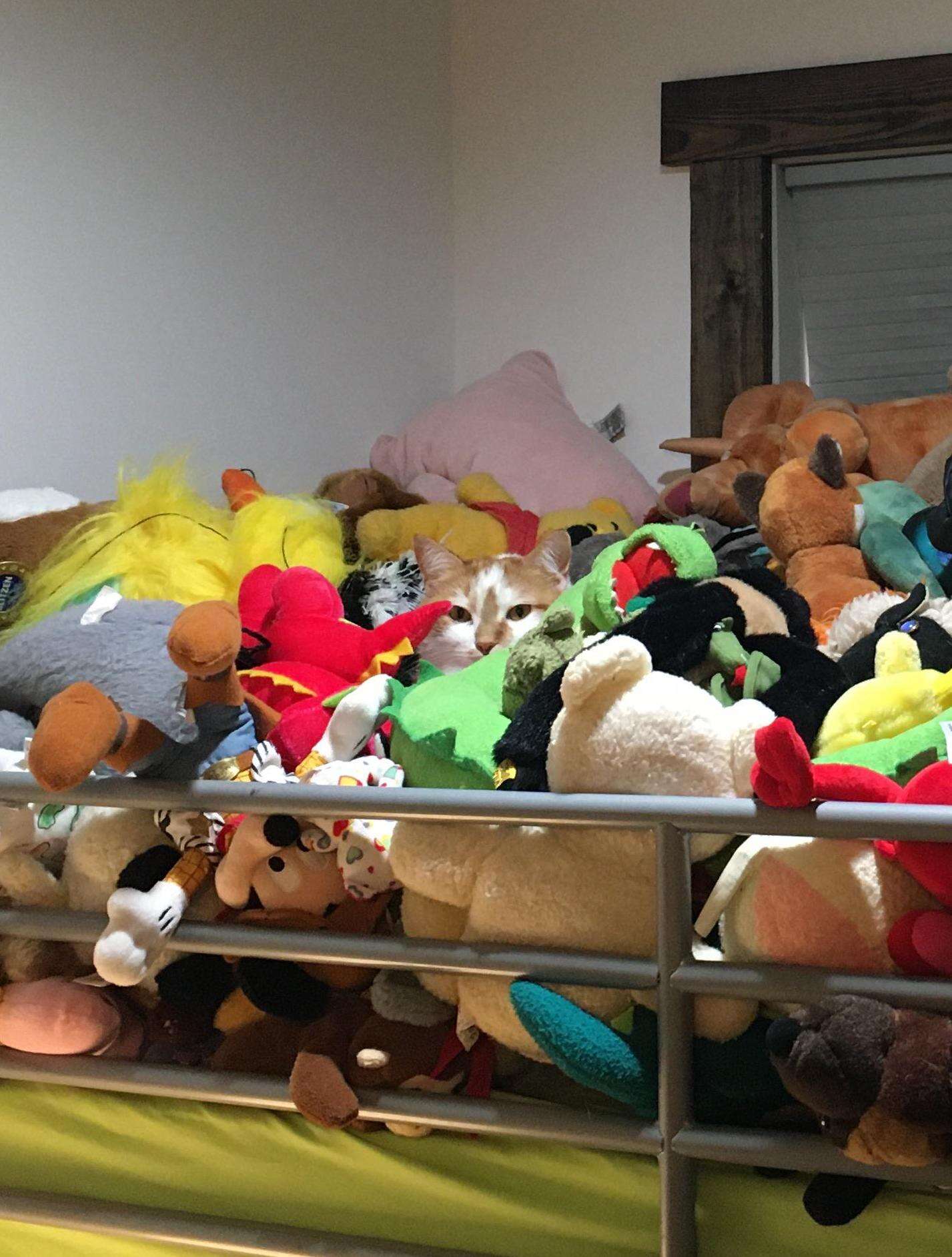 Obi and his sister were adopted from the local SPCA four years ago. Recently, his parents adopted a 6-month-old kitten, giving Obi another good reason to hide.
"Obi has a number of favorite spots around the house," Carney said. "We have a 6-foot cat tree that he will often sleep away the afternoon in. We also have a number of cardboard structures that he likes to lounge in and on."
When Obi isn't in one of his spots, he's busy enjoying pets from his loving family or getting the zoomies and rocketing around the house. "He is a big lug who doesn't always think things through but is also sensitive," Carney said.
But whatever Obi is doing, his family wouldn't change him for the world.