Tiny Kitten Was Going To Be Put Down Just Because He 'Looked Different'
"I hadn't even seen a photo of him but as soon as I heard his story, I knew I had to save him."
Cricket was born to a breeder who was planning to sell all of his siblings, but when the breeder saw his missing eye, cleft lip and crooked jaw, she decided she wouldn't be able to sell him. She didn't want anyone to know that she had bred an "imperfect" cat — and so she decided she was going to kill him. The breeder told someone about her plans, and this person knew she had to try and save little Cricket — so she quickly found someone who could help.
When Megan Boehm heard what the breeder was planning to do, she immediately said she would take Cricket in. She knew virtually nothing about him at the time, but she knew she couldn't let him die. The breeder agreed to let her take the little kitten, and suddenly, Boehm became Cricket's new mom.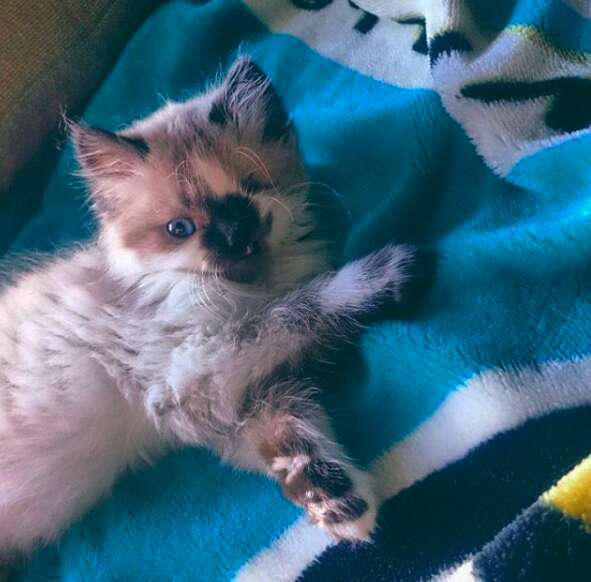 "It wasn't even a decision," Boehm told The Dodo. "I hadn't even seen a photo of him but as soon as I heard his story, I knew I had to save him. There was no way I was letting a little kitten with some small disabilities be killed because he was born different. And when I saw him, [it was] love at first sight."
When Boehm first took Cricket home, he was a tiny mess. The breeder had clearly been neglecting him, and he was sick and severely malnourished. Boehm, a college student, stayed home from class on Cricket's first day home so that she could care for him and make sure he was doing OK. With a few days of love and care, Cricket got stronger and began to heal, and after getting checked out by a vet, it appeared that the unique little kitten was going to be just fine.
"Cricket seemed right at home when he arrived," Boehm said. "He wanted to snuggle all day long! After he gained some weight and got unconditional love from me, he was on his way to full recovery."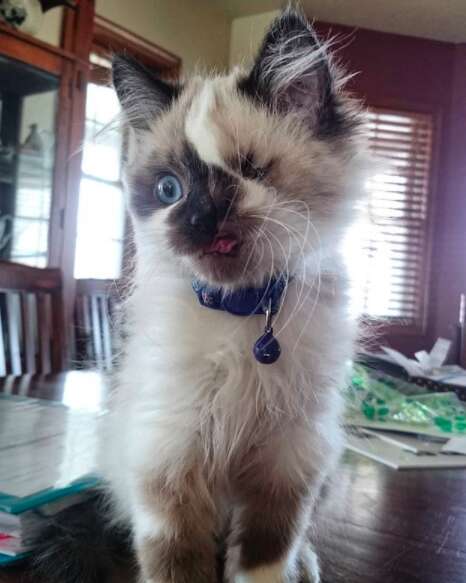 From the very beginning, Boehm knew that Cricket was a little different and would likely have some challenges, but it never bothered her. To her, Cricket is just a cat, and as a result, Cricket has never really noticed that he's any different, either. He can only eat wet food because of his crooked jaw and cleft lip, but otherwise, he's just like any other cat.
… he's also completely adorable, and his mom wouldn't have him any other way.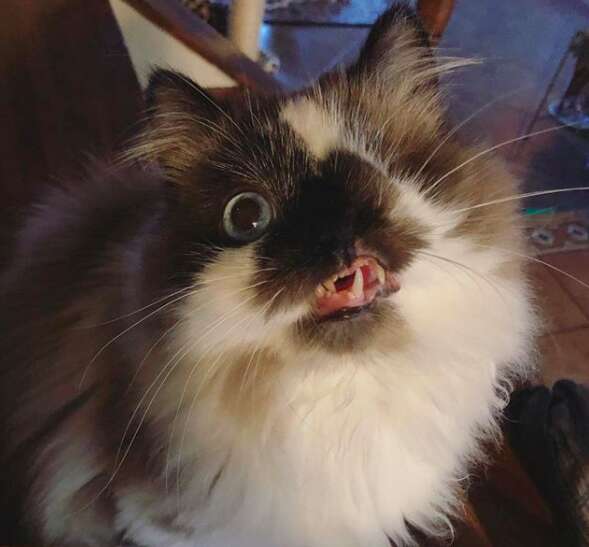 "Cricket has honestly given me purpose," Boehm said. "I look forward to seeing him every day. I can't wait to come home from work or class so I can snuggle him. When I am stressed, sad or even angry, Cricket always makes it better. I look at Cricket and see what he has had to overcome and I know I can get through life's challenges."