Disabled Pup Gets Perfect Pink Wheelchair Just For Him
Now he just needs a forever home in time for the holidays 🎁 🐶
A mysterious injury left a yellow Lab mix named Kanuk without the use of his back legs. But devoted dog lovers in Texas are hoping to find a forever home for the 11-month-old pup just in time for the holidays.
"He likes to play; he likes to run around and chase things. He's just a little slower doing it," Catherine Prystup, who is fostering Kanuk for Lucky Lab Rescue and Adoption, told The Dodo.
Vets who examined Kanuk think he suffered some sort of spinal injury when he was young and at this point experts don't think surgery will help. "His condition is not expected to worsen; how he is now, is how he will stay," Prystup said. "He doesn't require any additional care, he doesn't have extensive issues, he could live to be 15 years just fine."
To protect his feet when he walked, rescue volunteers first got Kanuk booties.
Then volunteers had an idea: his front legs worked just fine, so what if they found him some wheels to help him get around? Volunteers with the nonprofit rescue put out a plea on Facebook asking if anyone had a device they could try.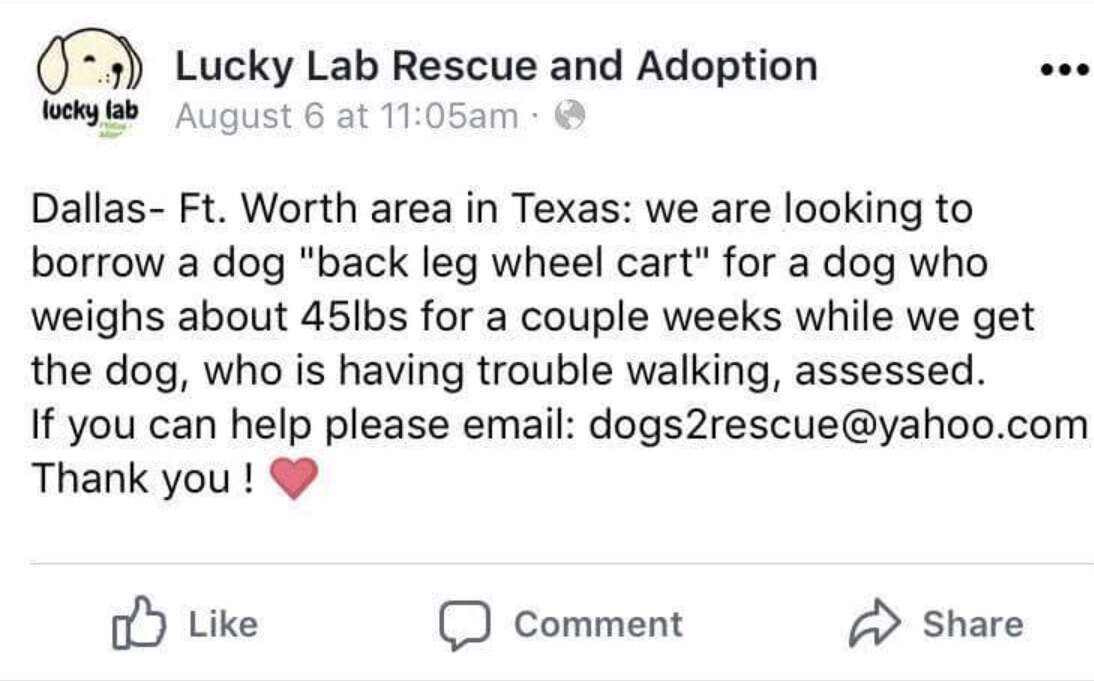 Within a couple of hours, an email popped up in the rescue's inbox from a woman named Amy Countryman with the Animal Emergency Hospital of Mansfield, Texas. Countryman could help Kanuk.
"I read the post from Lucky Lab and reached out immediately to offer the cart to them," Countryman told The Dodo. "One of our clients donated a large pink custom wheelchair when their dog passed away in hopes we could find someone who needed it. We weren't sure we would ever find a dog of that size who could use it, but we held onto it for months because we know those types of chairs are very expensive to have made."
Kanuk immediately took to the cart like a pro and loved it.
"Our hospital is so thankful that they were able to rescue Kanuk and that the cart is helping him in his journey to his forever home," Countryman said. "He doesn't even seem to mind that it's pink."
Kanuk has since started water therapy, which is helping strengthen his muscles. With the activity and exercise he's getting, Kanuk has even started trying to stand on his own and take steps.
Dr. Lisa Hansen, one of the vets who evaluated Kanuk, is optimistic for his future. "Kanuk did not perceive this injury to be life-changing and he continued on in the exam room like he was no different," she told The Dodo. "Kanuk, like many others that sustain an injury that may not be eligible for surgical repair, or may have missed their surgical window, is capable of being managed no different than a person who lives in a wheelchair. Kanuk is able to run, play fetch, eat and drink on his own."
Now there's no stopping Kanuk — he's on the go all the time and he's become quite the star in Austin, where he now lives with his foster mom.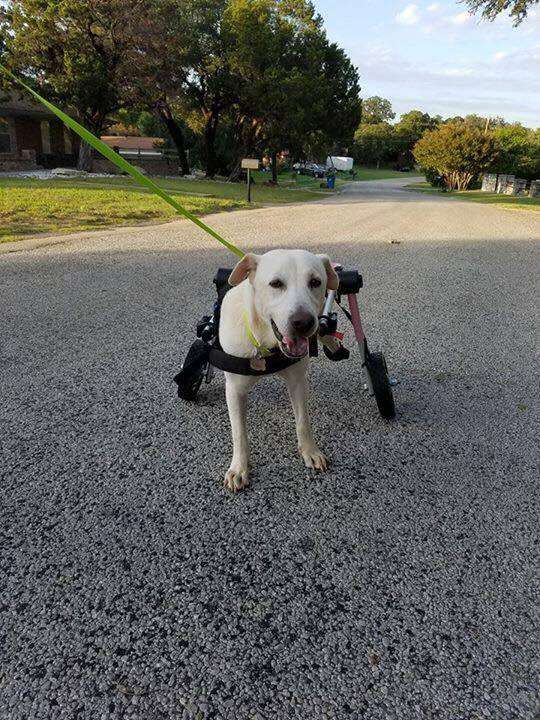 But he's still looking for that permanent family to go home to. To get the word out, Kanuk has gone to many local events. He's appeared on KUVE-TV (Austin)'s "Pet of the Week" segment with his foster mom and other dogs up for adoption.
He's also played the groom in a dog-themed wedding designed to raise awareness about Lucky Lab and the importance of adoption.
Naturally, Kanuk's foster mom is by his side during all his events.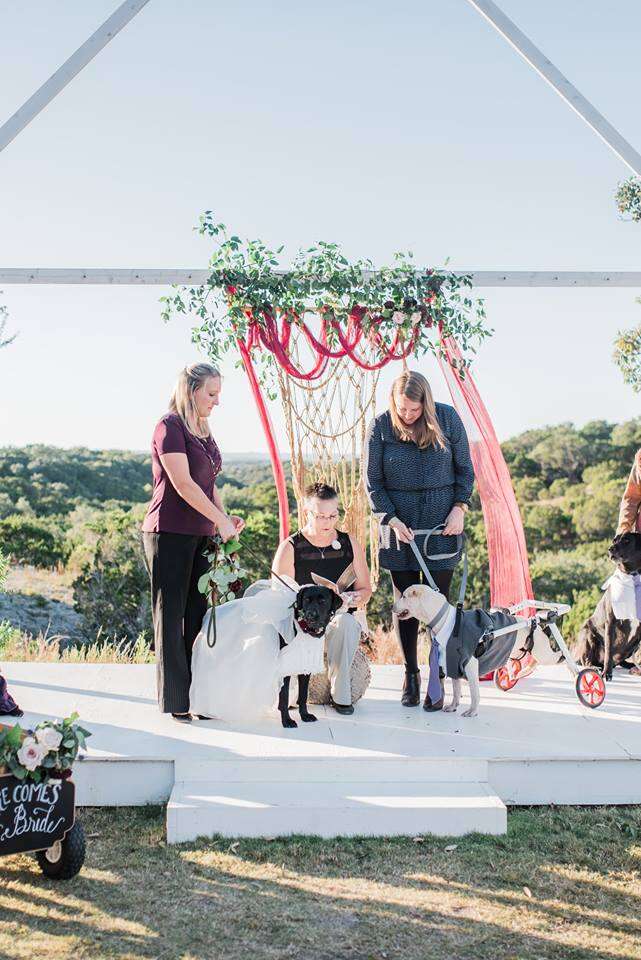 And when Kanuk isn't making appearances, his daily routine is now relatively easy.
"I put him in the cart for an hour or two every day while we go on walks. It takes about a minute to get him in the cart and less than a minute to get him out," Prystup said. "He can get around just fine in the house without the cart. We really only use it on walks."
When Kanuk hangs out with Prystup's family, he goofs around just like a regular dog. He even gets along with cats.
"He runs in the backyard with the kids and dogs. They play all day long, and they tackle each other and run around," she said. "He's a fun-loving dog. He lives with 5- and 10-year-old children and he's good with them. He's in an active house with lots of people coming over, and he does really well."
Kanuk is keenly aware of his surroundings, too. "He's always got this inquisitive look on his face, he makes eye contact and is in tune with me," Prystup said. "When he goes on walks, he notices every plane fly over, and stops and watches them pass.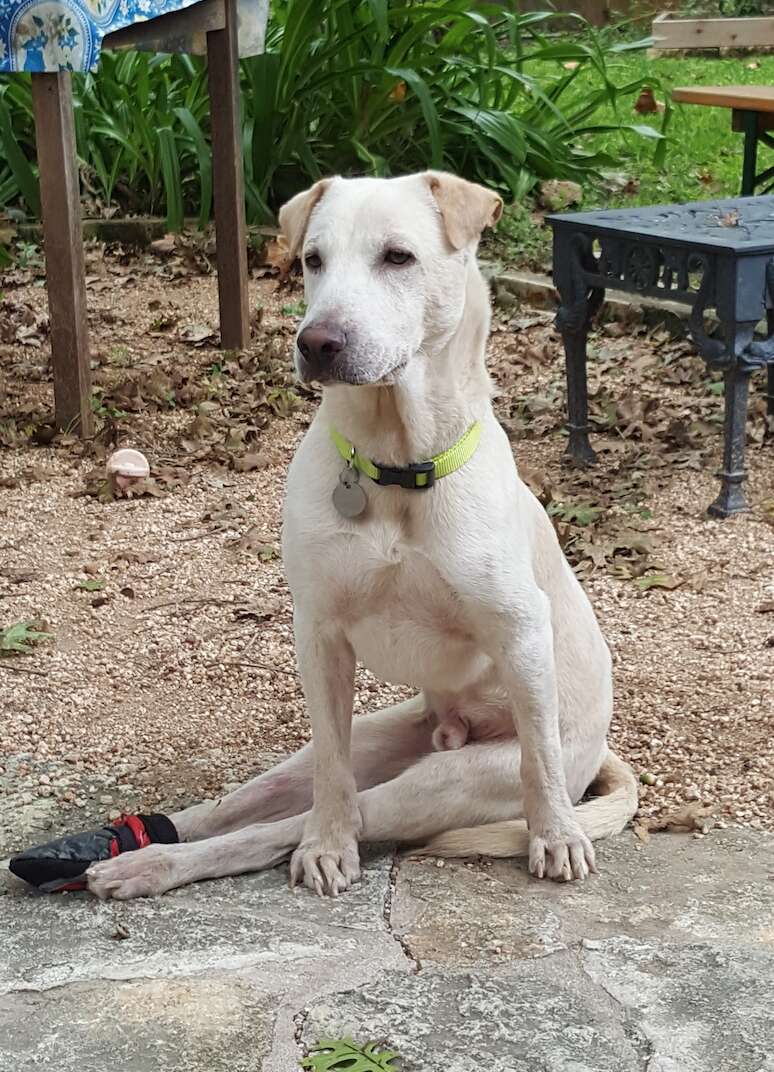 Everyone hopes the perfect family will come along to love him. Kanuk has been up for adoption since the summer and has not had a lot of interest. "It would be my Christmas present to see him get a home for the holidays," Prystup said.
Kanuk can be adopted in Texas and New England. For more information,
visit Lucky Lab Rescue's website
.
Looking for another pet? Then meet Dodo Adoptbot, an interactive guide for new pet parents. Get started on
Facebook Messenger
or text HOME to 38349.