The Scary Reason Why You Should Never Leave Empty Chip Bags Around
"I was a very overprotective dog mama ... I just ask that in honor of my boy Petey that you be extra careful."
When Christina Young came home from work one day last week, the house was unusually quiet.
Her boyfriend had already made it home about 10 minutes earlier and he met her at the door with unbearable news.
Their dog, Petey, had gotten hold of a chip bag while they were out and had suffocated after getting his head stuck inside of it.
Petey taking a nap

| Christine Young
Naturally, they were both devastated — and after the initial grieving, knew they needed to warn others about how dangerous bags can be for pets. Since publicly opening up on on Facebook, Young's words about the tragic accident have gone viral.
"One week ago I kissed my baby boy goodbye on my way out for work," Young wrote. "I had no idea it would be for the last time. Although I still can't even wrap my head around what happened, [we] feel we have an obligation to share what happened to Petey to hopefully prevent it from happening to any of your babies."
Facebook/Christine Young
All types of bags — from bread bags to plastic grocery bags — can pose a hazard to pets. According to Dr. Jason Nicholas, president and chief medical officer of Preventive Vet, it takes as few as three to five minutes for a dog or cat rummaging through a bag to asphyxiate.
"It can happen to any pet, regardless of their size, age or strength; and it can, and has, happened even when the pet owners are in the same home, maybe even in the next room over," he said in a statement.
A cat looking for a snack inside a chip bag

| Facebook/Prevent Pet Suffocation
As in Petey's case, most reported pet suffocations have been due to snack or chip bags. Some deaths have even happened outdoors, when curious pets went looking for crumbs inside snack bags that someone had thrown away onto the ground.
"He was able to get them off the counter that we will forever blame ourselves for leaving out," Young said. "Every time he would go for more, he would inhale — making the bag tighter and tighter around his head ... ultimately resulting in suffocation."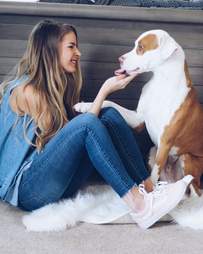 Young and Petey

| Facebook/Christina Young
While, for some pets, it's already too late by the time they're found, Nicholas suggests getting trained in pet CPR to be prepared in the event that a pet with his head trapped is found early enough. He also advises cutting a slit through the side of bags before throwing them away in case a pet happens to find them.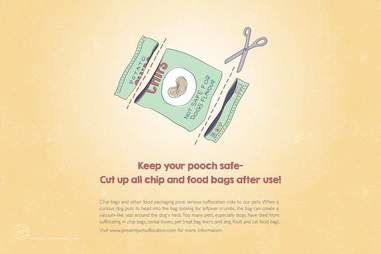 Facebook/Prevent Pet Suffocation
Young had never heard about the risks of bags until it happened to her, but she's confident that awareness and proper precautions will help save lives. She urged people to share her post far and wide to make sure what happened to Petey doesn't happen to other pets.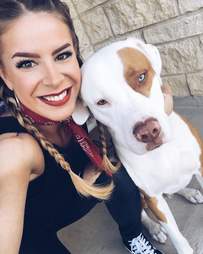 Facebook/Christine Young
"With this happening so often, we were so surprised by the lack of awareness on this topic out there," Young said. "I was a very overprotective dog mama … I just ask that in honor of my boy Petey that you be extra careful, warn other dog owners and give your fur babies some extra love today and every day after this."