Abandoned Cat Who Looks A Little Different Finds The Perfect Family
"People tend to notice that her face/nose are a little different, but that doesn't stop her from enjoying life."
When Smushie was just a kitten, she was abandoned on the streets in Virginia, left to fend for herself. Due to some medical conditions, Smushie looks a little different than most cats, with a smushed-in face, a cleft palate and an underdeveloped nose. She may have seemed scary to some people because of her unusual appearance — but eventually, she found some people who thought she was perfect just the way she is.
Lisa Ancarrow-Maltby and her husband Brian first noticed Smushie wandering around the alley next to their home. Their neighbor, who happens to work at a vet clinic, also noticed Smushie and attempted to feed her, but the little cat was a bit standoffish. She seemed nervous to accept food or attention — until one day, she stopped by the couple's door.
"In late December she came by our house and we offered her food," Ancarrow-Maltby told The Dodo. "She started to come by more often and on one particularly cold and snowy day, she followed me onto the front porch. As I walked inside, she approached our glass door, sat, placed a paw on the glass, and started crying. We brought her inside immediately and she has been part of our family ever since."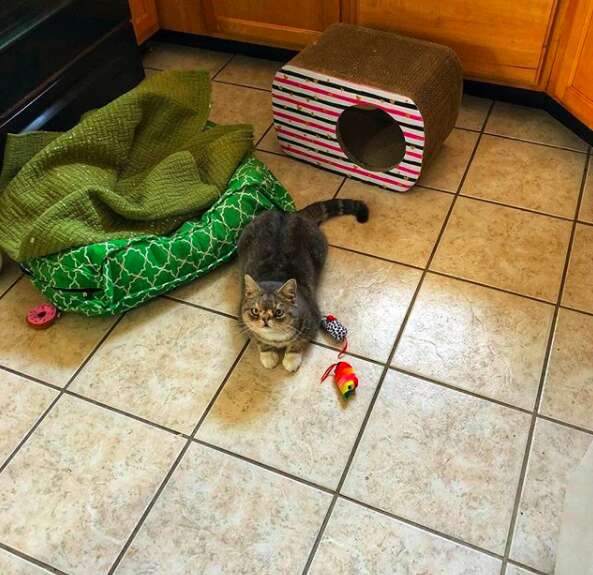 It seemed that Smushie was just trying to find the perfect family, and when she finally found them, she let them know that they were meant to be hers.
As soon as she became theirs, the couple took Smushie to the vet to get her checked out and to find out to what extent her medical conditions would affect her. Her cleft palate and underdeveloped nose sometimes cause her to have trouble breathing, but otherwise, the year-and-a-half-old cat is perfectly healthy, and seems to have absolutely no idea that she's any different.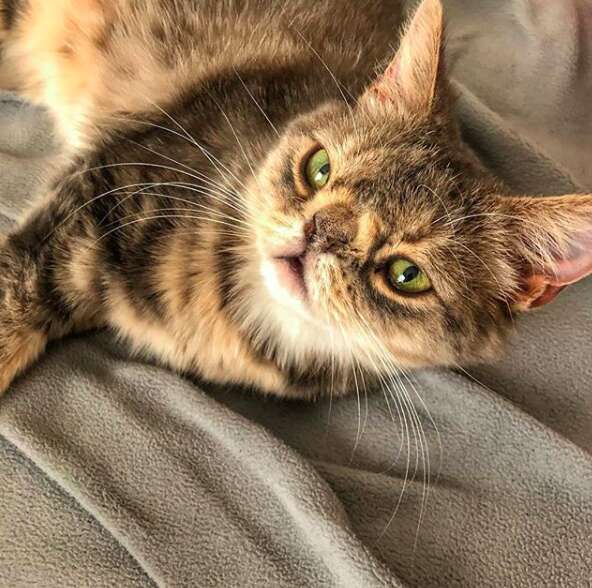 "If she gets overly excited she has difficulty breathing through her nose," Ancarrow-Maltby said. "She is very vocal, and maybe because of her breathing issues, her happy noises are a little unusual, but completely original and endearing. We love it. People tend to notice that her face/nose are a little different, but that doesn't stop her from enjoying life."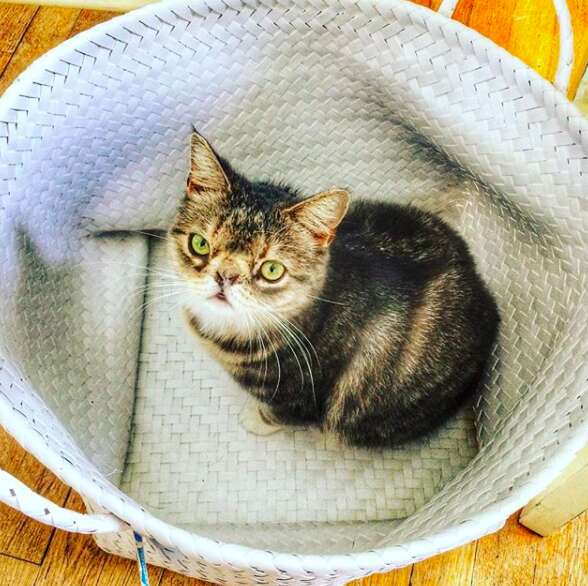 Smushie adores pretty much everyone she meets now, and loves hanging out with her parents and her cat brother, who was also rescued off the streets as a stray. Smushie's dad, Brian, is actually very allergic to cats, but that hasn't stopped him from loving them and taking in any who need help.
"His allergies can be awful, but he loves animals, and me, so we make it work," Ancarrow-Maltby said. "When given the opportunity to help an animal in need, we do."
Smushie met many people when she lived on the streets, but she never really connected with any of them until she met her new parents. She was just trying to find a family who would accept her for exactly who she is, and her parents are so overjoyed that she chose them.
"She seems to be getting happier and healthier every day," Ancarrow-Maltby said. "We love her so much!"