Tiniest Puppy Waits In Middle Of Road For Someone To Save Her
She only weighed half a pound — but is so big and happy now ❤️️
Last October, Nika Todua and Irina Liklikadze were walking down a busy street in Rustavi, a city in the eastern European country of Georgia, when they noticed a small lump of fur on the pavement. When they drew closer, they saw it was a tiny, helpless puppy.
Animal Friends
The puppy, who looked to be about 1 month old, didn't move a muscle — she actually looked dead. But when Todua and Liklikadze, who both volunteer with a dog rescue group called Animal Friends, touched the puppy, they felt her little body moving with her shallow breath.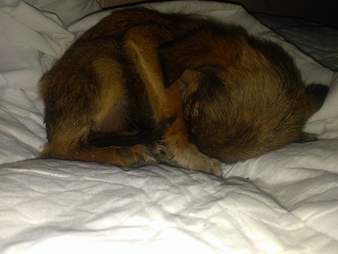 The puppy after being rescued from the street in Rustavi

| Animal Friends
"It was shocking because she was so feeble and doomed to death," Todua told The Dodo. "She was hungry, thirsty and had a lot of worms ... and she was very docile."
The rescuers scooped up the puppy before she got hit by a car, which is a common fate for dogs in Rustavi, Todua explained. The animal was too small and young to be on her own, so they hoped to find the puppy's mom around — but when they spoke to some locals, they learned the puppy's sad story.
The puppy being treated at the vet

| Animal Friends
"We were told that the mother of this little puppy was hit by a car," Todua said. "We don't know what happened to her brothers and sisters."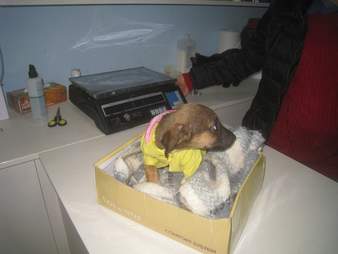 Animal Friends
The women took the puppy home with them, started treating her malnutrition and parasites and tried to get her to eat some food. At the time, she only weighed about half a pound, so she desperately needed to gain weight.
Animal Friends
They called her E.T. after the movie by the same name — because, in their opinion, she looked more like an alien than a puppy.
Animal Friends
But with each passing day, E.T. got stronger and healthier — and she started looking more like a puppy than an alien. And nine months later, E.T. had pretty much quadrupled in size and weight, and now she's living a very different life than she was in her early days on the street.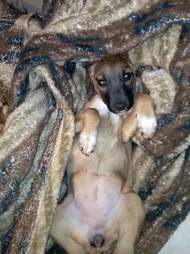 Animal Friends
"She lives with one of the members of our organization," Todua said. "She likes playing, walking and eating. It's funny, but she loves to eat cucumber and pumpkin. She's a very happy puppy."
Animal Friends
Todua helps rescue and feed many stray dogs every year, but E.T.'s story is one that's stayed close to her heart.
Animal Friends
To help rescue other puppies and dogs in Georgia, you can make a PayPal donation to Animal Friends at animals_friends@yahoo.com. You can also learn more about the group's work by following them on
Facebook
.