Hundreds Of 'Extra' Sled Dogs Are Being Secretly Killed, Ex-Employee Says
"I don't want forgiveness — I want you to know this is legal."
After a trek through the forest at night, the group of people finally reached the spot they'd all been told about.
Brushing off mounds of the packed earth, the group started to dig where the soil had clearly been disturbed before. After a few minutes, they stepped back to shine their flashlights into the shallow ditch they'd just uncovered — and they saw dozens of old dog collars and harnesses buried there, all tarnished and covered in mud. They were confused at first.
But then they saw the bones.
This is the scene that a group of animal advocates uncovered and photographed during a visit last March to Chocpaw Expeditions — a sled dog kennel in Ontario, Canada, that has long been rumored to have ordered the killings of dogs who weren't fit for sledding. Tucked away behind the trees and rows of barren doghouses lies this mass grave, where dead sled dogs are tossed away after spending their whole lives on chains there.
These dogs were never meant to be found — but now, someone is speaking up for them. For their protection, the people involved in photographing the pit asked to remain anonymous. But former Chocpaw employee Chantal Dostaler, who worked at the kennel each winter season since 2013 until 2017, has spoken exclusively with The Dodo about her time there, including the moments she was ordered to bury dead dogs and even shoot one for her employer.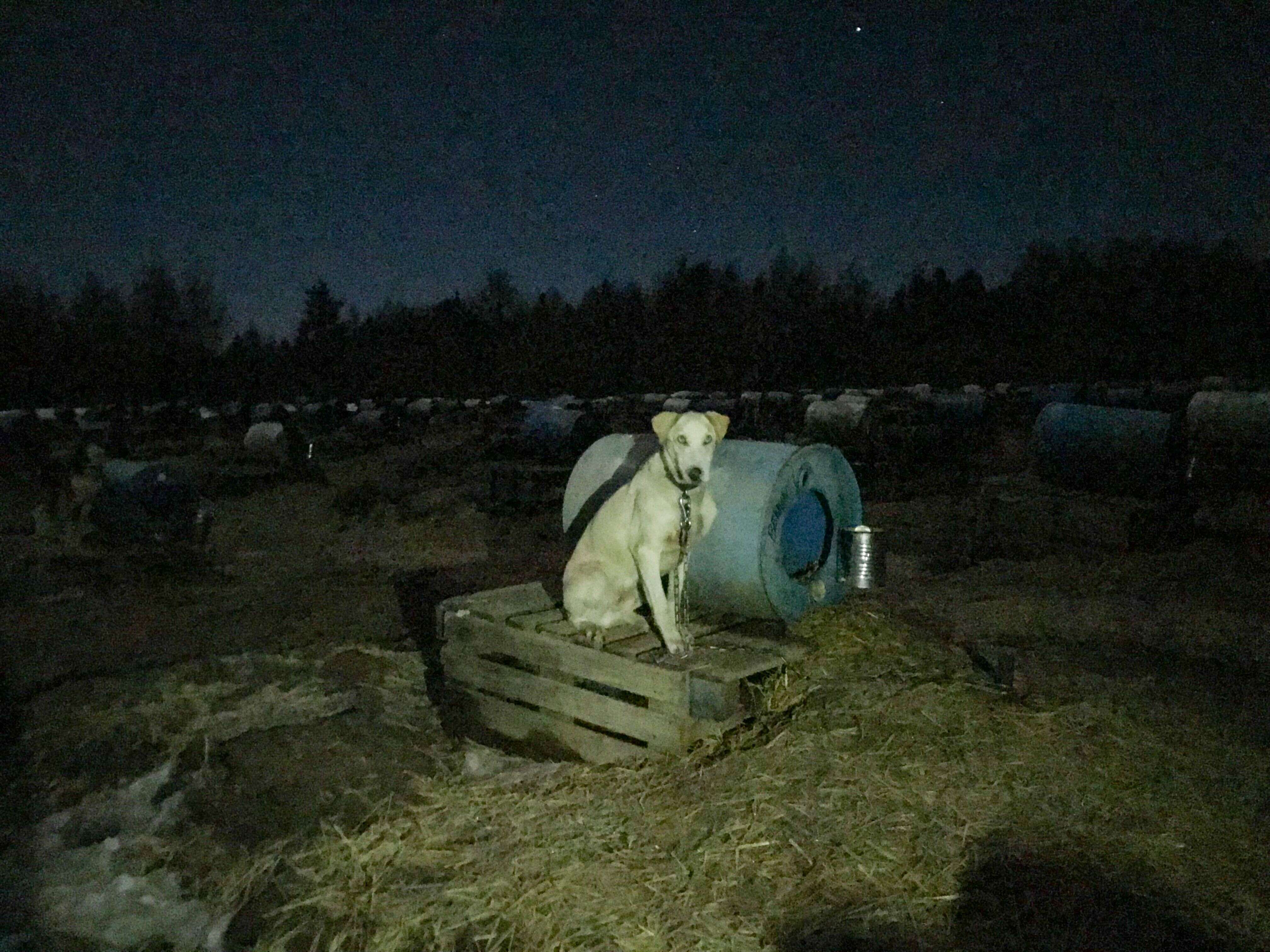 This is something she believes is pervasive in the large-scale sled dog industry, which has lately been riddled with controversy and increasing reports of animal abuse both in Canada and Alaska.
"None of us think that the rumors are true when we get into it," Dostaler told The Dodo. "The longer I stayed, the more secrets they taught me."
After working at the kennel for four years, and being forced to stay silent about neglect she witnessed there, Dostaler is ready to share the harrowing experience of her last season in the dog yard.
Like the other dogs at Chocpaw, Hope lived chained to her barren doghouse day in and day out. When she wasn't chained, she would pull a sled of paying customers through the snow.
But then, in April 2017, Hope's health took a turn for the worse.
"Hope's overall personality changed," Dostaler said. "Her eyes were sunken in, she wasn't eating or drinking ... She showed signs of sickness and distress."
Hope never received veterinary attention for her unknown illness — and instead of being brought to a professional to be put down, Dostaler was given a gun by the kennel owner and was told to shoot the dog.
All of this was allegedly to save money, Dostaler said, as the managers didn't consider veterinary care worth it, even for extreme injuries or illnesses.
"When I shot Hope, it completely changed me," Dostaler said. "I no longer saw this as a fair trade-off. The dogs work their whole lives, never go inside … and this is how they die?"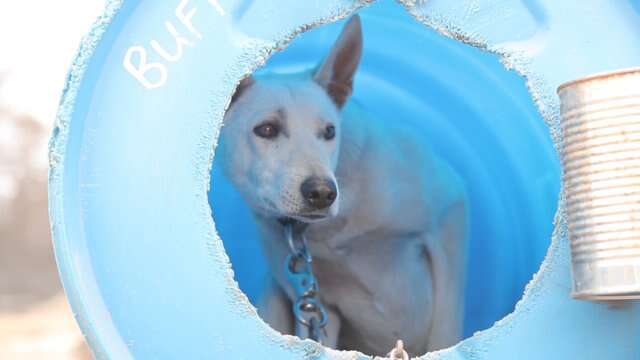 "I am committed to share my experience, which is ongoing as I fight for my rights, and that of the dogs, so no one else, human or dog, has to go through this," she added. "I don't want forgiveness — I want you to know this is legal in Ontario, Canada."
Dostaler says her time at Chocpaw was a series of escalating abuses. She was instructed to underfeed dogs because of money issues, she said. She was made to give dogs medicine even though she wasn't a veterinarian and they hadn't been seen by one.
She had to put dead dogs into freezers so she could bury them once the ground thawed in the spring. Some mornings, she'd come out to feed dogs only to find them dead and frozen inside their plastic doghouse.
By Dostaler's final season working at Chocpaw, which was summer 2017, she had seen so much neglect that she felt herself becoming numb to it.
Warning: Graphic image below.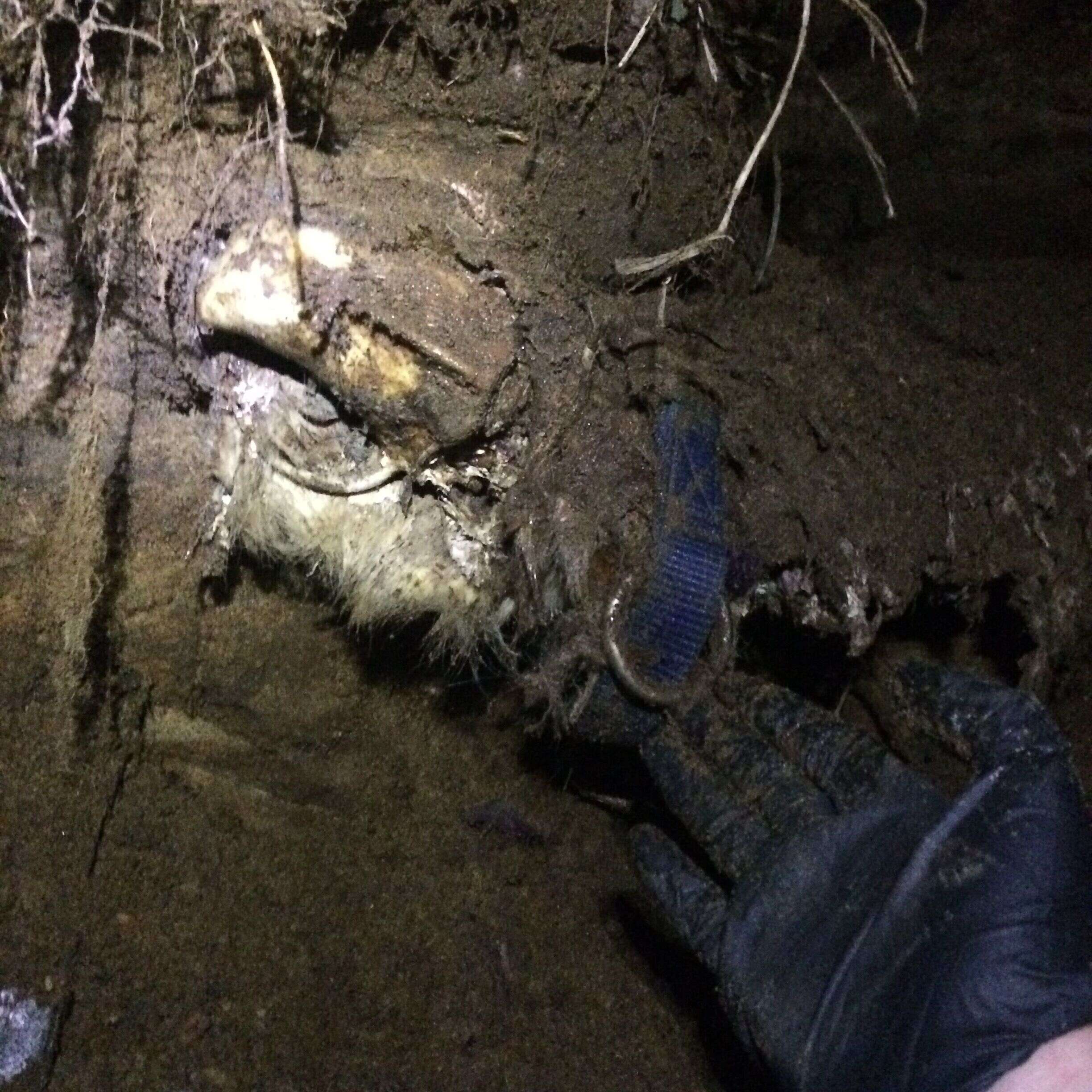 Despite how disturbing Dostaler's experience was, she is certain it was not an isolated incident within the sled dog world — especially since sled dogs don't receive the same protections as companion animals under province's law.
As detailed in a report by The Dodo last year, dog chaining, doping and culling can run rampant in an industry where kennel owners have power and the dogs receive little to no legal protections.
While there is evidence that mushing can be done humanely with a small number of dogs, sled dog advocates argue that many kennels have far too many dogs for employees to responsibly manage.
When Dostaler was hired at Chocpaw in 2013, she remembers there being around 400 dogs there. She and a small group of handlers were responsible for all of them, and she took pride in knowing nearly every dog by name and forming special bonds with them.
She came to love the dogs as her own — and that became a difficult challenge Dostaler still struggles with.
The trauma was compounded by some of the other tasks Dostaler was made to do — like when spring came around and she had to bury the bodies of culled dogs who had been kept in a freezer since they were shot in late winter, when the ground was too hard to dispose of them.
The freezer was kept in an inconspicuous shed on a distant corner of the property and was under lock and key, Dostaler said, in case any visiting tourists tried to wander in. The sights from inside the freezer continue to haunt Dostaler; so much that she's started an online blog to document all of it.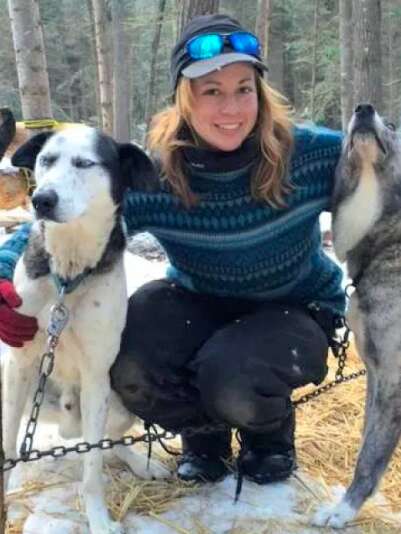 "When I grabbed the first dog and tried to pull him out [of the freezer] I accidentally pulled off his skin," Dostaler wrote in her blog. "I eventually got this dog's remains into the burial pit at which point one of my coworkers came over to the freezer and began to help me. I continued to vomit intermittently as we moved two dogs that were still frozen together into the burial pit."
During the summer, Dostaler remembers seeing live dogs with collar rot, cysts and tumors — she and the other kennel workers were in charge of monitoring their health, despite having no official medical training. After a few weeks, Dostaler said, the dogs on that medical list usually died.
"There was a lot of pressure after the 'Sled Dogs' documentary to make sure the dogs looked healthy," Dostaler said. "She [the kennel owner] was extra scared of being exposed so she got rid of all the dogs who may have looked sick. A very small number of the dogs who got shot were actually sick."
The "Sled Dogs" film Dostaler references is a 2017 documentary, produced by filmmaker Fern Levitt, that claims to take an unfiltered look at the dark side of the industry, where dogs are routinely forced to live on a chain their entire lives until they die or are culled. Part of the documentary was filmed at Chocpaw, and Levitt says she saw just how traumatizing the environment was for everyone.
"They take these young vulnerable kids who don't have family and they tell them, 'If you want us to pay you in full, you have to kill the dogs,'" Levitt told The Dodo. "They have to sit around in a circle and choose which dogs live and which dogs die."
It wasn't just adult dogs who were killed, Dostaler said. In April 2017, a female dog named Jill was found inside a pen with her puppies, having just given birth. Jill was digging a hole to use as a den for her puppies when Dostaler saw an employee enter the pen.
Because Jill's pregnancy was unplanned, Dostaler said, the puppies would be killed.
"Then they had to take them away," Dostaler said. "When I returned later that day, I saw someone had brought the dog back to her space. The puppies were gone. Someone had drowned them. It was an unplanned litter."
With her entire litter of puppies taken from her, Jill was put back onto a short chain in the middle of a freezing cold dog yard, with a plastic barrel as her only shelter. She went from having a family to again having no one in the world.
"Some dogs do just live out their lives on the chain," Dostaler said. "Imagine being a puppy 24/7 but living on a chain."
These were the sad lives Dostaler says she saw every day. When the dogs weren't on the trails pulling tourists, they lived on a chain, never having a home or a family.
In summer 2017, Dostaler witnessed her first cull. Dogs who were too old, sick or injured to run or breed were shot, she says. Instead of sending off the dogs she loved to forever homes, she stood by as they were killed.
And she could do nothing.
"Chocpaw has its own adoption program where people do a short interview then they come take whatever dog in the spring," Dostaler said. "We had dogs who were sick, had seizures and had lumps, and Dog Tales Animal Sanctuary offered to take every single one from Chocpaw. But rather than take help, there was a cull."
"Because it would be too expensive to 'humanely' euthanize the dogs, the employer hired someone to come and shoot them," Dostaler wrote in her blog about the cull. "This was very traumatic for me. I can remember the sounds of the dogs, who I loved, being shot, hearing them being dumped into a big burial pit and then being instructed to bury them myself. For the next days following, we had to go check the pit and make sure no animals had tried to dig up the dead dogs."
One by one, Dostaler and her coworkers unhooked each dog from their chain to carry them over to the pit, where the man with the gun stood. By the time they turned back to retrieve the next victim, they heard a gunshot and a muffled "thump" as another dog fell dead into the pit.
Instead of going to a rescue, Dostaler said, the dogs had been killed.
"None of our dogs need saving."
After Dostaler publicly announced news about the dog culling, The Dodo contacted Chocpaw owner Margaret Reid for her take on the situation.
Reid, however, declined to respond to any of the concerns brought up by Dostaler.
"At this time I will not comment on Chantal Dostaler's online personal reflections, comments, hyperlinks, videos and drawings provided within her informal blog," Reid told The Dodo. "What I will touch upon is why we will continue to refuse releasing our dogs to Dog Tales Rescue and Sanctuary."
Reid says she will continue to refuse help from animal rescues because they don't possess enough knowledge about sled dogs, and are incapable of properly selecting appropriate homes for retired sled dogs.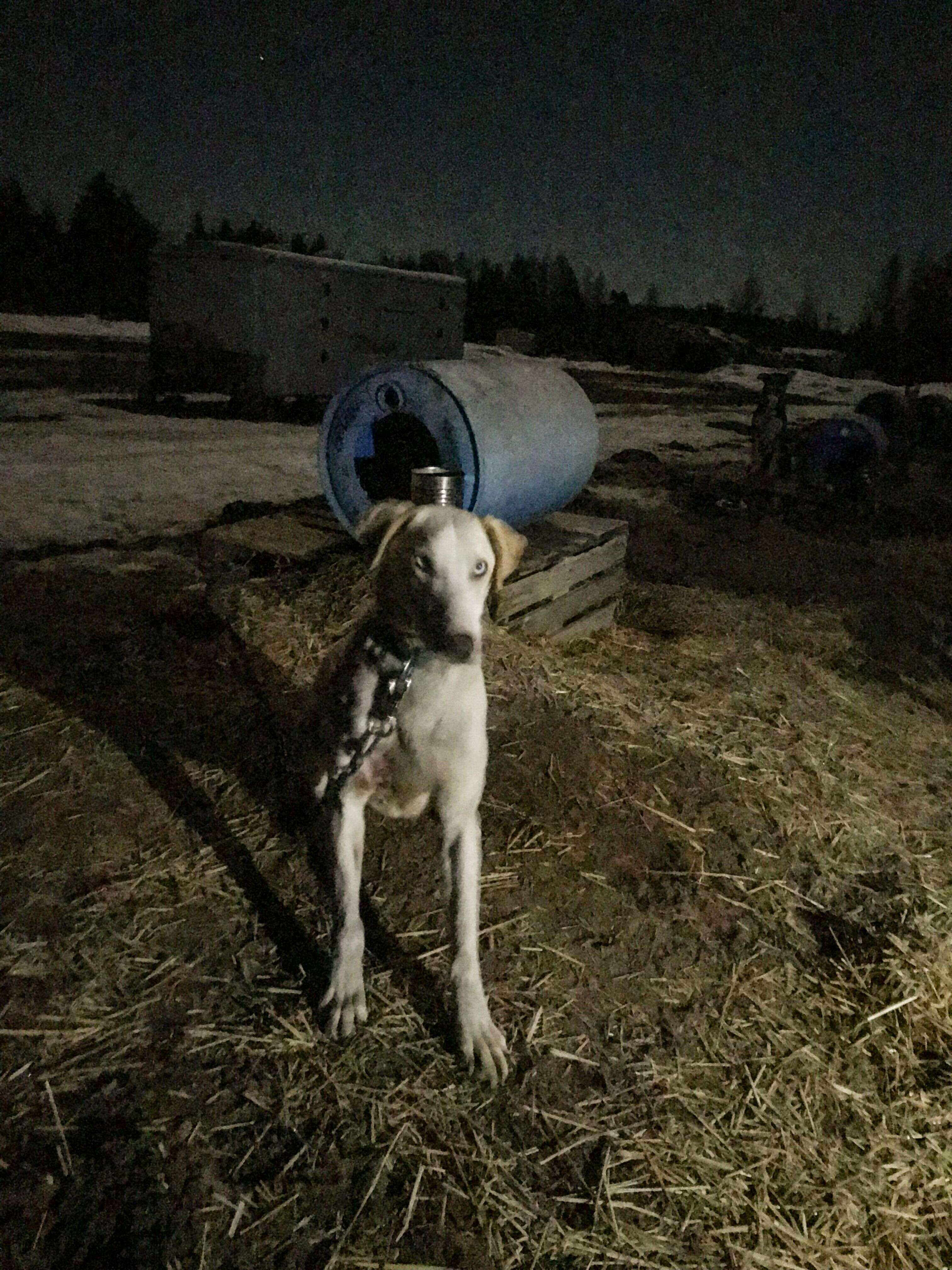 "There are often small suggestions we can make to help the dog adjust faster and smoother if they are having any problems [getting used to their new home]," Reid said. This is information no rescue organization or humane society can provide."
Cassandra Ferrante, a Dog Tales employee, said that this type of skepticism toward rescues in the sled dog world has kept many adoptable dogs chained up outside at the kennel instead of moving on to forever homes.
"I have emailed the adoption coordinator [from Chocpaw] several times to take in the 60 'adoptable' dogs," Ferrante told The Dodo. "They ignored our help. A few animal activists spoke with workers from Chocpaw again offering the help of Dog Tales. They [Chocpaw] said we make profit off of our dogs. We are a nonprofit and we charge $375 per adoption. This covers the bare minimum of the medical care and training these dogs will need."
According to Reid, the dogs at her kennel have never been indoors their entire lives. This is standard in the large-scale sled dog industry — so after a senior dog is finished running, they face having to suddenly condition to life indoors. This can be incredibly stressful for the dog, and they may struggle after not having been introduced to it before.
Despite multiple attempts by Dog Tales to take some dogs into its care, Reid has refused.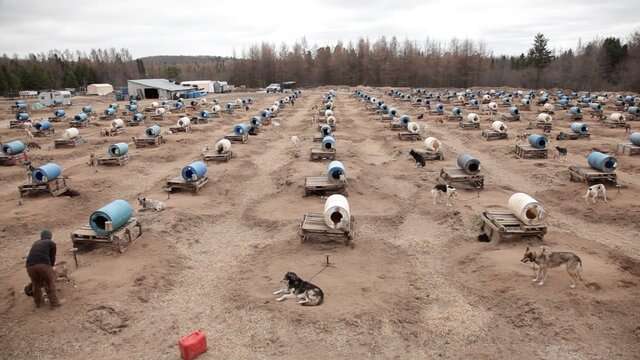 "No rescue organization or humane society has any knowledge of the amazing dogs they are," Reid continued. "Part of our adoption program is to give people a place where they can call or email with any questions they have regarding their new dog. There are often small suggestions we can make to help the dog adjust faster and smoother if they are having any problems."
Dog Tales, which is located in King City, Ontario, is a 50-acre rescue and sanctuary that specializes in medical care, training and rehabilitation of animals to prepare them for permanent homes. It has helped to facilitate hundreds of adoptions since 2014 and provides free at-home training support to all adopters.
Reid, however, says the dogs at her kennel do not need the help.
"Chocpaw enforces the standard of care in these forms; health and welfare management, nutrition and feed management, accommodation and housing, husbandry practices, transportation, and euthanasia," Reid said. "None of our dogs need saving because they are loved and cared for 365 days of the year."
But to Dostaler, the proof is in the pit.
Dostaler was employed with Chocpaw until August 2017, when she was fired for not agreeing to host a 6 day canoe trip with for a large group of children for the company.
"I was in a really big state of trauma when I was fired," Dostaler said. "I would not have stayed there so long if it wasn't for the dogs I formed relationships with."
Dostaler now suffers from post-traumatic stress disorder from the sights she witnessed at the kennel, but she hopes her experiences will help people think twice before visiting dog sledding attractions.
More than anything, she hopes it brings justice for the dogs, who are currently in a wild west-style world where their lives are very replaceable.
"The culls I was part of … all those dogs could have been adopted out," Dostaler said. "They would have lived a healthy life."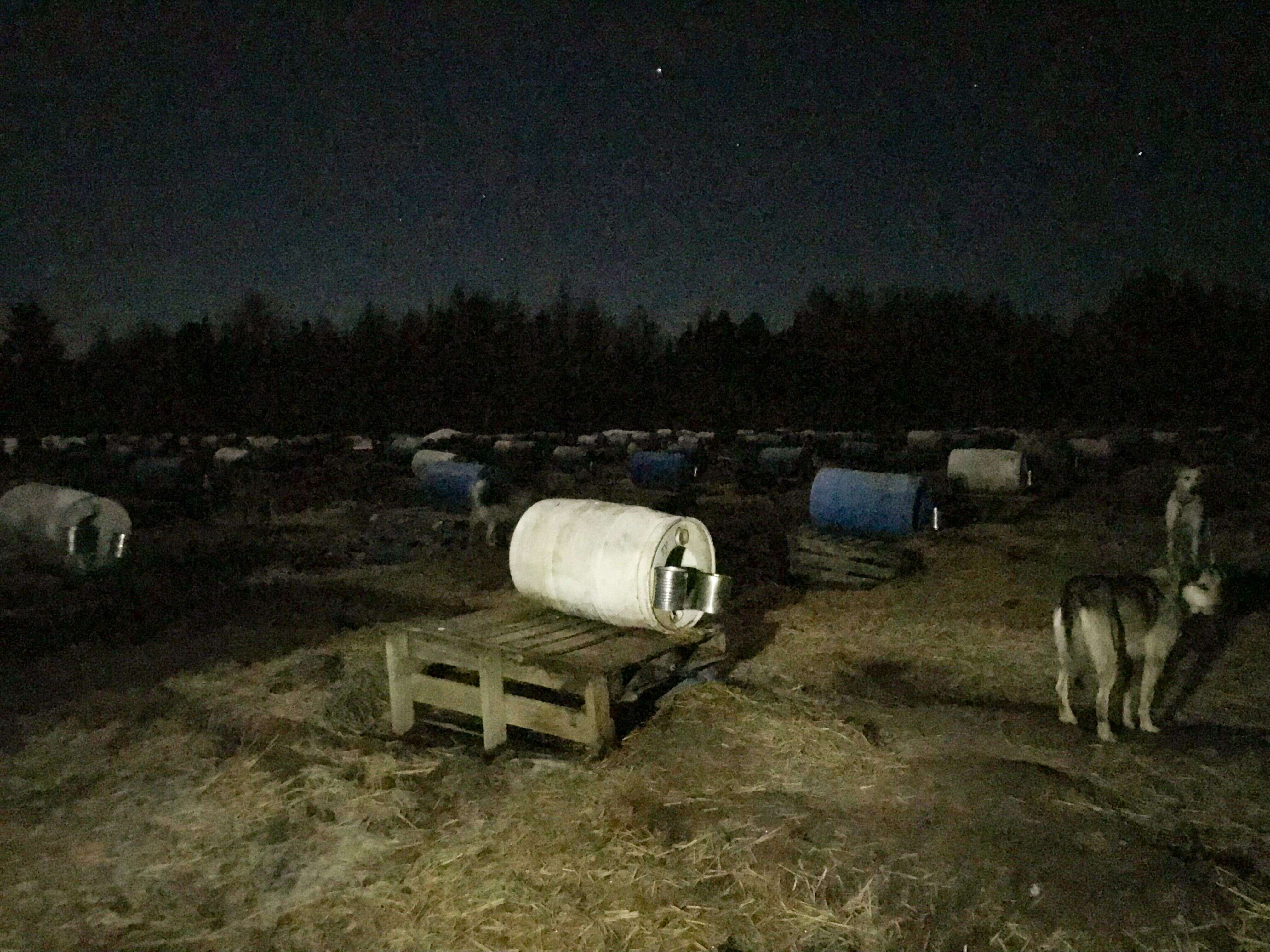 Dostaler hopes that going public about the painful memories she made at Chocpaw will inspire change for the dogs and encourage other handlers to also step forward. She has filed multiple reports with the Ontario SPCA, but since the province's animal cruelty laws hardly protect sled dogs, the organization is unable to cite the kennel for any wrongdoing.
Later this month, the OSPCA is slated to drop its duties around animal cruelty investigations and will instead become a more mission-driven advocacy group that focuses on changing the laws to better protect animals in the conditions they currently face.
While it's too early to release its recommendations on current animal protection laws, the OSPCA is working toward suggested practices.
"The Ontario SPCA has commissioned a team to work together to draft what we believe the future provincial animal welfare legislation should look like," Melissa Kosowan, associate director of communications for the OSPCA, told The Dodo. "This work will set the stage for new legislation, including stronger regulations prohibiting the use of animals in entertainment, providing for their protection as pets and farm animals and establishing their status as sentient beings under law."
Dostaler ultimately wants Chocpaw to surrender its dogs to a rescue group and close for good — but until then, all the dogs' lives hang in the balance.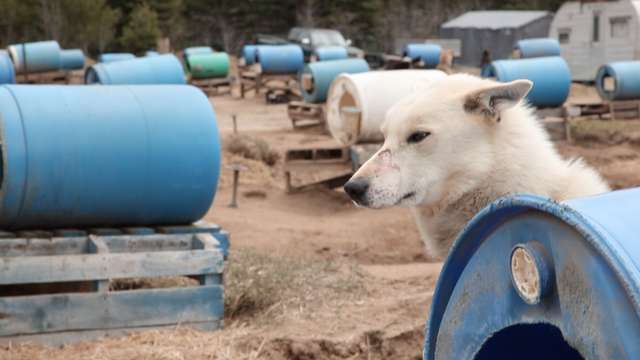 "I would tell people the dogs have their own summer vacation and they just relaxed on the off-season," Dostaler said. "That was all bullshit. The way these dogs live … it's not worth the fun that anyone could possibly have while dog sledding. If they knew the truth, would they take part? No ... These poor people have no idea what they were supporting."
Some dogs, like one dog named Pike who lived at Chocpaw and was featured in the "Sled Dogs" documentary, escape the industry and end up in a loving home. But that's the exception, not the rule.
Dostaler fights so that every dog will one day know what it's like to have a family.
"A family came in and they wanted a dog that was brindle covered," Dostaler said. "We showed them dogs and [they] fell in love with Pike. So they came in, and we let their dogs out and all of them were just sniffing around. It was just luck that he got along with them. I'm really happy it happened that way. I kept in contact with them too. I'm so happy he got out — but not all dogs get to."
To help dogs escape the sledding industry and earn legal protections, you can
sign this petition.
You can also share this article.