No One Could Figure Out What Was Wrong With This Abandoned Puppy
Now he's getting stronger every day 💪
The last thing Ricardo D'Amico expected to do on his relaxing Sunday afternoon bike ride was save a life — but when he pedaled past a creature in need of help, his day took an unexpected turn.
Flying down a quiet country road outside of Houston, Texas, D'Amico spotted a blanket tossed in a ditch. When we stopped to investigate, he found a puppy wrapped inside, scared and alone.
Reggie's Friends
The frail black and white dog could barely move, and appeared to be suffering from some unidentified wound. D'Amico immediately called his friend LaChrystal Ricke, director and chief operator of rescue organization Reggie's Friends, in the hope that the young animal could be saved.
Reggie's Friends
But first they had to figure out what had happened to the abandoned puppy.
Reggie's Friends
"We all thought he had been thrown from a car wrapped in a blanket," Ricke told The Dodo. "But when I picked him up and started to get an idea of what we were dealing with, there were no wounds to match up with the amount of blood he had on and around him."
After wrapping the puppy in a fresh cloth, the group rushed to BluePearl Veterinary Partners for emergency care. "When we got to the vet, the vet team had the same reaction that I did to the amount of blood, but no obvious signs of trauma or wounds," Ricke said.
Reggie's Friends
After a series of routine tests and a sonogram, the puppy's blood work revealed a terrible secret — he had been poisoned.
"Blood tests confirmed that he had severe rodenticide toxicity. The poison in his blood was over 400 percent," Ricke added. "It's one of the most horrible things I have ever seen in rescue."
The puppy immediately received a blood and plasma transfusion to improve his chances of survival, but things looked grim for the young dog. "When I left him at the vet, I didn't think I'd see him alive again. He was weak, frail, could barely stand and was just so, so sick," Ricke said.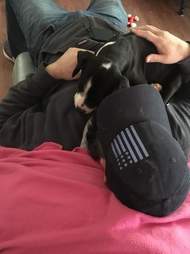 Reggie's Friends
Overnight, the puppy's will to survive won out, and he made a miraculous recovery. To the surprise of his caretakers, the next day he was eating and drinking, and was soon deemed healthy enough to leave the hospital to recover with a foster family.
Reggie's Friends
When he arrived at his new home, his foster mom named him Lincoln.
Lincoln is slowly gaining back his strength, spending his days sleeping and playing with his foster brother and sister, rescue pups Jagger and Letti, and he couldn't be happier for the company. "He adores them. They play together, they hang out together and Jagger leads everyone around," Jennifer, Lincoln's foster mom, told The Dodo. "Lincoln is now learning how to play. At first he was quite scared, and he would run away, but now he's kind of excited about getting in there."
The 4-month-old puppy especially loves rope toys. "He'll grab one and run across the yard with it, and usually he'll try to run by Letti," Jennifer added.
When he's not playing, Lincoln's favorite place to be is cuddling in one of his foster parents' laps or snoozing in a dog pile. And in a month he'll be ready for his next adventure — finding a loving adoptive family.
With his amiable, easygoing personality, Jennifer is sure that Lincoln will make a family happy when he is ready, but for now he's taking all the time he needs to heal.