Terminally Ill Mastiff Gets The Happiest Party To Celebrate His Life
"I have never had such an intense connection with a soul as I did with Zeus. He was definitely a soul mate."
Zeus, a 3-year-old mastiff mix, was a shy, anxious dog when he was living at the Prince George's County Animal Shelter in Upper Marlboro, Maryland, in 2015. His massive size — 88 pounds, though he was still considered underweight for his breed — and his fear of connecting with people made him a difficult candidate to adopt, but that all changed when he found Naliyah Kaya.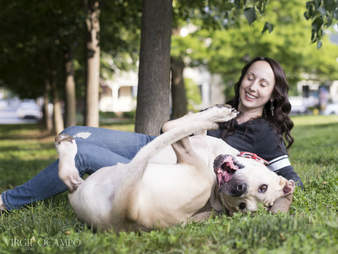 Virgil Ocampo
The pair first met at an adoption event where Kaya was volunteering as a photographer, and she immediately took notice of the massive mastiff pulling another volunteer down the sidewalk on his leash. "[Zeus] was terrified, shaking, but would try so hard to meet people that came into the store and shake their hand (a trick a volunteer at the shelter taught him)," Kaya told The Dodo. "He was pacing and just seemed completely shut down and disconnected."
Then a special moment happened. "While in the store, I felt him back up on my legs," Kaya said. "And sure enough, Zeus sat right in my lap — all 88 pounds."
Virginia Jones
"No one could believe it because he had been so scared," Kaya said. "Everyone jokes that he adopted me — he chose."
Kaya had no intention of adopting a dog that day, particularly because she already had two large rescue pets at home — Captain, a 4-year-old Catahoula, and Jasper, a 6-year-old shepherd-chow mix — who Kaya didn't think would be too happy about having a new brother. However, she just couldn't seem to get Zeus out of her head.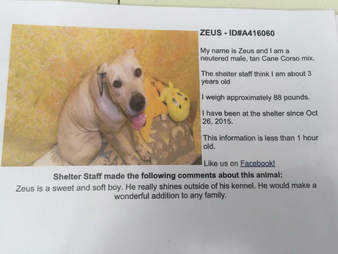 Naliyah Kaya
"I couldn't stop thinking about him because I knew as a return adoption and a large dog that isn't a puppy, his chances of making it out alive were slim," Kaya said. "I immediately began searching for large dog rescues, and my husband came home to me doing this on multiple occasions and told me to go get him."
Kaya returned to the shelter with her husband and their two dogs to meet Zeus, and they ended up adopting him that day.
Zeus (left), Jasper (middle) and Captain (right)

| Photos By Ashley
"I kind of worried about how I would connect with Zeus," Kaya said. "He wasn't a kisser, and he seemed to just focus on everything but people and to be in his own world." However, he loved being close to Kaya, sleeping in her bed, and following her everywhere she went.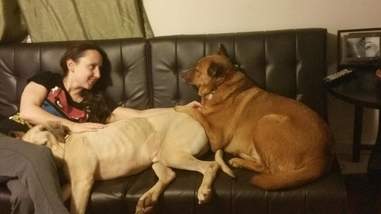 Zeus bonding with Kaya and Jasper (right) shortly after being adopted

| Kevin Scriber II
"Oh how wrong I was when I wondered if we'd ever bond," Kaya said. "I have never had such an intense connection with a soul as I did with Zeus. He was definitely a soul mate."
Kaya believes that shelter dogs shouldn't be stigmatized because they didn't find their perfect owner the first time around. "Sometimes perfect dogs are traumatized adult shelter dogs who have anxiety, cancer or are an amputee," she said.
Naliyah Kaya
Over the next year, Zeus settled into his home and started coming out of his shell. He learned to play and roughhouse with his brother Captain ...
Captain (left) and Zeus (right)

| Naliyah Kaya
Took lots of trips to the dog park …
Naliyah Kaya
And loved ripping the stuffing out of toys.
Naliyah Kaya
However, in September 2016, Kaya and her husband noticed Zeus beginning to limp. They took him to a vet, where an X-ray revealed that Zeus had osteosarcoma (bone cancer). The family had to make the decision to have Zeus' leg amputated.
Naliyah Kaya
"It was a really hard decision that my husband and I went back and forth on," Kaya said. "The main thing to me was to give him a chance — he was so young and full of life. I asked him what he wanted to do and Zeus put his leg in my lap as if to say, 'Let's do this.'"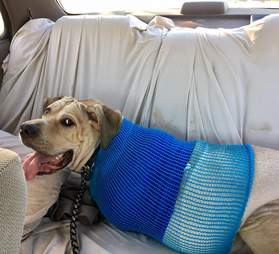 Zeus, still smiling after having his leg amputated

| Naliyah Kaya
Zeus made an unusually quick recovery from the amputation and learned how to get around on three legs with ease. "He stood on two legs, jumped on and off the bed, flew over an ottoman, ran like the wind — he was completely resilient," Kaya said.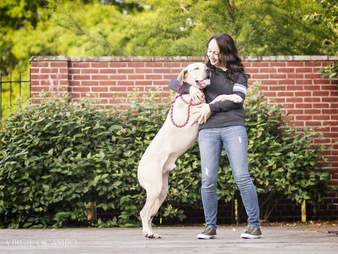 Virgil Ocampo
The family continued treatment with chemotherapy, medication, hydrotherapy, chiropractic appointments, Chinese herbs and special diets. Sadly, after six months of this, vets found a lung tumor and Zeus became resistant to the chemotherapy. Tumors began spreading rapidly all over his body, and the family knew young Zeus' time was coming to an end.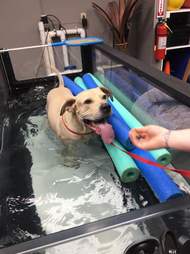 Zeus at hydrotherapy

| Naliyah Kaya
Kaya reached out for support from a fellow photographer and rescue volunteer named Virgil Ocampo, who had also recently suffered the loss of his 14-year-old boxer mix named Shogun. "My heart was already broken, but it was sinking thinking about Zeus," Ocampo told The Dodo. "I told her all the things I had wanted to do for Shogun [before he passed], and she began researching what she could do for Zeus' bucket list."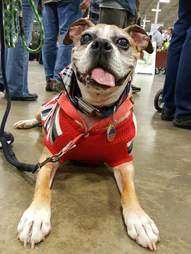 Shogun

| Laurel Weetall
Ocampo had planned to take superhero-themed pictures with Shogun, but never got the chance. So, as Kaya came up with a bucket list for Zeus, she and Ocampo planned a superhero-themed photo shoot that also honored Shogun.
Zeus' 5th birthday cake from his favorite spot, Sweet Paws Bakery

| Naliyah Kaya
They set aside a special day dubbed "Super Zeus Day" in Annapolis, Maryland, where they checked off many of Zeus' bucket list items, starting at Capital Comics. Zeus wore a special cape for the occasion.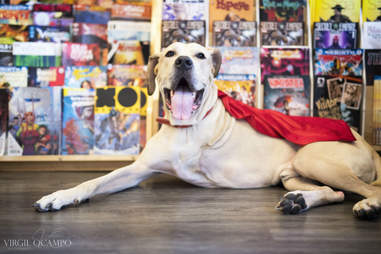 Virgil Ocampo
Then Zeus took a trip to the beach …
Virgil Ocampo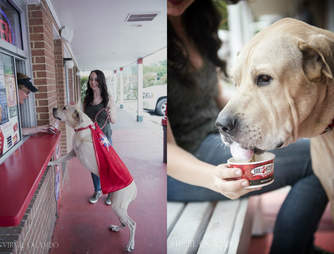 Virgil Ocampo
Tried his first ever snickerdoodle cookie, and got his nose imprinted for a special necklace for Kaya …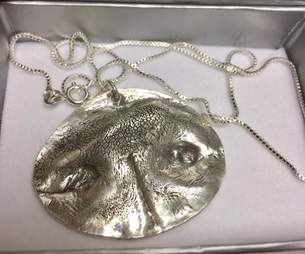 Zeus' nose imprint in necklace form, courtesy of SayWhatCreations

| Naliyah Kaya
"It just felt like everything was working out in our favor," Ocampo said. "Kinda like [Shogun] set up the plays for us. Everywhere we went, everyone was so kind and accepting. Timing was working out, and there was a peace I can't describe."
Virgil Ocampo
The last item on Zeus' bucket list was a boat ride, on which Kaya took Zeus the following weekend. Sadly, he passed away later that evening. "The cruise was the last thing on his list, and he held out for it," Kaya said. "He was happy on his last day and received so much attention on the cruise in his cape."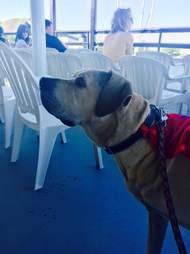 Zeus on the cruise boat in his cape

| Naliyah Kaya
Zeus' cape now hangs as a tribute where the family keeps their dogs' belongings.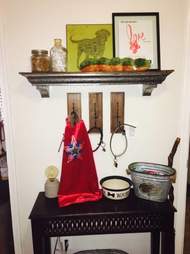 Naliyah Kaya
Since Super Zeus Day, Kaya and Ocampo have been doing more superhero photo shoots for other terminally ill or senior dogs. "It's something I want to keep going," Ocampo said. Kaya has even been donating special "Super Zeus" capes to the pups.
Sounder, another terminally ill pup, in his Super Zeus cape

| Sonya Wahi-Miller
"Zeus taught me to live in the moment, to wake up and go to sleep full of joy, to laugh at little things … and not to pass up a pup because you don't have an immediate connection," Kaya said. "Making memories is more important than all the career achievements and money in the world. Spend time with the ones you love and make every day magical — like Zeus."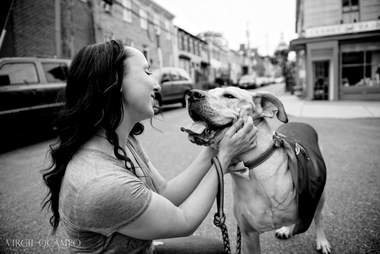 Virgil Ocampo
Naliyah Kaya
To learn even more about Zeus' journey, you can check out Naliyah Kaya's blog
here
.