Sick 'Stray' Dog Dumped At Shelter Still Had A Rusty Collar Around His Neck
Let's find Atago the forever home he always deserved.
For so many stray and unwanted dogs who end up at a high-kill shelter in Texas, there's hardly a chance for them to come out alive — and there was no reason to think Atago's fate would be any different.
The filthy dog had a terrible case of mange and was covered in mites.
Almost as soon as he was dumped there, shelter workers thought he'd have to be put down, and Atago just lay dejectedly on the floor, as if he knew his meager life was over.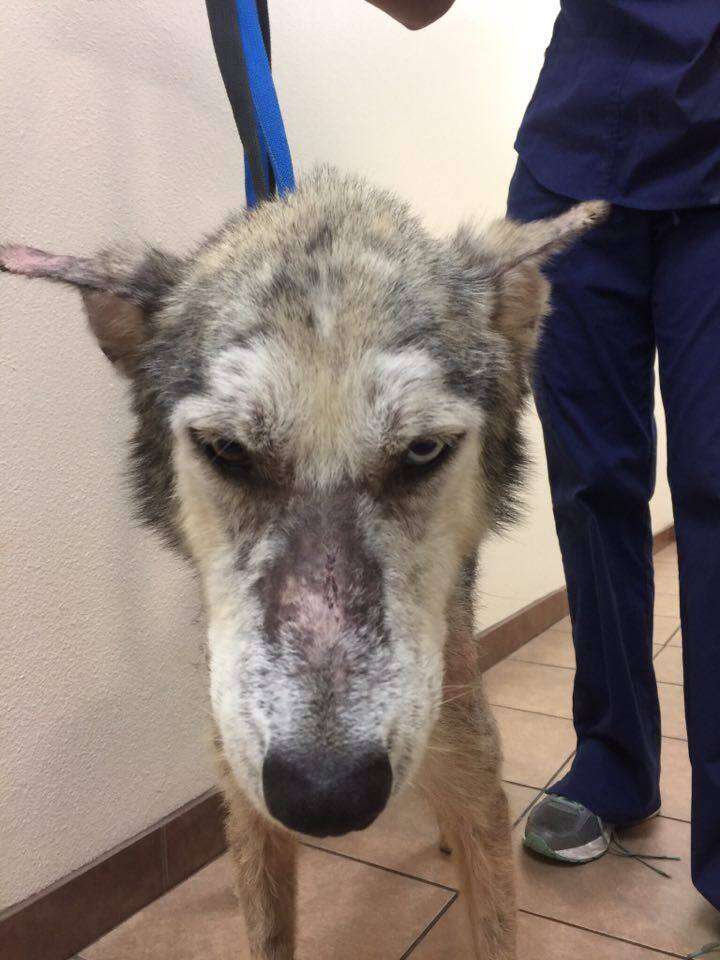 "The shelter wanted to kill him," Cindy Droogmans, founder of Long Island, New York's A-Team Elite Rescue Dogs, which saves needy dogs from overcrowded shelters, told The Dodo. But she still saw life in the little guy, who had a collar and clasp dangling from his neck, suggesting Atago's past was more complicated than that of a stray dog.
Droogmans thinks Atago was probably severely neglected by his owners, chained up and basically left to die. "It seems like he was tied up because of that clasp," Droogmans said. "Look how rusty it is."
Like so many other unwanted animals, Atago's history will remain largely a mystery — all Atago can communicate from his diseased little body is his sincere, unassuming look from his beautiful, bicolored eyes.
Luckily, Atago's future is shaping up into a real life, thanks to Droogmans, who pulled Atago from the shelter at the last second and arranged for him to get the medical care he so desperately needs. "The shelter is infested with parvo, giardia and any disease you can imagine," Droogmans said. "It is extremely important to get them as fast as possible to the vet."

Atago is making great strides at the vet. His skin is less irritated and some of his fur is even growing back. And he's discovered how much he enjoys taking walks and smelling the fresh grass.
This weekend he'll make the trip from Texas to Long Island, New York, where he'll be available for adoption soon. And already, the dog who had been lying on the shelter floor not long ago has started to regain the bounce in his step.