Cat Abandoned In The Cold Outside Shelter With A Note Taped To Her Carrier
She was terrified when they found her, but she's doing so much better now 💔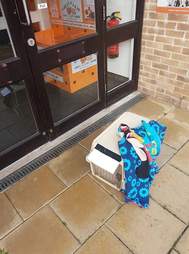 Gables Farm Dogs and Cats Home
The poor cat was huddled up inside the carrier with no blankets or anything else to keep her comfortable. There was a towel on top of the carrier, and it was damp and cold, meaning the poor cat had probably been out there for several hours, if not longer.
"When I found her, she just looked terrified and cold and was very thin," Rickard told The Dodo.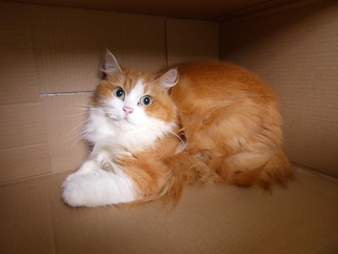 Gables Farm Dogs and Cats Home
There was also a note taped to the carrier from the cat's former owner. In the note, her owner said the cat had constant diarrhea and wouldn't use a litter box. The owner assumed the cat was sick and didn't know what to do, so he or she left the cat outside the shelter.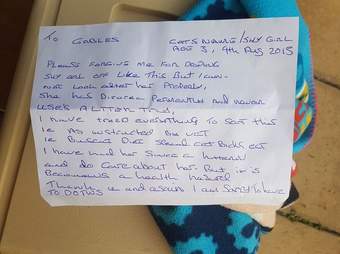 Gables Farm Dogs and Cats Home
Rickard quickly took the cat inside to get checked over, and staffers at the shelter decided to name her Dusty Bin. Poor Dusty was so scared at first and mostly just wanted to hide from everyone as she tried to get used to her new surroundings. She was incredibly thin and weighed much less than she should have for a 3-year-old cat.
Gables Farm Dogs and Cats Home
As she began to settle in, the shelter discovered she may not be as sick as her previous owner thought she was.
"According to the note she has constant diarrhea and does not use a litter tray," Rickard said. "At our wonderful non-euthanasia charity she is using her litter trays, is eating well and does not have diarrhea."
Gables Farm Dogs and Cats Home
The staffers plan to do additional tests to make sure that Dusty is completely healthy, but they are hopeful that within two to three weeks she'll be ready to go off and find her loving forever home. Staffers at the shelter are still attempting to track down Dusty's previous owner, and wish that the owner had brought her into the shelter instead of abandoning her outside.
Gables Farm Dogs and Cats Home
"The sad thing is that if the owner had approached us for help then we would have taken this poor cat into our care, as we always make space for desperate cases, and then the poor kitty would not have been left outside in danger," Rickard said. "If the cat had got out of the cat box there is a very busy and dangerous road that runs past our rescue center."
Gables Farm Dogs and Cats Home
Despite her shaky past, Dusty seems to be settling in well to shelter life and is improving every day, and everyone at the shelter is just grateful that she found her way to them.
"We are just happy that she is safe now and getting the veterinary care that she needs plus lots of TLC," Rickard said.