Dog Abandoned At A Vet Clinic Barely Even Looked Like A Dog At All
"He sat there with love in his little eyes — like he knew he had finally been saved."
When Dobby's former owner first walked into the vaccination clinic with him, no one could believe their eyes. The little dog was raw and red, and didn't look much like a dog at all. The employees' hearts were breaking, and they knew they had to help him.
In January 2016, Sara Harper was working as the vet technician at the low-cost vaccination clinic in Florida run by Concerned Citizens For Animal Welfare. As soon as she laid eyes on Dobby, she knew it was her mission to help heal him. The woman who brought him in said he was 5 years old — and that this was his first time ever being seen by a vet.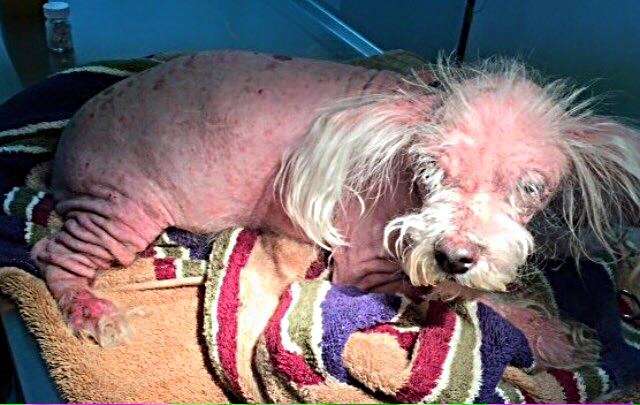 "We were horrified at his malnourished condition," Harper told The Dodo. "Along with his whole body raw and bloody, his feet were too, and toenails grown so long they curled into his paw pads. She admitted her flea treatment all the years she had him was pouring a flea powder meant for carpet and to be vacuumed up. She said she did not want to spend money on him. I begged her as a rescuer to surrender him, and she agreed immediately."
One of the veterinarians also working at the clinic that day immediately let Harper take Dobby to her own clinic, even though it was closed that day, so that they could begin treating him as quickly as possible. They could only imagine the kind of pain he was in. They set about trimming his nails, bathing him and preparing for bloodwork to be done. Despite all of his ailments, Dobby never complained or lashed out. He was as sweet as could be throughout the entire process, and just seemed so grateful to his rescuers for helping him.
"He sat there with love in his little eyes — like he knew he had finally been saved," Harper said.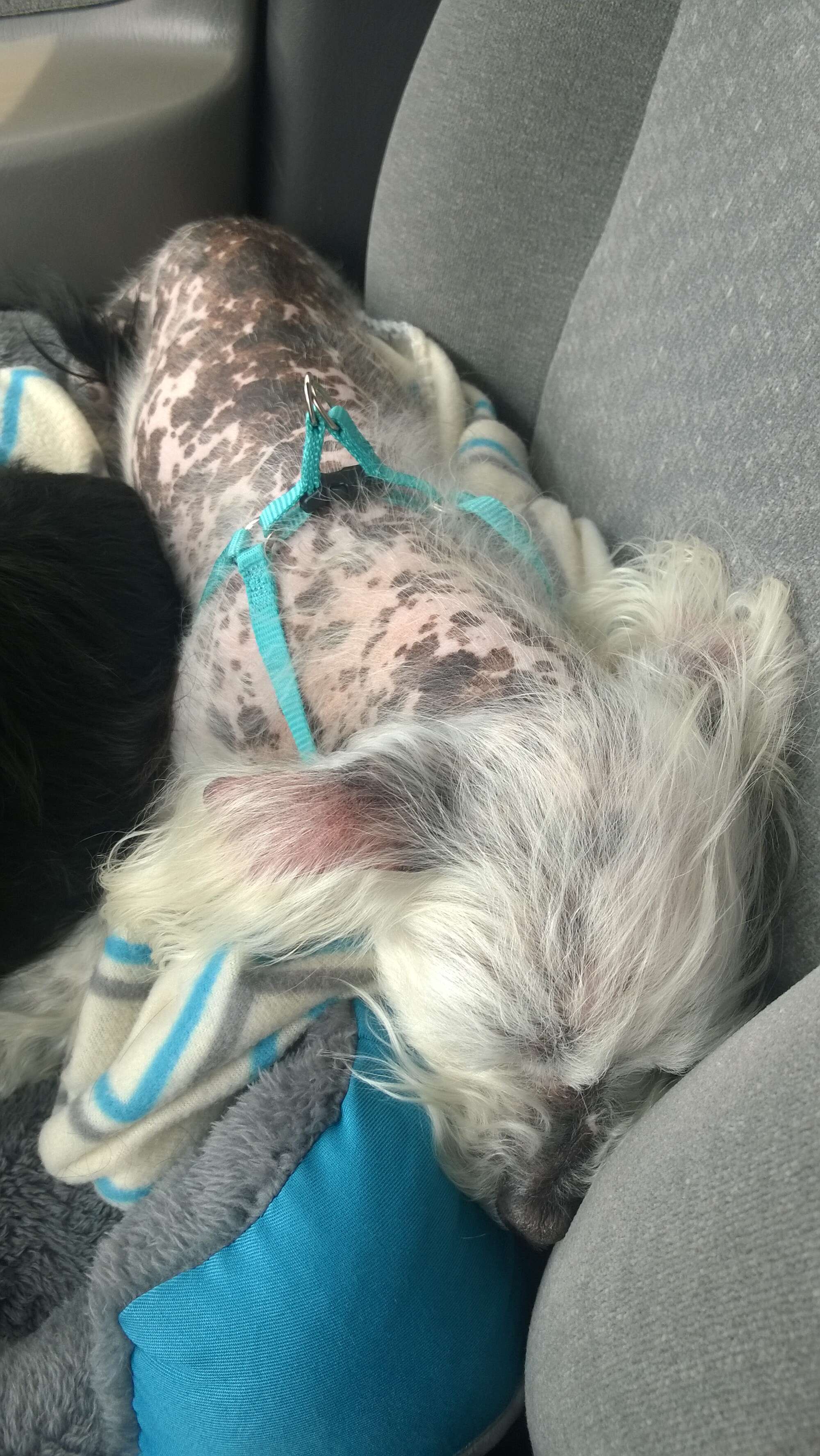 Once he was cleaned up and given initial treatment, Dobby was taken in by Pawsibilities Rescue, who continued to support him on his healing journey. For months, he needed medicated baths to help heal his skin and allow his fur to grow back. He was still a long way from being ready to be adopted when his future family saw his picture on Facebook and knew he was meant to be theirs.
Liz Ford was looking to adopt another dog after her two senior rescue pups passed away, and became smitten with a dog named Wylie who was also at Pawsibilities Rescue. She applied to adopt him and was approved, and while she was waiting for him to be ready, she saw Dobby's picture and fell instantly in love.
"I could not believe my eyes when I saw him," Ford told The Dodo. "While waiting for Wylie to heal enough to be adopted, I kept tabs on little Dobby. When I went to pick up Wylie, I was sitting on the floor at the rescue worker's home and Dobby came and curled up in my lap. I pretty much knew then that he would be coming to live with us."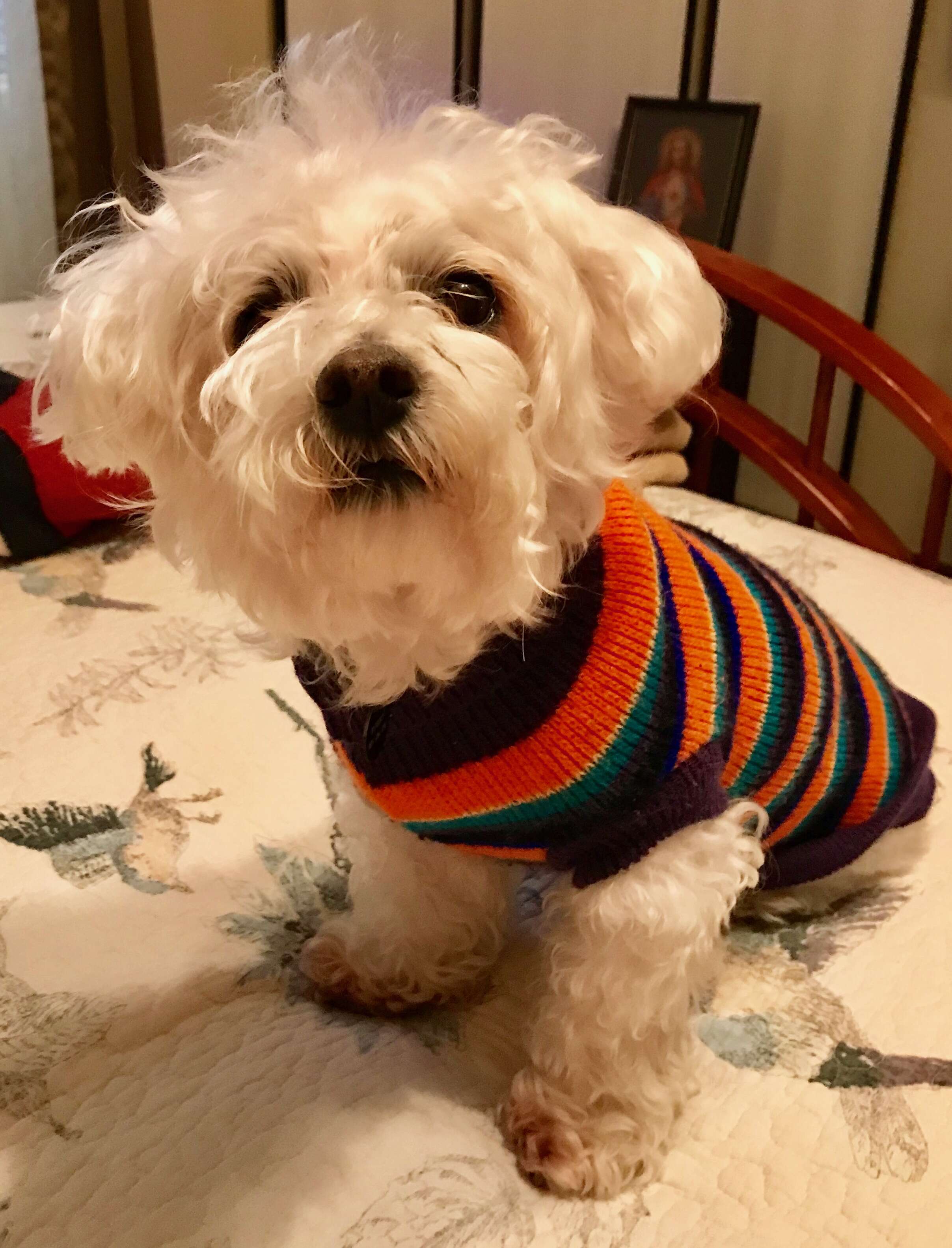 Ford took Wylie home that day, and four months later, they came back together for Dobby. Dobby and Wylie remembered each other instantly, and it was clear that they were going to become the best of friends in their new home. At that point, Dobby's skin was still healing and his fur hadn't completely grown back yet, but his new family was more than willing to continue his treatment and help him transform into the fluffy, healthy dog they knew he could become.
Now, Dobby is covered in white, fluffy fur, and looks absolutely nothing like the dog who was brought into the clinic that day many years ago. He loves to play fetch and run circles around the house with his brother Wylie, and has never been happier. His new family is so proud of how far he's come, and so grateful to have him as a part of their pack.
"They healed his body and soul," Harper said. "Looking at him now you would never know what he had been through! It was a village that came together to save him. He is a lucky, handsome boy with the best owners ever."