Dog Tries New Groomer — And Things Do Not Go As Planned
"I CAN'T."
JoJo is a very handsome 4-year-old rescued Siberian husky — and he's also recently proven just how upbeat he is.
What happened to him recently at the groomer didn't get him down in the slightest.
JoJo lives in Texas with his person, Hannah Gomez, who noticed that JoJo was shedding quite a lot. She wanted to make sure he was comfortable, especially with the warming temperatures, and since JoJo was overdue for a haircut anyway, she decided to try a new grooming facility.
Gomez explained to the groomer that she was just looking for a trim. "We said, '[He] needs to be shaved just ENOUGH so he wouldn't shed as much anymore,'" Gomez wrote on Twitter. "They took the shaving part literally."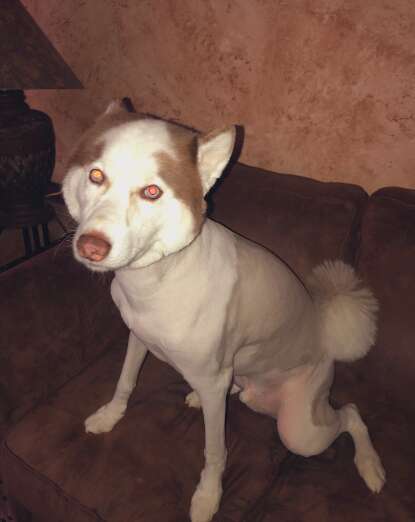 But when JoJo came back home with his new look, he behaved just as he normally would. He curled up in Gomez's bed to sleep right next to her, as always.
And then, in the morning, he happily bounced around with his favorite toys, asking Gomez to play.
"I think he's completely oblivious to it!" Gomez told The Dodo. "He's still the goofy odd dog that I fell in love with."
And what's missing will soon grow back.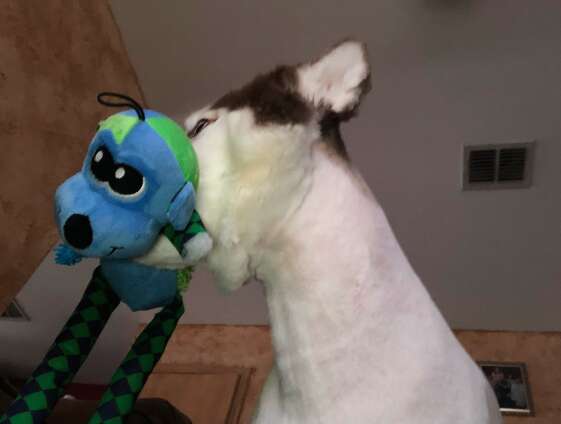 JoJo's an inspiration for anyone who has ever suffered through a terrible haircut. (He's also a reminder that, when you're thinking of changing your look, make sure to bring photos.)
Many dogs don't even need haircuts to stay cool — learn the ins and outs of going to the groomer
here
.