Dog Dumped At Shelter Was So Shy He Hid Behind His Owner's Legs
Now the pup and his new dad snuggle up together to watch TV 🐶📺
It's hard to miss the sign on the way in to the Davidson County Animal Shelter in Lexington, North Carolina. It reads: "The shelter is full and owner surrenders can be humanely euthanized at any time."
Beagle mix Jasper couldn't see the sign as he entered the small county shelter, but he could tell something was very wrong. The shy 8-year-old dog was surrounded by strangers and odd smells.
As his owner stood at the counter filling out surrender paperwork, Jasper sought protection by hiding behind his dad's legs.
He peered out nervously, then hid his face once more.
When shelter volunteers reiterated that the shelter was full and that leaving the dog could be tantamount to a death sentence, the man bent down and took Jasper's collar and leash for him and his wife "to remember him by," according to Donna Grooms, the shelter's director.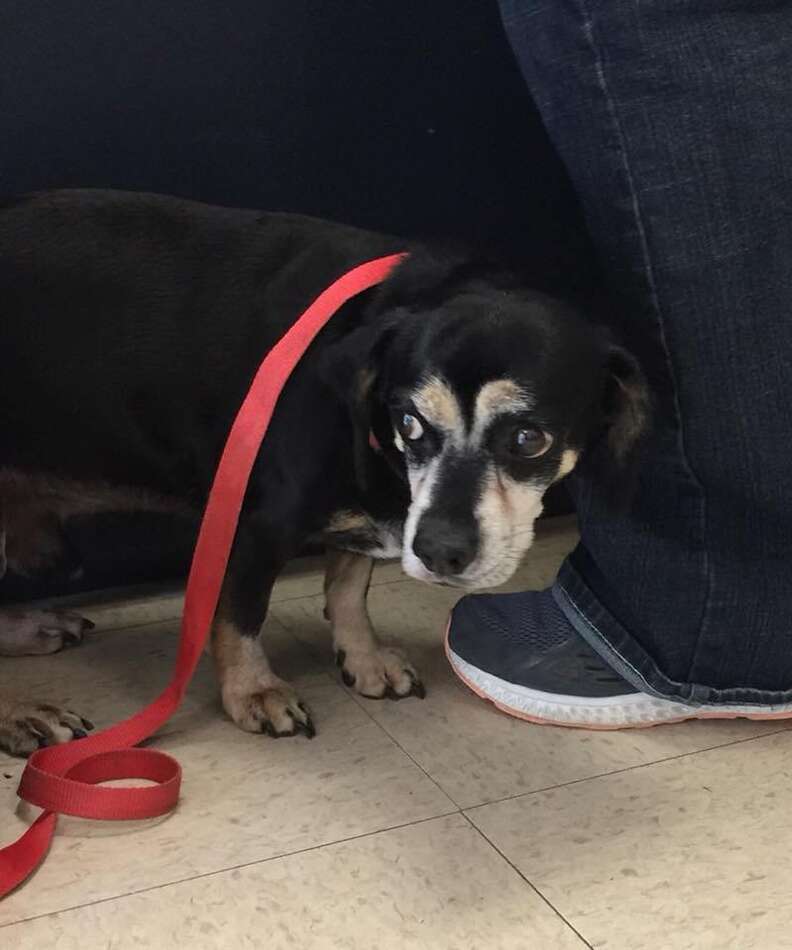 No clear reason was given for Jasper's surrender, Grooms said, though the man hinted that Jasper didn't get along with their 3-year-old grandchild. "We don't know that to be true," Grooms told The Dodo, "that's just what we were told."
As his owner left through the glass door, passing the sign once more, Jasper tried to follow, but the man didn't turn back. Jasper was all alone.
"He was upset. He wanted to leave with his daddy," Grooms said. "We gave him about 45 minutes to calm down, and we put the bed in my office with a few soft treats, and walked outside. We let him stay in our meet-and-greet room overnight so he didn't have to stay in general population."
Because time was of the essence, Grooms posted the heartbreaking photos of Jasper's surrender on Facebook, along with a plea for help. "I got nothing left — Daddy took my collar, leash and name tag so him and mom would have something to remember me by," Grooms wrote. "Sign on front door says full and that owner surrenders can be put down at any time so my people think that may be my fate."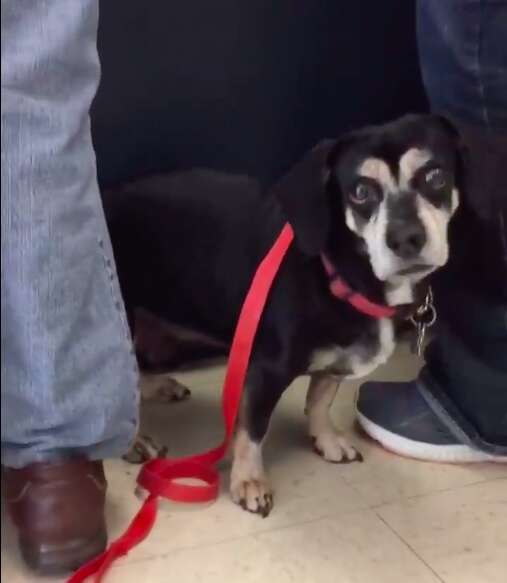 Luckily, her prayers were quickly answered.
"We all were online and sharing stories, and I came across Donna's post," Lori Lowrimore, a board member of Friends of Eden Animal Rescue, told The Dodo. "I have a very soft spot for the seniors — we all do, so when we saw it, I contacted the shelter to ask some questions."
But Lowrimore wasn't the only person who saw the post. Her 23-year-old son Trevor had been contemplating getting a dog, and after coming across Jasper's pictures, he knew the time was right.
"He called me from work and said, 'Mom, I'll help the dog,'" Lowrimore said. "When we knew we had a foster lined up, there was no question I was going to get Jasper."
Jasper's former owner had described him as shy and territorial, according to Grooms, but that's not what Lorimore found when she and a friend drove to pick him up the next day. "He was a little cautious at first, but chicken nuggets help with that a lot," Lowrimore said. "My friend and I went in to the room and sat on the floor, and Jasper ate some chicken nuggets and climbed right in my lap. We knew with that that he was going to be great."
Jasper's change in attitude was evident to everyone. "After the rescue got here and he calmed down he was like a different little dog," Grooms noted.
On the hour drive back to Friends of Eden, Jasper wanted to be close to his two saviors, attempting to climb up on the console in the car for a snuggle.
When they reached Trevor's home, they set Jasper up and left so he would have time to adjust. Lowrimore was unsure how the older dog would adapt to his new circumstances and foster dad. But it turned out that she didn't have to worry.
"Thirty minutes later when I called to check on them, [Trevor] told me they were laying on the couch watching TV," she said.
A week later, Jasper is happy to snuggle in bed each night with his new dad, knowing he's safe.
He has tried his best to be a good boy, but when Trevor finally had to leave him alone to go back to work, Jasper let his dad know how he felt about it.
It's clear Jasper's loving every moment of his second chance at life and making the absolute most of his golden years.