Guy Taking Out The Trash Saw It Moving — And Couldn't Believe What He Found
"Wildwood is a spunky and very sweet pup."
A maintenance man was taking out the trash on the streets of Philadelphia last week when he suddenly realized the trash heap he was about to add on to was moving. He ran back inside the building to grab some other staff members, and together they all carefully dug through the trash — and found the tiniest, skinniest dog, confused and waiting for someone to finally notice her. 
The little Shih Tzu was wrapped up in a plastic bag and stuffed inside a black purse. Someone had intentionally thrown her out like garbage, and if she hadn't been moving around so furiously, trying to break free, she may never have been found at all. She was quickly taken to Tiny Paws Rescue, and from there was transferred into the care of the Pennsylvania SPCA. She's now recovering at its shelter hospital, and staff there decided to name her Wildwood. 
Pennsylvania SPCA
"When Wildwood arrived, she was too weak to stand on her own," Gillian Kocher, director of public relations for the Pennsylvania SPCA, told The Dodo. "She was emaciated, anemic, she had open wounds. Right now, she isn't using her back legs, but that may be a result of her condition."
After examining her thoroughly, the staff determined that Wildwood also suffers from dental disease and a heart murmur. Her fur was severely matted and her nails were overgrown, but after a little love and care, Wildwood is already looking so much better. She also seems to be feeling a little better, too, and the more time she spends with her new friends at the shelter, the more her adorable personality continues to break through.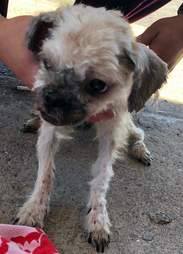 Pennsylvania SPCA
"Wildwood is a spunky and very sweet pup," Kocher said. "As you can imagine she has been through a lot, and during medical handling can be a little sassy, but she also just really wants to hang out in your lap, wrap herself in a warm blanket and hang out."
Pennsylvania SPCA
Even though Wildwood is on the road to recovery, she still has a long way to go. She's very skinny and the shelter is actively working to help her put on weight. They're also worried that the reason she's not using her back legs may be neurological, and will have to wait and see if she'll start to use her legs again as time goes on.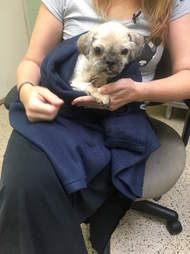 Pennsylvania SPCA
In the meantime, Wildwood is loving every minute of her life off the streets and safe in the arms of new friends, and continues to gain confidence every day. 
"Wildwood will be up for adoption, but we are quite a ways away from that right now," Kocher said.