Shelter Takes In Chubby Dog Too Big To Fit In A Kennel
They named him Big Bopper the Whopper 😂
When Gables Farm Dogs & Cats Home in the UK was asked to take in six dogs after their owner fell extremely ill and could no longer care for them, the shelter staff agreed and quickly made arrangements to transfer the dogs into their care. They didn't think anything of it, as they take in dogs from tough situations all the time. When the dogs arrived at the shelter, however, they couldn't believe their eyes — because one of the dogs, an 11-year-old collie mix, was the chubbiest dog they'd ever seen.
Gables Farm Dogs & Cats Home
Several months before, the shelter had taken in a dog whom they named Hattie the Fattie, as she weighed around 80 pounds when she first arrived. They thought she would be the chubbiest dog they ever took in, until they met Big Bopper the Whopper, who weighs around 110 pounds. The healthy weight for a collie is somewhere around 50 to 60 pounds.
Gables Farm Dogs & Cats Home
Staffers at the shelter have no idea how Bopper came to be so big, but immediately knew that they needed to do everything they could to help him get down to a healthy weight. The senior dog has very sore joints and trouble walking and standing up because of his weight, and also seemed depressed when he was first surrendered.
Gables Farm Dogs & Cats Farm
Bopper is so big that he can't even fit comfortably into a standard kennel. Everyone knew right away that Bopper's journey to a healthy weight was going to be a long one, and they're trying to just take it one day at a time.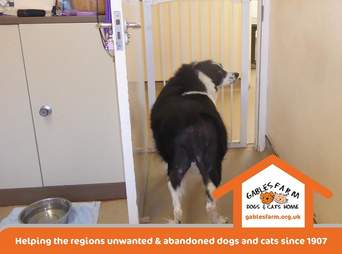 Gables Farm Dogs & Cats Home
"He was very sad and dejected when he arrived and refused to eat," Ruth Rickard, deputy manager at Gables Farm Dogs & Cats Home, told The Dodo. "Three weeks later he is now in a routine and much happier. He loves having lots of cuddles and short walks."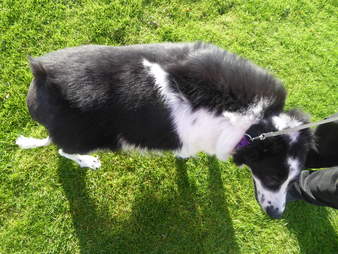 Gables Farm Dogs & Cats Home
After being at the shelter for several weeks, Bopper has come out of his shell a bit and has revealed himself to be a true gentle giant of a dog. He loves all of his new friends and is incredibly trusting, but despite the progress he's made since arriving, he still has a long way to go.
Gables Farms Dogs & Cats Home
Bopper currently weighs twice as much as he should, and needs to lose around 50 pounds in order to be at his healthiest and happiest. The shelter has already helped Hattie get down to a healthy weight, and are confident they can help Bopper with the same goal. Bopper may be struggling now, but with the help of his new friends, before long he'll be so much healthier and ready to go off and find the perfect forever family.