Shelter Discovers Senior Cat Is Actually 21 Years Old
She's such a princess 🐱👑
After Princess Tigger's owner passed away, the confused cat was taken in by the New Hampshire SPCA (NHSPCA), who quickly helped her settle in to shelter life. The staff knew that being suddenly pulled away from her lifelong home must have been so jarring. At first, they weren't sure exactly how old she was, but they knew she was definitely on the older side.
When they discovered she had a microchip, they contacted the company to find out a little more about her — and were shocked when they learned that Princess Tigger was actually 21 years old.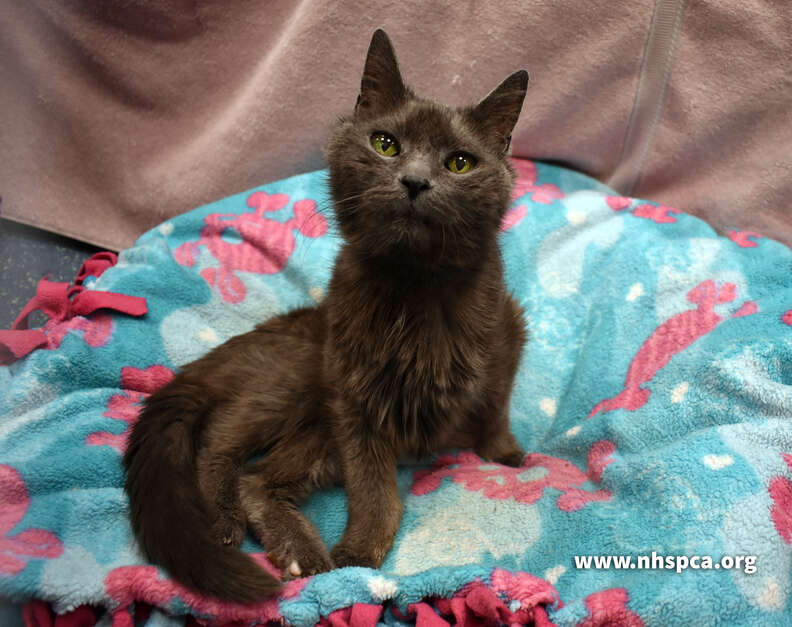 Everyone knew she was a senior, but no one would have guessed she was that old. As soon as the shelter learned that the sweet cat had been around for over two decades, it became even more important to get her adopted as soon as possible, so she could enter a loving home to enjoy the rest of her golden years.
Princess Tigger has a few medical issues that the staff discovered when she first arrived, and knowing her age now, it all makes a little more sense.
"She was thin and drinking lots of water when she came in, and we discovered that she is hyperthyroid — which she is now being treated for," Kelly Marinel, manager of animal care at the NHSPCA, told The Dodo. "She was stiff in her back legs and is now on a Cosequin [joint] supplement and she has been improving and seems more comfortable. She also had a UTI which has been treated and resolved."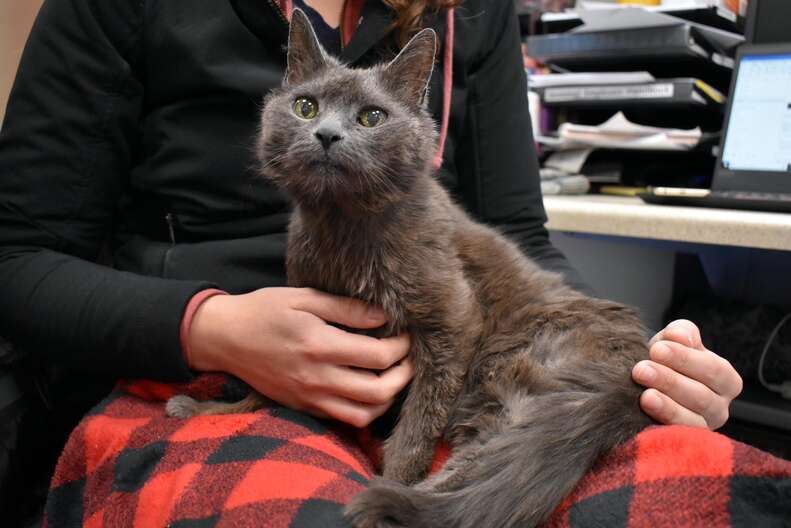 Princess Tigger was placed in a foster home while she was being treated for her various medical issues, but now she's back at the shelter. She spends most of her time relaxing on a heated blanket in one of the staff offices, getting as much attention as she can.
"Princess Tigger is super sweet," Marinel said. "She loves to be brushed, and will lay next to you and purr. She loves attention and is happy to be with people."
Even though everyone at the shelter loves her and she's fairly comfortable and settled, getting her adopted as quickly as possible is super important. Because of her age, Princess Tigger is much more susceptible to getting sick, so getting out of the shelter and into a loving home is the best thing for her.
Princess Tigger isn't a huge fan of other cats, but she can live with dogs as long as they give her space. She needs a family who can provide the proper care for her medical needs — but other than that, she just needs a family willing to welcome a sweet senior cat into their home and love her for the rest of her days.
"Like Princess Tigger, senior pets are so grateful when they land in a retirement home, and they still have plenty of love left to give," Marinel said.
If you're interested in adopting Princess Tigger, you can
contact the NHSPCA
for more information.