Puppy Sits In Shelter Smiling At Everyone Who Passes By
"[It's] like he's telling you, 'Come pet me, come love me.'"
Courtney Wingate was at the local animal control when she passed three little Lab puppies in a kennel. As the director of the Humane Society of Northwest Louisiana, Wingate knew she couldn't leave the adorable puppies behind — especially when one of them flashed the most charming smile she'd ever seen.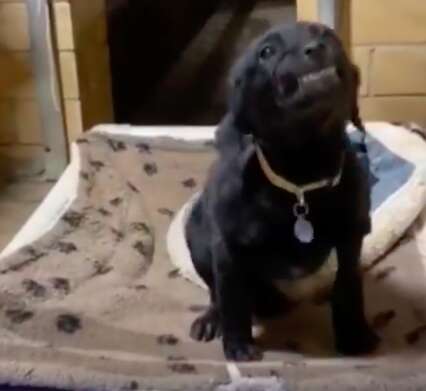 Wingate called volunteer Sarrah Walton, who ran over to grab the 8-week-old dogs. A big LSU fan, Walton named the pups Joe, Burreaux and O after the quarterback and coach of the school's football team.
The puppies tested negative for parvo at the vet, but once at the rescue, Burreaux, the pup with the heart-melting smile, got sick. They rushed him back to the animal hospital where he made an amazing recovery.
Back at the rescue, Walton started noticing that whenever someone talked to Burreaux in a high voice, telling him that he was a good boy, the pup would immediately flash his little teeth in a big grin.
"It's whenever you're talking real sweet to him … he gets this smile like he wants something," Walton told The Dodo. "[It's] like he's telling you, 'Come pet me, come love me.'"
When the dogs were ready to start looking for their forever homes, the rescue posted a video of Joe's natural talent for fetch. Joe immediately got adopted.
"The entire litter was friendly and sweet and they like to play," Walton said. "Burreaux and his sister are starting to learn fetch, too."
Walton and Wingate began to think about what special talent Burreaux could show off in a Facebook video. He wasn't as good at fetch as his brother, but he was a sucker for "sweet talk."
"And we were thinking, 'Burreaux wants a home so bad that he's always smiling, trying to cute it up,'" Walton said. "So we took that video and now it's going viral."
You can watch the adorable video here:
In just a few days, the video of Burreaux's big grin has been viewed over 40,000 times. But despite his new online fame, Burreaux and his sister O are still looking for their forever home.
The pups know they already won the jackpot when Wingate and Walton pulled them from the kill shelter. But one day soon, Burreaux and his sister hope to have something a little more permanent to smile about — a home and a loving family.