Families Are Inviting Shelter Dogs Over For Thanksgiving Dinner
"I was feeling so sad about the dogs being alone in the shelter for Thanksgiving" 💔
No one should have to spend Thanksgiving alone — especially shelter pets.
That's just the thought that came to mind as Christie Chipps Peters, shelter director of Richmond Animal Care & Control (RACC), was gearing up for the holiday four years ago. She imagined people getting together with friends and family for their Thanksgiving feasts, while it was just another day at the shelter for the homeless animals.
"I was feeling so sad about the dogs being alone in the shelter for Thanksgiving," Peters told The Dodo. "I thought, 'Wouldn't it be fun if people could invite them over for Thanksgiving dinner?'"
Peters put a call out to the community, and before she knew it, 35 animals were out of the shelter and on their way to spend Thanksgiving with a generous foster family. The pets got a delicious meal, plenty of love from guests and even someone to snuggle up with on the couch for a post-dinner nap.
"People who've never considered fostering before reached out to us, so excited to host one of our animals," Peters said. "More than half of the animals that year were adopted, either by the family themselves or someone who met them through the family."
The Thanksgiving foster program is currently in its fourth year, and the number of pets who have plans for the holiday has nearly tripled thanks to an overwhelming amount of people who apply to participate.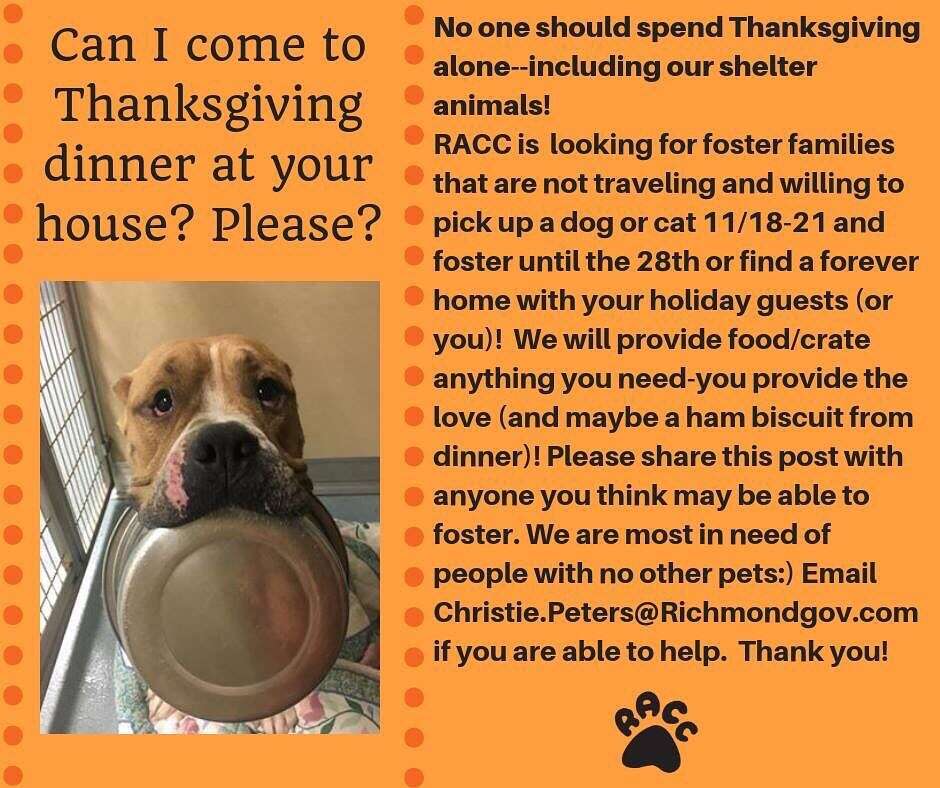 "It's a fun twist to a traditional fostering situation for people who might've never done it before," Peters said. "The shelter provides the supplies you need, such as food, medication and a crate, and the following Wednesday after Thanksgiving the pet comes back. But a lot of the times, the pets never have to come back to the shelter. We try to make it really easy for people to say yes and keep that pet forever."
If families do choose to adopt the pet they host, the shelter waives the adoption fee. This Thanksgiving, Peters has a few senior animals in mind that she especially hopes will find homes for the holidays this year.
"Elton is my favorite old little man," Peters said. "He's a 9-year-old pit bull who would love to find his forever home. And then there's Taco, my favorite of the cats. He came in ear-tipped, which means he was feral, but then he decided he didn't want to be feral anymore. He's a huge fluffy guy and would make a great Thanksgiving friend."
This year, the shelter will be pairing families with a pet Nov. 18 through Nov. 21. Fosters are interviewed so they can be paired with the perfect pet, and then they can bring the animal home that day for the week-long foster.
As expected, Peters has already had an influx of interest from people all over Virginia hoping to host a pet for Thanksgiving this year. And it's not just the animals who end up benefitting from the experience, she says.
"The emails we get from people are so great," Peters said. "They run from, 'I'm here in Virginia on work and my family's far away — I'd love to have a friend to cook with for Thanksgiving' to messages like, 'We just lost our Labrador of 13 years and we have an empty house now ... We'd love nothing more than to have a pet here for the holiday.' It's just a feel-good moment as the city shelter that we can open this up for people who love animals."
If you're nearby and are interested in hosting a Richmond Animal Care & Control pet this Thanksgiving, email Christie Chipps Peters at
christie.peters@richmondgov.com
. To help other shelter pets in your area this holiday season, consider signing up as a foster at your local animal shelter.