Rescuers Celebrate Shelter Being Empty For The First Time Ever
So exciting ❤️️❤️️👏
Palm Beach County Animal Care and Control in Florida has three different buildings where they house animals looking for homes, and on a typical day, all three of those buildings are packed. Recently, though, there's been an uptick in the number of people looking to adopt and foster, and on Tuesday, something happened at the shelter that had never happened before. 
For the first time since the shelter opened over 50 years ago, one of the kennel buildings is completely empty.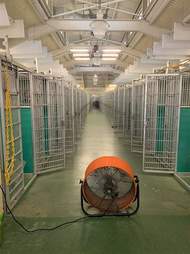 Palm Beach County Animal Care and Control
"The kennel featured is typically almost full or full most of the time," Elizabeth Harfmann, community outreach manager at Palm Beach County Animal Care and Control, told The Dodo. "When full it can have 48-plus dogs in it as we often double up the cages to help create more space and also give the dogs a buddy while they are here with us."
When everyone at the shelter realized what had happened, they were absolutely shocked — and knew they needed to take a moment to celebrate.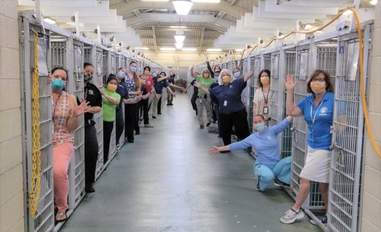 Palm Beach County Animal Care and Control
"Honestly, it's almost surreal," Harfmann said. "This is something that every animal welfare and shelter worker dreams of and works hard towards, but rarely sees. We are beyond excited to see so many empty kennels and so thankful to the community and everyone who made this possible."
To commemorate the moment, shelter staffers lined up along the empty cages and cheered, later posting the video on Facebook so they could share this huge accomplishment with the world. 
Of course, there are still a handful of animals left at the shelter looking for homes, but after all the recent adoption and foster success, the shelter is hoping they can keep the momentum going and find homes for all the animals who need one.
"As of this morning we still need help placing 32 dogs, one cat, two horses and a rooster," Harfmann said.
Palm Beach County Animal Care and Control
The shelter hopes this huge accomplishment and celebration will encourage even more people to adopt and foster, so they can continue to empty their buildings and send deserving pets off to their forever homes.
Palm Beach County Animal Care and Control
"We realize that having an empty kennel is a fleeting moment, especially for an open-admission shelter, but wanted to celebrate the success of the shelter and community for as long as that moment lasts," Harfmann said.