Finding the right home for a shelter dog can often take a lot of time and patience. Waiting for a home, with no idea when the wait will be over, can take its toll on even the sweetest of dogs — and so one shelter decided to do something to pamper the pups who have been waiting far too long.
The RSPCA recently took eight of its longest resident shelter dogs — Luna, Trixie, Diamond, Freddie, Bandit, Marvin, Roxy and George — to the Egerton House Hotel for a day of pampering and relaxation. Staffers wanted to get them out of the sometimes depressing shelter life and into a luxurious, swanky environment where they could truly feel like kings and queens for the day.
The eight dogs have been at the shelter for a combined total of over four years — 1,708 days to be exact. After so much time spent waiting, the staff felt that these dogs had more than earned a day off.
Each of the eight dogs that went on the little field trip came from rough beginnings, and they all more than deserve a second chance at having a fabulous life. George the senior pit bull was found living all alone in an abandoned house and Trixie the pit bull was adopted through the RSPCA a while ago and then found abandoned again later on. Luna was left all alone when her owner sadly passed away, and little Freddie was adopted and then returned just weeks later. They've all been through their struggles, but they're still the sweetest dogs, and deserved a day of luxury more than anyone.
Shelter staff hoped that a day out of the shelter would help the dogs to relax, perhaps making them seem a little happier and a little more adoptable when potential families stopped by. Staff hoped Bandit in particular would be able to relax a little, as the poor dog has been incredibly stressed out by shelter life, and desperately needed a day out of his kennel.
While at the hotel, the dogs were given the VIP treatment, with great food to eat …
… the comfiest surfaces to lounge on …
… and of course, lots and lots of love and care.
The dogs were also treated to a photo shoot from a professional photographer during their day off, and the shelter staffers hope that the gorgeous pictures of each dog lounging happily in a hotel will help entice people to adopt them.
Each dog who went to the hotel that day loved every moment of it, and even though they all had to return to the shelter eventually, hopefully none of them will be waiting too much longer to finally find their forever homes.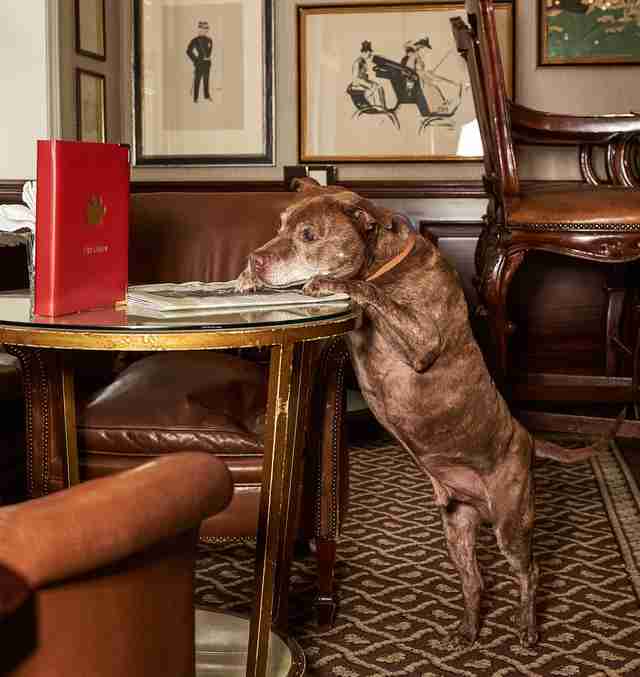 If you're interested in adopting Luna, Trixie, Diamond, Freddie, Bandit, Marvin, Roxy or George, you can contact the RSPCA for more information.