Lonely Dogs Who Met At Shelter Just Became Best Friends
"They have been cuddling on their bed together ever since."
Before arriving at the shelter, Blinker and Chilli Pepper had never set eyes on each other. But the moment they did, the dogs were inseparable.
Animal control officers had picked up the two male dogs, who are both about a year old, and brought them to the shelter run by DeKalb County Animal Services in Georgia. Chilli Pepper had come in first — in August, animal control officers picked him up as a stray. Then in early September, officers found Blinker illegally tethered to a property without any kind of shelter.
Any dog who comes into a shelter has probably been through a lot. So whenever possible, the staff try to pair dogs with a roommate so they have a friend to keep them company inside their kennels.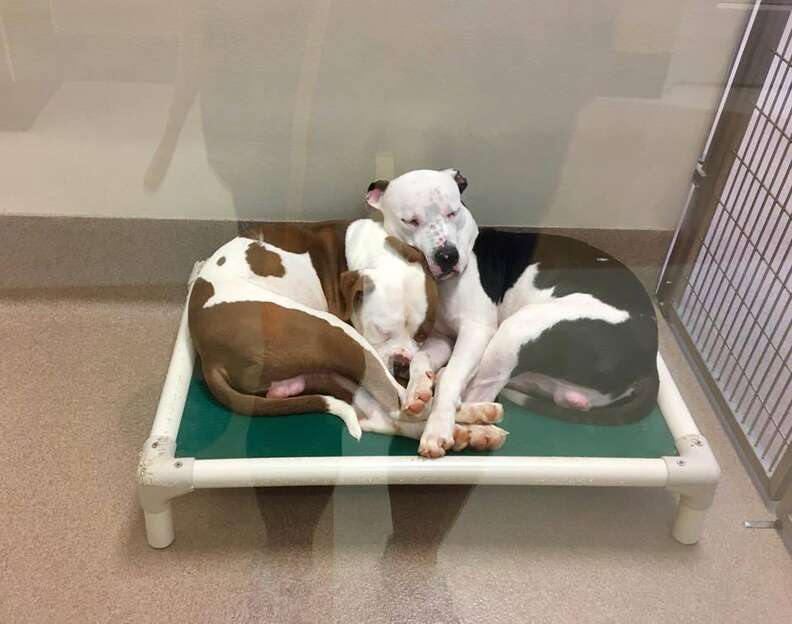 Blinker and Chilli Pepper turned out to be a particularly good match.
"They have been cuddling on their bed together ever since they were paired in the same kennel," Kaitlyn Garrett, photographer and social media coordinator for the LifeLine Animal Project DeKalb County Animal Services, told The Dodo. "Everyone loves walking by to see them snuggling."
"I like to think it must be nice to have a friend to hang out with while in the shelter," Garrett added. "It may help with the stress some dogs feel when coming into the shelter."
The dogs don't just cuddle some of the time — they're constantly glued at the hip.
"They snuggle every day, all day," Garrett said. "It is rare that you will walk by and not see them curled up together."
Despite being so close, Blinker and Chilli Pepper have distinct personalities.
"Blinker loves hugs," Garrett said. "As soon as you take him out of the kennel, he jumps up to hug you. When I was squatting down with him, he kept moving away from the camera and in towards me so that he could give me a hug."
"Chilli Pepper has a bit more energy and loves to run and chase tennis balls, and would probably benefit from a home with a backyard or someone with an active lifestyle that could take him for hikes and walks," Garrett said.
But one thing the dogs have in common is each other. Besides cuddling, Blinker and Chilli Pepper love to play together, lick each other's ears and practice "being adorable," according to Garrett.
"It is definitely heartwarming to see two dogs from different backgrounds find comfort in each other," Garrett said. "The shelter can be stressful for dogs; it is great to see them find a friend in each other during their stay."
But as comforting as Blinker and Chilli Pepper are to each other, what they really need is a family to adopt them, according to Garrett. To help make this happen, the shelter will fully pay for Blinker's medical treatment on his cherry eye, which will require surgery.
"It would be great if they could find a home together, but it is not an absolute must," Garrett said. "They both do fine when separated and we wouldn't want to hold one of them back from finding the perfect home just because the family isn't in the position to take home two. We want them to find their perfect match, whether it be together or separate."
If you're interested in giving Blinker and Chilli Pepper a forever home — either together or separately —
contact the adoption office
at DeKalb County Animal Services.