This Shelter Dog Was Dying Of A 'Broken Heart'
Hutch was homeless and had just a few months to live — but then TWO miracles happened.
Not so long ago, circumstances truly seemed hopeless for an unwanted shelter dog.
Hutch arrived at Atlanta Humane Society (AHS) back in July. He was transferred from a shelter in North Carolina, and as soon as he came into the care of the people at AHS it was clear something was wrong with him.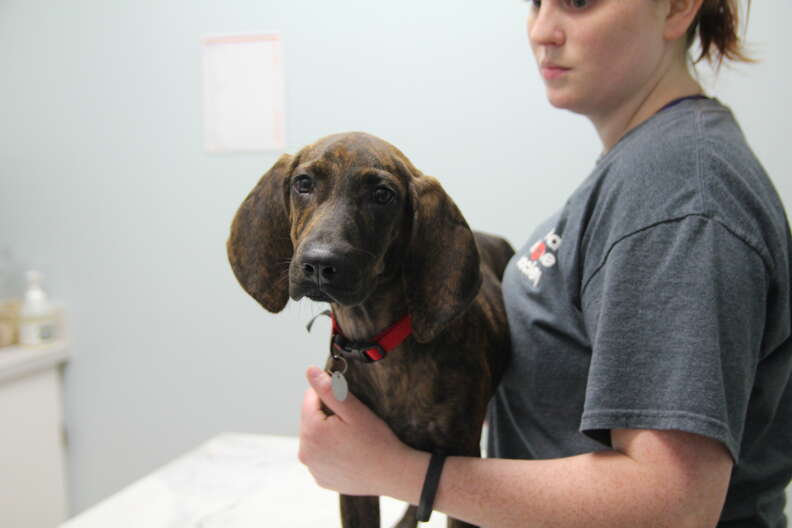 "We noticed he was coughing and having trouble breathing," Christina Hill, director of marketing and communications for AHS, told The Dodo. "Our shelter medicine team examined him and discovered a heart murmur."
Heart murmurs can be very dangerous for dogs and Hutch would need a special kind of test to see how serious his heart murmur was. And the shelter was faced with a hard choice.
"Shelters are faced with very difficult situations when they have an animal like Hutch in their care," Hill said. "It can be costly to test to see what is wrong, even more costly to treat what is found, and extremely difficult to find an adopter who is willing and financially able to take an animal into their home who has a special, and potentially expensive, medical condition."
Considering the millions of needy animals who enter shelters just across the U.S. every year, a situation like Hutch's can seem insurmountable. "But we knew we had to do everything we could for him and give him the chance he deserved," Hill said.
The shelter reached out to a special donor who was willing to give Hutch that chance and pay for the tests and treatment.
At the cardiologist, Hutch was diagnosed with pulmonic stenosis, a condition that means the blood flow was being partially obstructed in Hutch's heart. Even though his heart was a little broken, the doctors believed they could fix it.
Hutch was driven to Auburn University in Alabama where he got surgery. "The surgery went perfectly," Hill said. Even so, given his medical background, Hutch would need to be monitored throughout his life for any further problems.
As Hutch was recovering from surgery at a foster home, the people at AHS knew that he would need another miracle — a family willing to take on a dog with a medical history and potential special medical needs in the future.
"We still had a big hurdle to cross," Hill said. "We expected that it would take weeks, or more likely months, to find Hutch that perfect home ... but all it did take was a single Instagram post."
Jaime Butler saw Hutch's video and it resonated on more than just an emotional level — Butler had personal experience with broken hearts like Hutch's.
"Hey Hutch!" Butler commented. "My daughter also has pulmonary stenosis! So glad you got your surgery! Is Hutch able to be adopted?"
Hutch was still recovering at the time, but as soon as he was ready for a new family, AHS immediately let Butler know.
"She knew they were meant to be, and that was that," Hill said. "We connected Jaime with Hutch's foster parent and they fell in love with him immediately."
Rescuers couldn't have imagined a better home for Hutch. Not only would he be loved unconditionally, he would also be understood. Page, the youngest of Butler's four girls, was treated for her heart condition soon after she was born 15 months ago, and, like Hutch, she'll need to be monitored closely in the future for further treatments.
Page and Hutch will be able to face their treatments together.
"Together, their hearts will heal," the shelter wrote, "and their love for each other will make them stronger every day."
It's hard to imagine a more perfect family for Hutch, the seemingly hopeless shelter dog who turned out to have a lot to hope for after all.