Shelter 'Marries' Bonded Dogs So People Will Have To Adopt Them Together
"When she started walking down the aisle, he quickly met her halfway with excitement."
In sickness or in health, for richer or for poorer, Jack and Diane have been together through it all.
When the senior dogs were found abandoned in a Maine cemetery last summer, they ended up at Kennebec Valley Humane Society. The rescue tried to find out who their owners were, but no one ever came forward for Jack and Diane.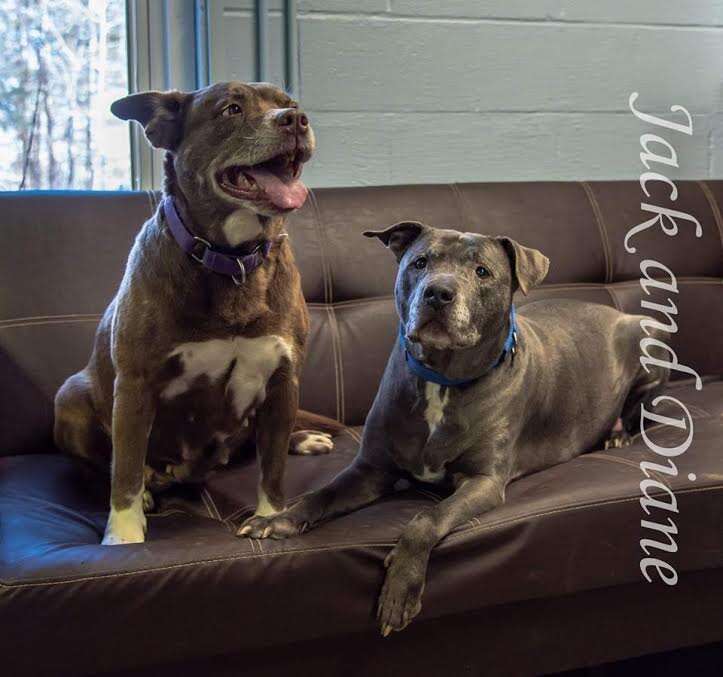 So for the past six months, the loving couple has been living at the shelter with no home to call their own. They are glad to be safe and warm there, but 10-year-old Jack and 7-year-old Diane would enjoy nothing more than a family to spend their golden years with.
To show their devotion to keeping the adorable senior dogs together for adoption, the rescue decided to host a wedding to officially marry them.
"The staff joked about them being our old married couple," Stevanie Roy, the shelter director, told The Dodo. "When we thought of ways to promote them, we chose to marry the two bonded mates."
In preparation for the ceremony, the rescue staff spent one morning in early February decorating the shelter with white flowers and other wedding decor. They rolled out a long carpet to be the aisle and, soon enough, the guests began pouring in.
"Diane had her own dressing room where she was dressed in a veil with a flowered collar," Roy said. "Jack, wearing a bow tie, patiently awaited her arrival at the altar — although when she started walking down the aisle, he quickly met her halfway with excitement."
Roy was waiting for both dogs at the altar, and she said a few words about Jack and Diane's bond as guests looked on and took photos of the loving couple.
"Instead of saying 'I do,' the dogs each showered me with wet, slobbery kisses," Roy said. "Their reception was held right after the wedding, where we had a pizza party, and both Jack and Diane snuck pepperoni slices from the hands of the staff."
The entire day was so much fun for everyone — and now, Roy is patiently waiting for the perfect family to call about adopting Jack and Diane.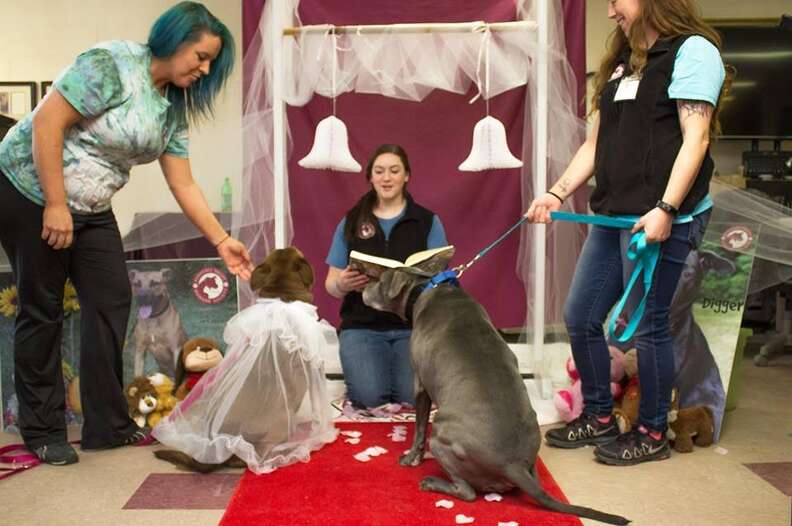 She's sure the loving pair would be the perfect addition when they do find their family. As a true gentleman, Jack loves offering all of his toys to his "wife" — and in return, Diane keeps Jack on his toes by being adventurous and spunky.
"When she is separated from Jack, you can find her impatiently waiting for his return," Roy said. "When she sees him coming towards her, she does a little dance in excitement. Both Jack and Diane enjoy car rides, and both have attended multiple nursing homes to provide therapy to patients in need. They enjoy soaking up the attention!"
To help find the right home, the rescue is happy to work with out-of-state adopters as long as people are willing to travel to the shelter.
Until Jack and Diane find their family, they're enjoying each other's company and plenty of attention at the rescue. When the right family does come along, it will be surely worth the wait — just like Jack and Diane's magical wedding day.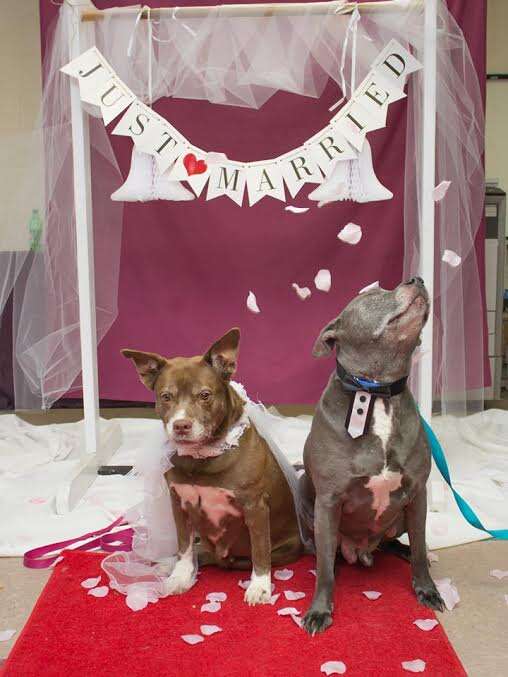 "Jack and Diane are considered bonded and will be placed into a home together," Roy said. "Any interested adopters are welcome to stop by our facility to meet them. They need a quiet retirement home with no other animals — to live their lives out being spoiled with comfortable beds, plenty of treats and unlimited amounts of love."