Van Full Of Shelter Dogs Fleeing Hurricane Breaks Down At Worst Possible Time
"It was about 15 seconds of pure panic. All those animals."
When staffers from Lucky Dog Animal Rescue in Arlington, Virginia, learned that their South Carolina partner shelters were in the direct path of Hurricane Florence, they knew they didn't have much time to act.
Hurricane Florence was predicted to be one of the worst storms the Carolinas had ever seen, so the homeless dogs and cats who could potentially be caught in its path had to be evacuated. Staffers began lining up temporary homes for over 50 shelter animals and organizing transportation to get them out of the state.
But though the sun was shining on Wednesday when the evacuation began, leaving South Carolina would be far from easy.
An hour and a half into the rescue mission, the transport van's alternator failed, leaving dozens of helpless animals stranded at a gas station on I-95.
Lucky Dog Animal Rescue
"It was our worst nightmare," Mirah A. Horowitz, executive director of Lucky Dog Animal Rescue, told The Dodo. "A van with 50-plus animals and one driver broken down. Closer to the origin of the trip than the end — but they couldn't go back because of the hurricane."
With temperatures spiking, the dogs began panting in their crates. There was no shade for miles, and nothing to help keep the animals cool or hydrated.
"When we got word, it was about 15 seconds of pure panic," Horowitz said. "All those animals. No [air-conditioning] because the van wouldn't start."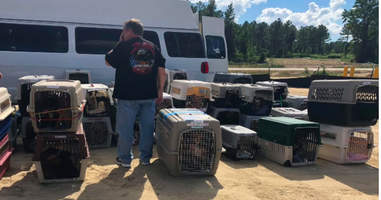 Lucky Dog Animal Rescue
The situation looked dire for the stranded group of dogs and cats — some only a few weeks old.  It became very clear that the rescuers were in need of their own rescue.
Horowitz decided to post a plea for help on Facebook. Her hopes of getting any response were not particularly high, as people in the area were busy preparing for the Category 4 storm themselves.
"We posted all over social media and had no idea what to expect," Horowitz said. "A few members of our South Carolina team jumped in cars and hitched up a horse trailer just in case."
Lucky Dog Animal Rescue
Then, to Horowitz's surprise, the messages started rolling in.
"My army buddies are coming with water," one Facebook user wrote.
"I'll be there soon to help move dogs," another message read.
And, finally, one that made her jaw drop: "We have a transport not far from you on I-95 and they can help."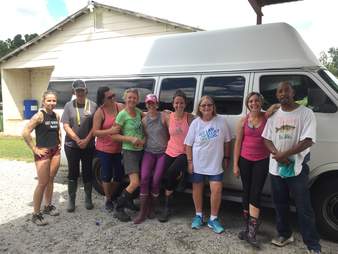 Lucky Dog Animal Rescue
"The relief and the overwhelming sense of support and caring is hard to describe," Horowitz explained. "The rescue community came to our rescue, putting their own hurricane preparations on hold. It was amazing."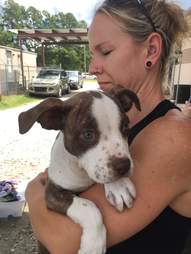 Lucky Dog Animal Rescue
That hot afternoon, over 55 people drove to the gas station on the shoulder of the highway to help unload the dogs and get them into air-conditioned cars.
Army volunteers doled out water to the thirsty animals, while another Good Samaritan paid to replace the van's alternator.
Lucky Dog Animal Rescue
When Looney's K9 Rescue Transport arrived on the scene, everyone in the group pitched in to load the animals into the van so they could be ferried the rest of the way north.
Thanks to not only the relief team, but the amazing volunteers who halted their own hurricane preparations, all dogs and cats made it safely to their foster homes.
"These evacuations are saving the lives of animals that have nowhere else to go," Horowitz wrote in a press release. "Animals in shelters that could flood and no one would be there to know it. Animals who, because of the amazing efforts of our volunteers, will be safe and dry tonight."