Shelter Worker Makes Tinder Profile For Favorite Dog To Get Him Adopted
Who wouldn't swipe right? 😍
After seeing your best friend lonely for so long, setting them up on a dating app might do the trick.
That was the idea that Miranda Morrison, a shelter worker at Animal Ark Rescue in Georgia, had for her best friend, Henry — but it just so happened that Henry was a dog.
After being picked up as a stray when he was a puppy, Henry was on the kill list at a county shelter when Animal Ark picked him up in February 2015. He's been at the shelter ever since, and after spending his third Christmas without a family, Morrison decided to create a Tinder profile in hopes that Henry would finally find his perfect match.
"We have a doggie dates program at the shelter where potential adopters can take a dog out on a little playdate to the park or wherever to help see their true personality," Morrison told The Dodo. "The dates show people who the dog really is outside of the shelter, so I wanted to encourage local people to go on a date with Henry."
Morrison set up the profile, complete with information on Henry's current "job" and relevant educational experience.
With a smile like that, it wasn't long before people started swiping right. "Henry" would then send his match a personalized message before asking if they'd like to go on a date sometime.
"He's an amazing dog — super friendly, loves playing and cuddling," Morrison said. "I would bring him on lunch breaks with me a lot and we'd just hang out together eating chicken nuggets. I fostered him for a while, too. Anyone would have been lucky to have him."
But much like some humans, Henry didn't have much luck on the dating app. His story, however, went viral, and the adoption inquiries started flooding in.
Alexander Ognibene, a graduate student from Virginia, heard Henry's story on the radio while driving one day in late December — and knew he had to meet him.
Luckily, it was a perfect match.
"My older dog passed away last August," Ognibene told The Dodo. "So when I heard about Henry, I just knew he was the dog for me. By his description alone, I knew."
Despite the long 11-hour car ride to the shelter, Ognibene met Henry on Jan. 16 to bring him home. They bonded instantly and, after three long years, Henry finally had a dad.
"I volunteer at animal shelters a lot, but Henry is my first official rescue dog," Ognibene said. "I almost started crying when I saw him. His personality is just like my old dog who passed away."
While Henry has only been home for a few days, he's already settling in well with his new family, which includes two other pups: a 12-year-old Shih Tzu named Lola, and a 9-month-old corgi named Clairee.
"He's getting along with them greatly," Ognibene added. "He's playing very well with them and is really happy."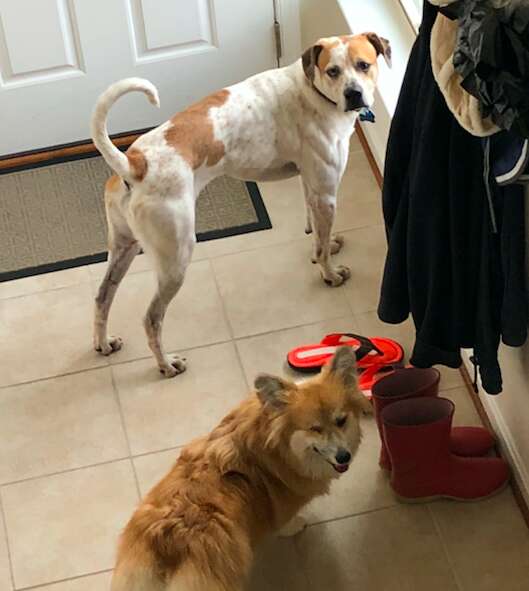 While it was bittersweet for Morrison to see Henry leave the shelter, she's excited to hear updates from her friend's new dad as he continues settling in.
"He was my favorite dog at the shelter," Morrison added. "I was a little upset to see him go, but I know he's off to an amazing life."
Thinking about adopting? Then meet Dodo Adoptbot, an interactive guide for new pet parents. Get
started on Facebook Messenger
or text HOME to 38349.