Dog Gets His Own 'Office' Parody To Help Him Find A Home
He's been waiting two years — and he's such a good boy ❤
Bentley arrived at the Pennsylvania SPCA's Philadelphia location in October 2016, after being removed from his home by Humane Law Enforcement. The shelter wasn't given much detail about his past home life due to the confidentiality of the case, but the staffers could tell he had been through a lot, as poor Bentley was afraid of absolutely everything.
"Bentley was shy, stressed, and uncomfortable when he first came to the shelter," Kayla Dorney, behavior lead at the Pennsylvania SPCA, told The Dodo. "He sat in the back of his kennel and just laid there. He'd face the back of his kennel, and didn't seem to want much interaction with humans."
While Bentley was scared of the shelter and all the dogs in it, he was also scared of all the people working there. He seemed to have trouble trusting new people, and was taking a while to warm up to everyone around him. He always looked so sad and confused sitting in his kennel, so the behavior team at the shelter came up with a plan to try and help him.
The behavior team decided that instead of keeping Bentley in a kennel, they would start keeping him in their office instead. They wanted to give him a chance to come out of his shell and give themselves an opportunity to get to know him better — and it worked so much better than anyone could have expected.
"The more time he spent with us, the more comfortable he became," Dorney said. "His tail began to wag and we began to see more of who he was — a goofy, caring dog who is more intuitive than most. He knows when we are sad and we feed off of his happiness — he's become more than just an office dog to us."
Bentley still gets a little nervous around new people, but he's come so far since arriving at the shelter two years ago. He's now super close with all of his human friends at the shelter, and has even made some doggy friends as well. The behavior team is continuing to work with him on his anxieties and fears, but they have so much faith in the progress he's made and how much he's capable of — and now all he needs is a family to give him a chance.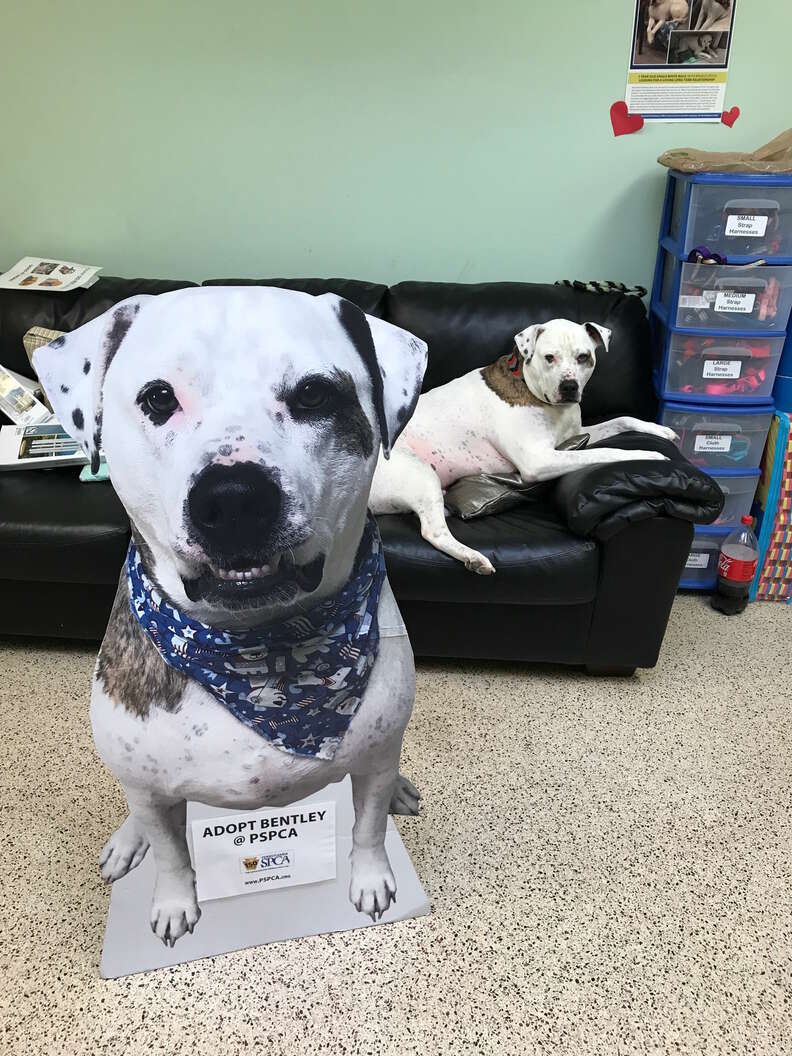 All of Bentley's friends at the shelter have a hard time believing that he still hasn't been adopted yet. They even made a parody video in the style of "The Office" in hopes of catching the attention of potential adopters, but so far, no one has expressed any interest in sweet 6-year-old Bentley.
Bentley's ideal family would be one with all adults who are experienced in dealing with dogs who have anxiety. They'll need to be committed to continuing to help him make progress once he leaves the shelter. Most of all, though, Bentley just wants people to love and hang out with.
While he adores going hiking and rolling around outside in the grass, his favorite thing is curling up on the couch for a nice long Netflix marathon. Bentley makes the best cuddle buddy and confidant, and all his friends at the shelter are hoping his incredibly lucky future family will find him soon.