Rescue Dog Insists On Sleeping Face-To-Face With Mom Every Night
"The only thing he loves more than me is food."
Most dogs like having their own place to sleep at night, curling up at the foot of the bed or in a crate — but not George.
The intuitive pup can always tell when his mom is having a hard day and needs him close, so he insists on a special sleeping arrangement that keeps him by her side — and that's just the way he likes it.
Almost three years ago, Jami Croslow badly needed a friend. The younger of her two dogs had suddenly passed away from a fast-growing cancer, and her older dog, Jack, whom she adopted from an animal shelter on the island of Guam in 2004, was already in his mid-teens.
"It really broke my heart and took me by surprise because I always thought my older dog, Jack, would be the first to go," Croslow told The Dodo.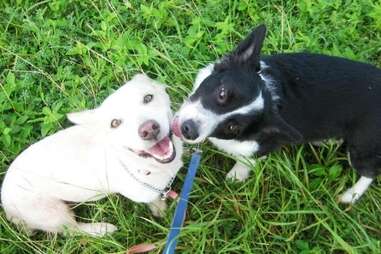 Growing up volunteering at animal shelters and caring for her family's cocker spaniel, Croslow, who is now a social worker, had spent her life surrounded by dogs.
So she began her search for another furry friend.
Scrolling through Petfinder, one small dog with brown spots and comically large ears caught her eye. "They only had a couple of pictures of him, but he looked like a corgi-type mix, which I really like," Croslow explained, "because all the dogs I've had in the past have either been corgis or corgi mixes."
Shelter workers told Croslow that George had been abandoned along with 20 other animals in a trailer park after his owner was evicted. For five weeks, he had nearly outstayed his welcome at the overcrowded Georgia shelter where he was being housed, only surviving by worming his way into the heart of an animal control officer who couldn't bear to put him down.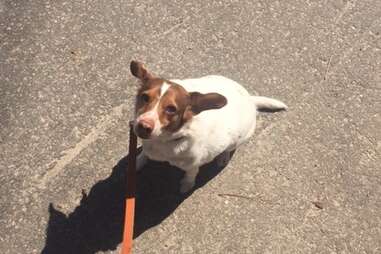 After finding out more about his age and temperament, it seemed George would fit into Croslow's family perfectly, so she agreed to adopt him, sight unseen. She contacted a Facebook group that organized transportation for rescue dogs, picking him up at a South Carolina rest stop halfway between the Georgia shelter and her apartment in Raleigh, North Carolina.
When Croslow met George for the first time, she could hardly hide her surprise.
"I met the woman who had George and she opened up her van and he looked nothing like a Welsh corgi," Croslow said. "I felt like I had been catfished, catfished by a dog."
But her disappointment didn't last long. "I'm looking at this goofy dog and I'm thinking, 'Well, I love you, so I guess we're going home,'" she added.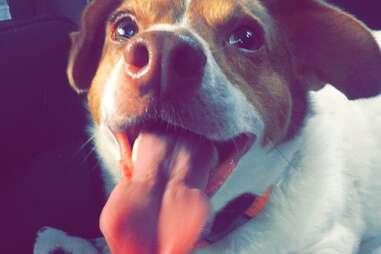 Croslow had a crate prepared for her new arrival, but it proved unnecessary. "That night George insisted he sleep with me in bed," she said, "and he has every night."
Since that very first night, George hasn't let his mom out of his sight. "George is by far the most snuggliest creature (including humans!) I have ever encountered," Croslow said. "His absolute favorite sleeping position is a face-to-face spoon. He just really likes it if we're nose-to-nose, which I can't do, because I need to breathe, so he usually will sleep with his nose nuzzled in my neck."
While the bond between Croslow and George was almost instantaneous, one member of the family needed a little time to warm up to the new addition. "I remember when I brought George home, Jack looked at him like, 'What is this thing you brought home?'" Croslow noted.
But while George remains the typical annoying little brother to Jack, who is now 19 years old, the two have become best friends.
The two pups have been there for their mom when she needed them most, proving that even at the darkest times there is good in the world.
"George has a zest for life, and is just so excited to take on the day, which I think is very inspiring for me," Croslow said. "As people, we wake up and think, 'What do we have to do today?' and it's stress and worry — but with him, he lives in the moment and finds the good in every moment. Through the highs and lows, these dogs have given me a reason to get up in the morning; they've given me a lot of joy."
A year after adopting George, Croslow faced one of the toughest periods of her life, suffering a miscarriage and the loss of her job in the span of a month, the strain of which taxed her relationship with her partner. But instead of letting their mom slip into depression, George and Jack knew it was time to return the favor to the woman who rescued them.
"There were some moments where I just didn't want to be on this Earth anymore. I had lost all hope, and these dogs would not leave my side," Croslow said. "They gave me a reason to live during a really tough time."
Though her relationship ended, Croslow is again so grateful to have her loyal dogs by her side.
She knows that no matter what, every night George will hop into bed and snuggle in close (perhaps even too close), and she wouldn't change him for the world.
Thinking about adopting? Then meet Dodo
Adoptbot
, an interactive guide for new pet parents. Get
started on Facebook Messenger
or text HOME to 38349.