Shelter Dog Has Been Returned Twice Because He's So Scared Of Strangers
"Once he is comfortable with someone, he LOVES his people. He is the biggest mushy love."
Cloudy was just a puppy when he ended up at a big shelter in Alabama, likely after being picked up as a stray. He was taken in by Double Dog Rescue, where staffers assumed the sweet dog would be adopted out pretty quickly. The super friendly Lab mix had so much energy and just wanted to play and be pet — what was there not to love about that?
Not long after arriving at the rescue, Cloudy was indeed adopted, and it seemed as if he'd found his happily ever after, but sadly, he was returned. Another family was soon interested in him again, and once again he was adopted out. Staffers were hopeful that the second family would stick — but unfortunately, poor Cloudy was returned for a second time.
Cloudy is the absolute sweetest dog, but keeps getting returned because he is terrified of strangers.
Whatever happened to Cloudy before he ended up at the shelter has given him some serious anxieties about meeting strangers, and his first two families just weren't able to cope with them. Once Cloudy is comfortable with someone, though, they're his person for life — he just needs a little time and patience to get to that point.
"We don't know what happened to him before, but we do know he has been tossed around A LOT and he isn't very trusting of strangers," Stacey Lambert, Cloudy's foster mom, told The Dodo. "However, once he is comfortable with someone, he LOVES his people. He is the biggest mushy love, so loyal and is just a big mushy lapdog with us at home."
Despite his fears, there's one place where Cloudy always seems to feel comfortable and confident: anywhere outside. He absolutely loves playing and running around in the fresh air, and seems to forget how scary the world can be when he has time to just let loose and romp around in the great outdoors.
"Cloudy has lots of energy and just wants to play," Lambert said. "He makes such a good running partner and loves going on hikes! He is also OBSESSED with flat soccer balls; he runs around the yard with it in his mouth just whipping his head around. He's very good at fetch, but he loves his ball so much that it is sometimes hard to get him to drop it."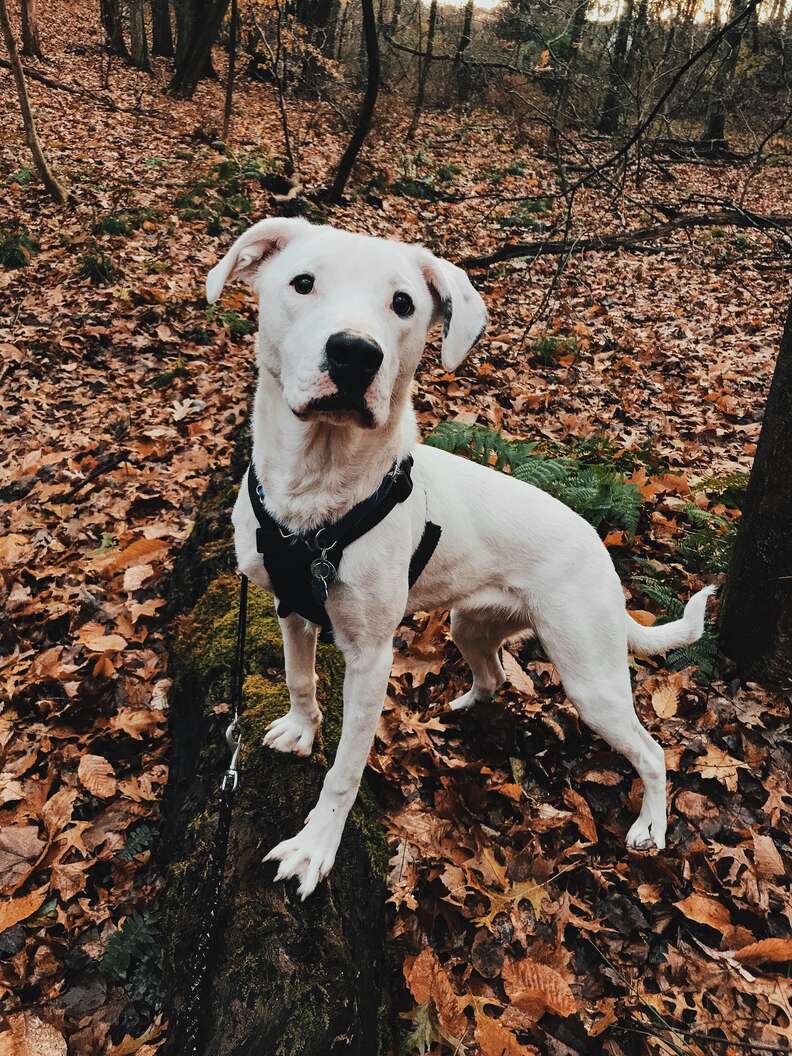 Cloudy's ideal home would definitely be somewhere where he has lots of space and opportunity to run around and be outside. He's also great with other dogs, and always gets so excited when he gets to make new friends, so he could do wonderfully in a home that already has dogs. He's great with cats too and would do well with older children, especially ones who would love playing outside with him.
Cloudy is such a sweet, fun-loving dog, and just needs a family who is willing to give him a chance.
"He needs a home that will be patient with him and teach him to trust other people," Lambert said.