Shelter Dog Was So Scared She Wouldn't Leave Her Corner
She's finally learning what it's like to feel safe.
Most of the dogs at the Fulton County Shelter stare out of their crowded kennels, barking for attention. But one homeless pup, named Iris, is different.
She tries to make herself invisible — shoving her nose into the corner as far as it will go.
After two years fending for herself on the streets of Georgia, adjusting to life in a noisy shelter has been impossible for Iris. The fearful dog and her pregnant sister Daffodil caught the attention of one volunteer, Laurel-Ann Dooley, who realized that Iris would be soon beyond saving. Dooley made an appeal for the pups on Facebook and hoped for the best.
"To say this sweet pup is terrified is more than an understatement," Dooley wrote on Facebook. "Iris is completely shut down and just pancakes on the floor, pushing her nose as far into the corner as it will go. She lets me pet her but remains cringing against the wall. No treat will tempt her — she is not interested in eating."
Luckily, her post caught the attention of BarkVille Dog Rescue, who immediately reached out to their network of fosters. Daffodil found a foster home where she could safely have her babies — but Iris was a more difficult case.
When Lin Rocke, a former vet tech, saw Iris' photo, she knew immediately that she could make a difference in the dog's life.
"I turned to my husband and asked him to please let me do this," Rocke told The Dodo. "I know how to nurse a terrified, starving, heartworm-positive dog back to health. He agreed because he is wonderful and so supportive of my bleeding heart — and now his office is filled with dog stuff!"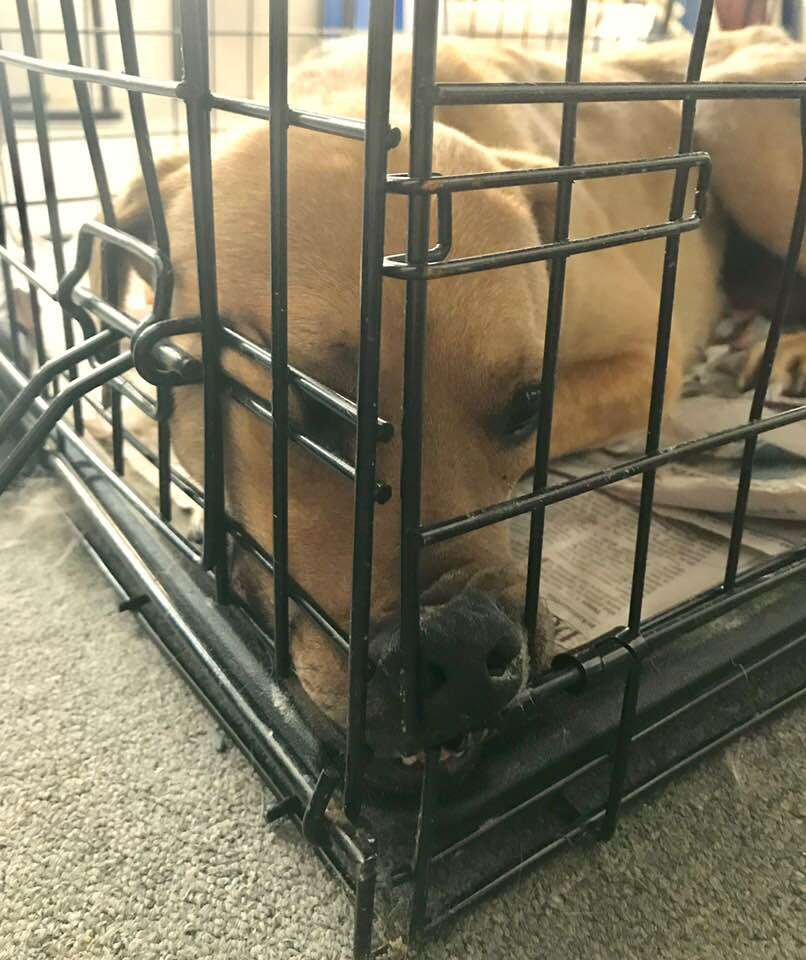 Once Iris arrived at Rocke's house, she again sought safety in the corner of her crate. "She stayed there, not moving, through the night," Rocke said.
After two days in the dog's first real home, the corner is still Iris' safe place. But one small thing has given her foster mom hope: Iris is expanding her horizons when it comes to exactly what corner she likes.
"Iris has moved from the corner of the crate to the corner of the twin daybed I have in the room, which is great," Rocke said. "I can sit next to her on the bed and do my work from my laptop and get her used to me just existing around her."
"She's truly feral and has no idea what is safe and that humans can be OK," she added.
Iris has a buddy to help show her the ropes — a golden retriever named Letty. It was thanks to Letty that Iris moved from her crate to the bed.
"Letty can also fit up on the bed with us and help bridge the gap between myself and Iris," Rocke said. "Iris definitely gravitates to Letty. She trusted her immediately and moved to the bed from the top of the crate to be closer to her."
While Iris is still extremely fearful, she is grateful for every bowl of food offered to her. And little by little she is learning the joys of being a dog with a home.
Rocke is confident Iris will get there one day. It will just take one very important thing: "Patience," Rocke said. "So much patience. Infinite patience for the fact that our entire world is totally alien to her."