Shelter Dog Insists On Being Tucked In Every Single Night
It makes him feel loved ❤
When Prince first arrived at the shelter run by Mohawk Hudson Humane Society in New York, he was a shivering, shaking ball of nerves.
He used to belong to someone, but when his owner could no longer take care of him, Prince went to live with his owner's girlfriend. But this didn't last long, either. One day, while the girlfriend was walking Prince, the 2-year-old pit bull slipped his leash and ran away, and no one knew where he was until animal control picked him up and took him to the shelter in April.
The shelter staff managed to get in touch with the girlfriend, and she originally said she'd pick up Prince and take him home with her again. But she never showed up, and Prince has remained at the shelter ever since.
Perhaps it was Prince's unstable past that made him so skittish. Or maybe he was finding it hard to adjust to the shelter. Whatever it was, Prince seemed terrified of everything.
"He took a long time to warm up to us," Nancy Haynes, director of behavior and enrichment at Mohawk Hudson Humane Society, told The Dodo. "Even when you approached his kennel, he would sit in the back and cower and shake. You would usually find him curled up in a ball at the back of his kennel."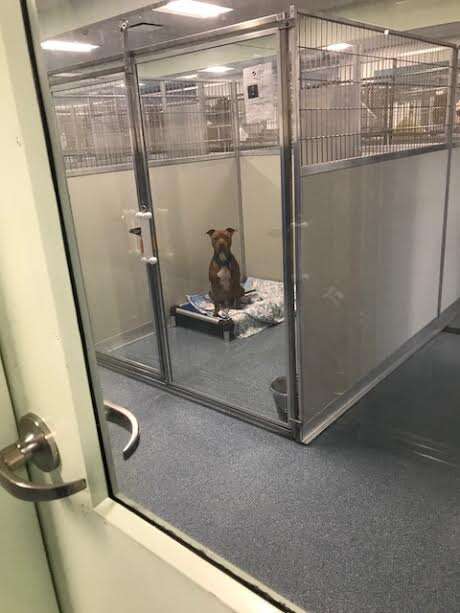 The shelter staff eventually found something to make Prince feel more comfortable in the shelter — they realized he liked being tucked in at night before the shelter staff went home.
"One of the staff members was just snuggling with him in the kennel ... and he got up on the bed and a staff member just tucked a blanket around him, and kind of realized, 'Oh, he really likes this. It makes him feel comfortable,'" Haynes said.
Word spread among the staff, and soon everyone was taking turns tucking Prince in at night.
"It's just become a thing with him," Haynes said. "He usually doesn't get onto his bed until somebody does their rounds and approaches his kennel … but if you go into the kennel with him, he'll go onto the bed to get tucked in."
Prince's bedtime routine isn't the only sweet thing about him — he generally adores spending time with people.
"Snuggles are his absolute favorite thing," Haynes said. "He lives for that. When you go into his kennel with him, he's licking your face, he's moaning and grunting when you scratch his butt. It's just pure happiness for him."
But for some reason, Prince hasn't managed to find a new home.
"He doesn't show well in his kennel, so if somebody that he doesn't know approaches his kennel, he can bark and be reactive," she said. "But since he's been getting so much one-on-one attention, his reactivity has decreased tremendously."
Now that Prince is gaining confidence, the shelter staffers hope he'll get his big break soon and find the perfect family. The best home for Prince would be one with no other dogs, Haynes said.
"He's relatively easy," Haynes said. "He walks nicely on a leash. He's smart. He's very easily trained. He's energetic, but not too high-energy. So he would make a really great companion for somebody."